Thunders v Sixers BBL tips, odds & value bets – Jan 15, 2022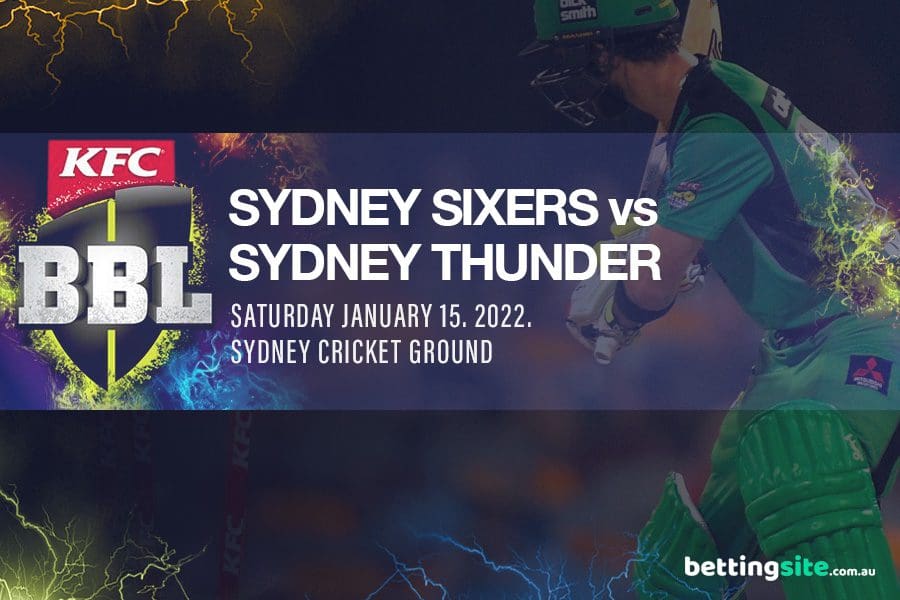 Sydney Thunder vs Sydney Sixers

Latest Odds & Match Info

Big Bash League odds
Thunder -125 at BetOnline | Sixers +102 at BetOnline
When
Saturday, January 15, 2022 – 6:40pm AEDT
Where
Adelaide Oval
Watch Live
Seven, Fox Sports, Kayo
---
The Sydney derby presents an opportunity to gain a psychological edge for the winner going into the finals. These are two quality teams with plenty of depth in batting and bowling and the difference will come down to which side can drop the least amount of catches and hold their nerve. Both teams are in the top four and they both know that they're fully capable of beating each other. In their last five games the results are split with each team winning two games each with the other game being a tie which means that they're evenly matched. This should be an exciting game for fans and punters alike and it looks like this game has been affected by Covid as much as the other games have been. I expect the medium pace bowlers to dominate because the wicket rewards the bowler who mishits and gives the outfielders a chance.
The Sydney Sixers look set to play in the grand final because their form is moving in the right direction and they don't miss too many tricks anyway. Both Hayden Kerr and Sean Abbott have been able to keep their economy rates with the ball under 8 runs per over and if you can do that in the BBL over the course of a season then that means you're very good. Josh Phillippe might be short of runs in the last few games but he's a class act who can always bounce back into form.Of course Ben Dwarhuis is always dangerous but it shouldn't be forgotten that their batters consistently put up good totals. Their batting depth extends all the way down to the end of the middle order and while they don't have a reputation for big hitting Dan Christian and Jack Edwards tend to score runs most of the time which is a huge bonus.
Recommended!
Despite losing by 9 runs to the Hurricanes on Thursday they Sydney Thunder know they are still a very good BBL team. The talent in the team is impressive and they would've been pleased with Gurinder Sandhu's 2 for 27 on Thursday. He is the standout bowler for them at the moment but there's also good support from Mohammed Hasnain, Daniel Sams and Tanveer Sangha. Alex Hales looks like he is producing his best hitting at the right end of the season and he's one of the more intimidating batters in the competition.
Jason Sangha and Matthew Gilkes are top order batters who I'd classify as ''good on their day'' types. Sangha's captaincy has been excellent this season but what would really make them a top class side is a stronger middle order.
The Sydney Cricket Ground is a very fair venue for both batters and bowlers and the best thing to do if you win the bat flip is to bat first and put the team batting second under strong psychological pressure. The pitch allows the big hitters to do their thing but the pace bowler who can mix up his pace can bring the slogging batter undone if the fielder backs him up.
Sydney Thunder and Sydney Sixers betting tips
Online bookmakers have the BBL clash as Thunder at $1.80 and Sixers at $2.02.
Top Wicket Take For Sydney Sixers:Ben Dwarhuis
Ben Dwarhuis was the highlight of that particular game with 5 for 26 against a weak Renegades batting line up and there's no reason why he shouldn't be able to pick up wickets here as well. He's only had one bad game all season and his left arm fast-medium bowling has such consistency that he's a chance to wear green and gold later this summer. At the very least he should keep it tight with many of his deliveries aimed at the leg stump which cuts down the batter's options.
Ben Dwarhuis Top Sydney Sixers Wicket Taker
Sydney Sixers To Wn
The Sydney Sixers won their last game by 45 runs on Tuesday and they seem to be a genuine contender for the BBL title. The captaincy of Moises Henriques is why I have a lot of confidence in the Sydney Sixers to win this game. He is the epitome of a level-headed leader who leads by example and the players have full confidence to make the correct decisions most of the time. The team feeds off this and for this reason they're a worthy investment.
More sports betting tips