Stars v Heat BBL tips, odds & value bets – Jan 15, 2022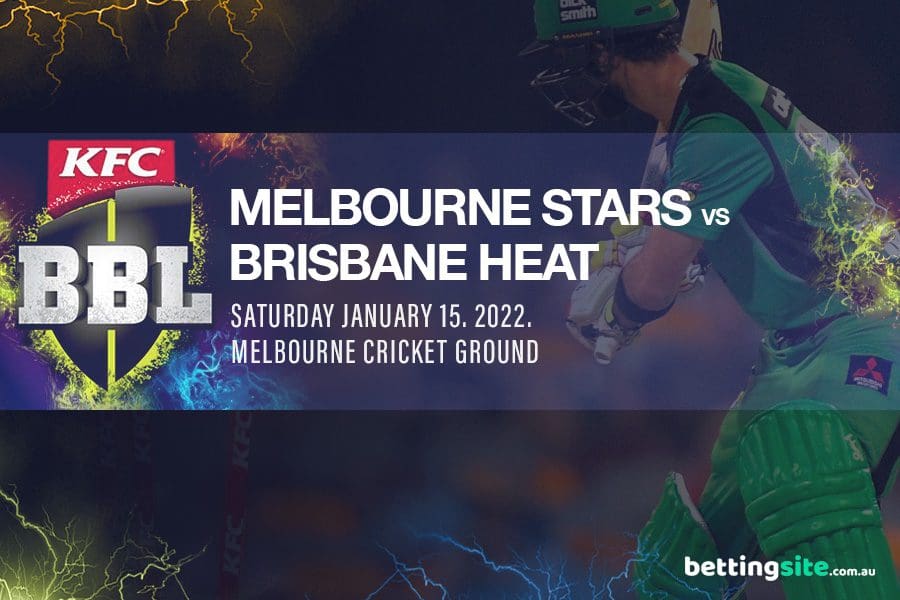 Melbourne Stars vs Brisbane Heat

Latest Odds & Match Info

Big Bash League odds
Stars -158.73 at BetOnline | Heat +124 at BetOnline
When
Saturday, January 15, 2022 – 7:15pm AEDT
Where
Melbourne Cricket Ground, Melbourne
Watch Live
Seven, Fox Sports, Kayo
---
This match might have little consequence as far as the finals are concerned but there are several players who are in good form who are worthy of an intelligent investment. The Melbourne Stars find themselves in 6th place but now they're due to play the 7th placed Brisbane Heat and both teams will be looking to finish their respective season on an upbeat note. The trick will be to bat first and score at least 150 which is always a good target to set at the MCG. But perhaps the most important thing that both sides can do is to forget their previous performances and tell themselves that they belong at this level. I'm favouring the Stars to win by 5 wickets or 50 runs.
The Stars should be able to win this one because the Stars won by 6 wickets on Wednesday against the Renegades and that line of form bodes against the Heat who lost on Tuesday to the Strikers by 71 runs. This means they have some sort of momentum behind them and they should repeat that form again in this match. Adam Zampa and Qais Ahmed are the ''spin twins'' for the Stars and they form a formidable barrier for a batting team that wants to go above 180. Glenn Maxwell ended his poor run with the bat with 68 not out against the Renegades on Wednesday and the Heat's bowlers look vulnerable if he can get past 20. Joe Clarke from England has been highly impressive both as a keeper and as a very consistent top order batter with four fifties this season. This means they should post at least 150 if they bat first.
Recommended!
Covid can't be used as an excuse for Brisbane Heat-they're just out of form but they're are some bright lights amongst them. Will Prestwidge will have just turned 20 by Sunday and he has now taken 5 wickets in his 3 wickets so far. Mujeeb Ur Rahman from Afghanistan has yet to concede more than 40 runs in any of the games he has played so far and he's picked up 8 wickets as well. Jake Lehmann looks like he has a long career ahead of him and so far he has scored one fifty from the three games that he has played so far. But that's about it and their fielding has let them down at crucial stages with many 50/50 chances going down. If they tighten up in that department then they'll become a competitive team again.
The Melbourne Cricket Ground is a ground that requires some match experience to play well at because the ground is just so big. The batters need to run a lot harder in order to score runs and the outfielders are kept busy with many high balls coming their way which in turn produces many spectacular efforts. The drop in pitch allows the batter to get the ball underneath the bat but the MCG tends to produce a lot of stumpings because the ball can turn sharply. It's a good wicket to bat first on because putting a good score up a score first gives the team that has done that a big psychological advantage.
Melbourne Stars v Brisbane Heat betting tips
Match Result: Melbourne Stars to Win
The Melbourne Stars might be in a similar position on the ladder with Brisbane Heat but their recent form suggests they should win this one. They have more players in form and feeling confident than their opponents do and that is the basic metric which should be addressed before any investment is made. The home ground advantage is also worth about 10% but the main thing going against Brisbane Heat Is that Chris Lynn can't find a run this season. This means that their morale took a massive turn for the worst because he is normally their best player. If he's dismissed for single figures again you'll see the Brisbane Heat players slump and cross their arms in the dugout. Cricket is a game played by humans and the momentum factor will mean that the Melbourne Stars are a good investment here.
Top Batter for the Match: Glenn Maxwell
This might not have been his best season but it looks like he has plenty of runs still left in him. He is super dominant against the nervous bowler and he loves batting at the MCG. He looks lightly built but the bat springs off his bat when he's confident and the Brisbane Heat's bowlers aren't the greatest. They might be well advised just to dry up his run supply by bowling into his pads but that also carries a degree of risk because he can whip the ball through the leg side as well as anyone. Another option might be to change the pace of the ball constantly to produce a mishit but he's pretty smart with a bat in his hand. A good batter who has had a run of outs and is now finding some form is a good bet because they're hungry.