2017 US Masters betting – can an Aussie win the green jacket?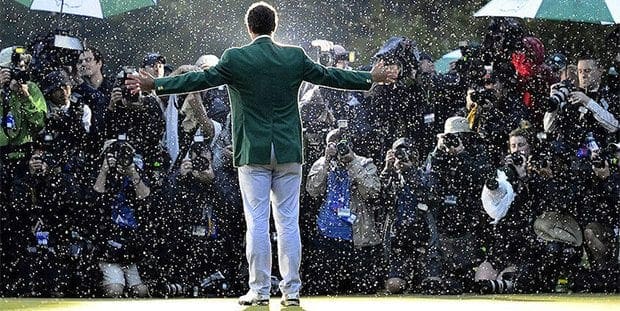 First groups hit off at 2am AEST, Thursday, April 6.
MASTERS week is the holy grail for every golfing punter.
Augusta is the place where history is made. It's where golfers turn into champions and champions turn into legends.
The greatest names in golf have adorned the coveted green jacket, including Australia's own Adam Scott, and it will no doubt be a hotly-contested tournament in 2017.
The field is headed by world number one Dustin Johnson, who is tearing through the competition at the moment.
On his heels in the betting is 2015 champion Jordan Spieth, but there's a couple of players waiting in the wings for their time to shine.
Both Rory McIlroy and Jason Day have yet to win The Masters after going close over the past few years. Aussie hero Jason Day is going through tough times, but he will be Australia's leading charge for the green jacket, which tees off this Friday morning.
Only one Australian player (Adam Scott) has won the Masters in the modern era, but there's five talented players in the field which should give punters a great sight.
Betting on golf can be a great investment, so sign up with Sportsbet.com.au, which is offering great odds for every Australian player this week.
2017 Masters tournament winner – Australian players
Jason Day – $21
Adam Scott – $26
Marc Leishman – $46
Curtis Luck – $251
Rod Pampling – $601
It's fair to say the 2017 Masters preparation hasn't been ideal for Jason Day after his mother underwent surgery for cancer, but by all accounts the surgery went well and Day will take his place in the field.
"Obviously, we still have to wait to see about chemo, but we feel much better about things," Day said
"I didn't even want to be on the golf course. It was a struggle for me to play golf."
Day is one of the most resilient players on tour and no punter would doubt his ability to overcome adversity. He hasn't had the best start to the season with only one top 10 from six starts, but he's been playing under both an injury and a personal cloud, so we'll cut him some slack.
Day plays some of his best golf at Augusta with numerous top five finishes and he's a player punters could confident back this week.
He's currently $21 at Sportsbet.com.au to win the tournament and $2.10 to be the best-performed Australian for the week.
Former champion Adam Scott is coming off a missed cut in the Shell Houston Open with a second round of 77, but he's happy to have Steve Williams back on the bag for the Masters.
"These (majors) are the important tournaments and I still feel it's an advantage to have Steve caddie for me," Scott said. He's very alert and watches what I'm comfortable with and what I'm not."
Having winning experience at Augusta is key and Scott believes he's ready to peak for the big game this weekend.
"We're pretty much in the groove looking forward very much to this week," Scott said.
"I certainly I wasn't firing on all cylinders in Houston but it was more about getting Steve up to speed with where my game's at, he hasn't seen it since December.
"I'm always trying to peak (for Augusta) and hopefully I can start building on this for the next few days of practice and then really start firing from Thursday."
Scott looks a solid bet for punters this week, but we think he's a better chance at winning the top Australian option.
Scott is currently $2.50 to defeat his fellow countrymen in Georgia starting Friday.
Marc Leishman shouldn't be underrated and the big Aussie has shown some form at Augusta over the past few years.
Leishman comes into the tournament with great form having won the Arnold Palmer last month and his performance for ninth in the World Match Play was respectable.
He's currently $46 to win the tournament and $2.88 at CrownBet for a top 20 finish.
2017 Masters betting market and tournament tips
Top 20 market selections at Sportsbet:
Dustin Johnson – $7
Jordan Spieth – $9
Rory McIlroy – $9
Hideki Matsuyama – $19
Jason Day – $21
Rickie Fowler – $23
Adam Scott – $26
Justin Rose – $26
Phil Mickelson – $26
Jon Rahm – $26
Henrik Stenson – $29
Justin Thomas – $31
Bubba Watson – $31
Sergio Garcia – $41
Paul Casey – $41
Marc Leishman – $46
Brandt Snedeker – $51
Louis Oosthuizen – $51
Tyrell Hatton – $51
It's tough to go past Dustin Johnson given the form he's in. The big American has been lights out for well over a year now and the $7 will likely be snapped up by many punters.
$7 is a touch short for Johnson to win a major against the best golfers in the world, so we suggest seeing how he plays in the first round and adjust accordingly.
Rory McIlroy would be our top pick at $9 with Ladbrokes.com.au. McIlroy has been close to winning the Masters in the past and although his form has been mixed over the last year, he's got the talent and the confidence to put four rounds together this week.
A smokey could be Sergio Garcia at $41. The Spaniard is the best ball striker on tour, but can't putt to save his life. If he does get the ball rolling, he's a player who could lead from start to finish.