The First XI: All-time worst Australian cricket selections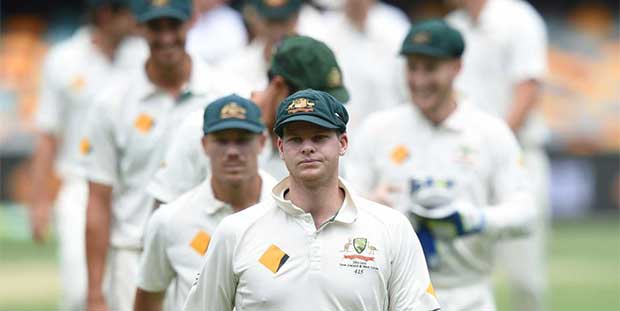 EVERY summer it's the same old story.
The cricket season rolls around and every Tom, Dick and Harry has their say on who should and shouldn't be in the Australian Test team.
Why is Joe Bloggs still getting a run? How can they keep ignoring so-and-so? What's the point of picking an allrounder who doesn't make runs and doesn't take wickets?
It's fair to say the national selectors have made some big blunders over the years, even when things were going well and the Aussies were near unbeatable.
But there are a special few moments in our cricket history when the powers that be have got it so mind-bogglingly wrong that one can only sit back and wonder what they were smoking at the time.
This isn't just a matter of hanging crap on players who weren't up to the task; it's also about the guys in charge not grasping what that task was in the first place.
We've narrowed it down to the worst XI ever chosen to don the Baggy Green, along with a few non-Test players whose efforts on the ODI scene were impossible to ignore.
Australian selections we'll never understand
Wayne N. Phillips
Not to be confused with South Australian batsman-keeper Wayne B. Phillips, the Geelong native was a steady top-order batsman for Victoria during the late '80s and early '90s. Some strong form early in the 1991-92 domestic season put him on the national selectors' radar for India's visit. He was picked ahead of an out-of-form Geoff Marsh for the fifth Test in Perth – a decision that angered both the West Australian public and Allan Border, who was livid at losing his vice-captain. After eking out 22 runs at a strike rate of 27.16, Phillips was promptly banished.
Wally Edwards
When you look at his career in numbers, it's difficult to comprehend how Edwards – better known now as an influential former chairman of Cricket Australia – was ever considered a serious candidate for national selection. Nevertheless, the West Australian left-hander was deemed worthy of a call-up for the 1974-75 Ashes series. He played three Tests as Ian Redpath's opening partner, scoring four, five, 30, zero, 29 and zero before he was hooked for Rick McCosker. He also played in one ODI, in which he registered two runs.
Robbie Kerr
A capable bat at state level for Queensland, Kerr was picked for a quartet of limited-overs internationals in February and March of 1985. He showed promise with an unbeaten 87 against England in his second ODI, but that high point was rather undercut by a trio of single-figure failures. Not to be deterred, the Aussie selectors turned to Kerr again later in the year for the Test series against New Zealand. He proved no match for Hadlee et al, however, contributing 27 runs at an average of 7.75 in his four innings at the top of the order.
Glenn Maxwell
Maxwell's Test efforts to date serve as a cautionary tale against gambling on talent alone. He made his debut as a relief spinner in the second Test of the 2013 India tour and took four wickets, but at a cost of 128 runs at 4.88 per over in a massive defeat. Despite previous scores of 13, eight and 10, he was chosen to open the second innings ahead of Ed Cowan, Phil Hughes and Shane Watson in the fourth Test. He made eight and the Aussies lost again. A year later, he was picked to bat in the top four against Pakistan in the UAE. Madness.
Glenn Trimble
A middle-order batsman and part-time bowler, Trimble – son of Queensland stalwart Sam – was chosen to replace the injured David Gilbert for two ODI matches in January 1986 despite a remarkably mediocre record in domestic cricket. His debut comprised of a dropped catch, four overs for a return of 0/32 and an unbeaten zero off three balls. His second and final international appearance was more fruitful; he batted at four and hit Sir Richard Hadlee for a boundary off his first delivery, only to be dismissed the very next ball. Certified flop.
Shaun Young
A doughty, hard-working allrounder who played with distinction for Tasmania during the 1990s, Young was the beneficiary of an unprecedented squad crisis that erupted during Australia's tour of the UK in 1997. Andy Bichel, Jason Gillespie and Brendon Julian were all injured, while Paul Reiffel – himself a late replacement – had gone home for the birth of his child. That left Young, who was in England playing county cricket with Gloucestershire, as the last resort for the sixth Ashes Test. He scored four runs and took no wickets in what might politely be described as a rather indifferent display.
Roger Woolley
Australia endured a number of very ordinary wicketkeepers between the twin golden eras of Rodney Marsh and Ian Healy, but Woolley was probably the worst of the lot. He filled in for the unavailable Marsh on a short tour of Sri Lanka in 1983, during which he played in one Test and four ODIs. He was then chosen for the 1984 tour of the West Indies and got his chance in the fourth Test when injuries forced the Aussies to use Wayne B. Phillips as an opener, but Woolley's batting and glove work were both found to be sorely lacking.
Mick Lewis
Lewis was a likeable late-bloomer whose consistent performances for Victoria earned him a spot in Australia's limited-overs squads during the twilight of his career. While his contributions in T20 Internationals were nothing to sneer at (four wickets at 12.25 in two matches), the 50-over platform was another story entirely. It was Lewis who conceded 113 runs off 10 overs at Johannesburg in March 2006 as South Africa charged down 434 to complete the greatest run chase in ODI cricket history. He was not called upon again.
Shaun Tait
You can understand why Shaun Tait was sent to England for that famous 2005 Ashes series. He was young, he was different and he was bloody fast. But in a team missing the unerring accuracy of the injured Glenn McGrath, the decision to play both 'The Wild Thing' and the similarly erratic Brett Lee at Nottingham proved disastrous as England tonked their way to a three-wicket win. Tait played two more Tests for Australia, but an inability to cope with the game's physical and mental demands caused him to quit first-class cricket in 2008 at age 25.
Bryce McGain
McGain's story starts as a fairytale but quickly turns into a nightmare. He was 35 when he earned his first professional contract with Victoria in 2007, and he would have made his Test debut in India the following year but for an uncommon muscular injury. His chance finally came and went on the tour of South Africa in 2009 when, as Australia's oldest Test debutant since Bob Holland in 1984, he was carted for 0/149 as AB de Villiers, Jacques Kallis and Ashwell Prince gave the Proteas a resounding victory. As if it couldn't get any worse, McGain also made a duck.
Michael Beer
Australia's top brass have made some proper gaffes in their search for the heir to Shane Warne's throne (Beau Casson, Dan Cullen and Gavin Robertson all spring to mind), but none more baffling than this guy. Plucked from obscurity on the basis of a decent outing in a tour game one time, Beer was thrown into the fifth Ashes Test at Sydney in 2011 as the lead spinner. He went for 1/112 as England racked up 644 to win by an innings and seal the series. He was picked once more at Port of Spain in April 2012, but was thoroughly outshone by Nathan Lyon and never played again.
The 12th men
Australia's selectors have had dozens upon dozens of air swings over the last few decades, so it was impossible to cram all the duds into one team of eleven. Here are a few more forgettables that would be well worth a run in the firsts.
Scott Muller – He vanished as suddenly as he appeared, yet Muller remains a source of national ridicule to this day. Picked out of nowhere to replace Jason Gillespie for Pakistan's 1999 tour of Australia, the Queenslander's waywardness with ball in hand spawned the "can't bowl, can't throw" debacle and saw him axed after two Tests.
Gavin Robertson – Many say Robertson's selection for the 1998 tour of India serves as irrefutable proof of the supposed NSW bias in Australian cricket. He wasn't the worst player on that trip, contributing a few wickets and some handy lower-order runs, but he failed utterly at his primary task of containing the Indian batsmen.
Clint McKay – Although the tidy Victorian seamer was a valuable part of the Australian ODI squad from 2009 to 2014, his record in the five-day game is far less impressive. Match figures of 1/101 on debut in a tight clash against the West Indies in Perth meant there was no second chance for McKay.

Ashton Agar – Let's be real: that magical 98 on debut at Trent Bridge papered over what was an otherwise dubious selection. Picked ahead of Nathan Lyon as the lead spinner for the 2013 Ashes tour, the young West Australian failed to produce any semblance of turn and went wicketless in three of four innings.
Greg Dyer – Another one of those average keepers that blighted the '80s, Dyer was fortunate enough to be behind the stumps when Australia won the 1987 Cricket World Cup. However, he is best remembered for claiming a false catch to dismiss New Zealand's Andrew Jones in a Test match, when replays showed the ball clearly hit the turf.
Rob Quiney – The stalwart Vic is perhaps 'unlucky' to miss out on our first XI. Quiney was thrown in as cannon fodder for South Africa's visit in 2012-13 so the selectors had an excuse to drop him and revert to the old guard of Shane Watson and Phil Hughes. He made nine runs and two ducks in three innings.