The United States Open Championship has a rich history over 122 years of golfing excellence.
The US Open originated from humble beginnings way back in 1895, when it was played over nine holes at the Newport Country Club, but has since become known as the toughest of the four majors in men's golf.
Some of golf's masters have won the tournament, which is conducted by the United States Golf Association and is always in the second week of June, with the final day falling on Father's Day in the US.
Whenever the US Open is on, the golf-loving punters will come to play.
If you love golf and have always wanted to have a flutter on the US Open, here's our easy guide to the event and how you bet on it.
How do you bet on the US Open Golf tournament?
Ok, so getting a bet on the US Open Golf tournament is pretty easy. All you have to do is open an account with an online bookmaker, charge up your account, find your US Open markets and punt away. But there are a few things you should know before you bet.
The key thing is to make sure you can actually afford to have a punt on the sport. We know we get a bit preachy here, but it is very important that you ensure the disposable income is there for your bets – after you've put food on the table, paid the rent or mortgage and serviced those pesky bills.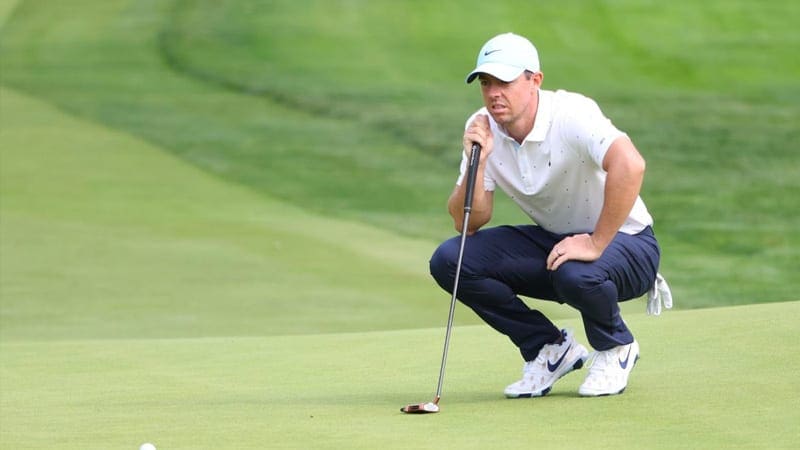 Once you've decided you can afford to have a bet, the next step is finding a reputable bookmaker online. It can be a minefield, with plenty of dodgy, unlicensed operators out there, but we've shredded the risk.
We know our stuff and here is a list of online bookmakers who have the runs on the board. Open an account with one, or more than one of these bad boys to take advantage of the best US Open golf odds, safe in the knowledge that they will look after your details, bets and most importantly, your hard earned dollars.

This is my table
What markets are available on the US Open Golf tournament?
You will find that there are odds on the winner of the US Open Golf tournament available moments after the completion of the tournament each year.
They are called futures markets and should be available just about all year round.
Of course, once the tournament gets closer, the bookies will begin to unleash hundreds of markets for punters to choose from.
From place bets, top 10s and player props, if you can't find a bet you like on the US Open, then you're doing it wrong.
Here are a few examples of the different bet types available on the US Open.
Basic betting types:
Tournament winner
Each Way betting
First Round Leader
Top Three, Top Five, Top 10, Top 20
Make or Miss the Cut
Top NationalityThree Balls
Head to head players
Handicap betting
Tips for winning money on the US PGA Championship
Back the Yanks
It's no secret that Americans have great success in the tournament named after their great nation. They just win. From 1971 until 1993, Americans won every event – but one – when Aussie David Graham shocked the world in 1981. If there's a favoured American in the tournament (there always is) you know he is going to go well.
Euro dreaming
Historically, Europeans have not fared well at the US Open. Englishman Tony Jacklin won the tournament in1970 and it would be 40 years before Northern Ireland's Graeme McDowell would add to the Euro list. That's a long time between drinks. But things are slowly changing. Rory McIlroy, Justin Rose and Martin Kaymer have all claimed the tournament in the past eight years. In fact, since 2010, Europe actually leads the US, 4-3.
Hit the greens
The winner invariably finishes in the top echelon of players in greens in regulation. Those men who excels with the irons are the ones you will feel comfortable having your money on.
Prime time
This is a tournament for golfers at the top of their game. It's not for the faint hearted and therefore the men you must look to are those who are in the prime of their careers. Only three men outside the age bracket of 26 and 37 have won the tournament in the 21st century. And forget about anyone over 40. Payne Stewart is the only player to do it in the past 25 years.
Forget the defending champ
So you want to back the guy who stormed to victory in last year's event. Don't bother. Only two men in history have won the US Open in back to back seasons. So it's a case of anyone but last year's winner.
Format of the US Open Golf tournament
The Us Open is a stroke tournament played over four rounds of 18 holes across four days. It has been that way since 1965. 156 of the best and brightest players line up to play the tournament each year.
Put it this way, you don't want to be tied with someone at the top at the end of the tournament once the 72nd hole is in the can. You're coming back tomorrow. It's the only major that maintains a full 18 holes of play to decide a winner if it goes to a playoff.
Who won the 2016 US Open Golf tournament?
American Dustin Johnson endured a roller coaster, but ultimately supreme final round to claim his first major at last year's US Open Golf tournament.
Johnson, who was always destined for great things, never looked overly likely as he entered the final round four shots off the pace.
But his near 400-yard drive on the first hole signalled his intentions as he stormed home with a one under 69 to come from behind and claim the tournament by three shots.
It wasn't easy though. He copped a drop after his ball was obstructed by a television tower and then had to fight off the emotion of being told that he may have incurred a penalty after his putter touched the ball on the fifth hole. The official couldn't give him an answer either way, only that it would be looked at at the end of play. He had to make it through with that cloud over his head and he did so with flying colours.
When and where is the next US Open Golf tournament?
This year's US Open will be held from June 15-18 (16-19 Australia) on the fabled West Course at Winged Foot Golf Club in Mamaroneck, New York.
The locations for the next few US Open Golf tournament have already been released:
| | |
| --- | --- |
| 2021 | Torrey Pines Golf Course – San Diego, California |
| 2022 | The Country Club – Brookline, Massachusetts |
| 2023 | Los Angeles Country Club – Los Angeles, California |
| 2024 | Pinehurst Resort & Country Club – Village of Pinehurst, North Carolina |
| 2025 | Oakmont Country Club – Oakmont, Pennsylvania |
| 2026 | Shinnecock Hills Golf Club – Southampton, New York |
| 2027 | Pebble Beach Golf Links – Pebble Beach, California |
Odds for the 2020 US Open Golf tournament
Odds for this event are currently not available.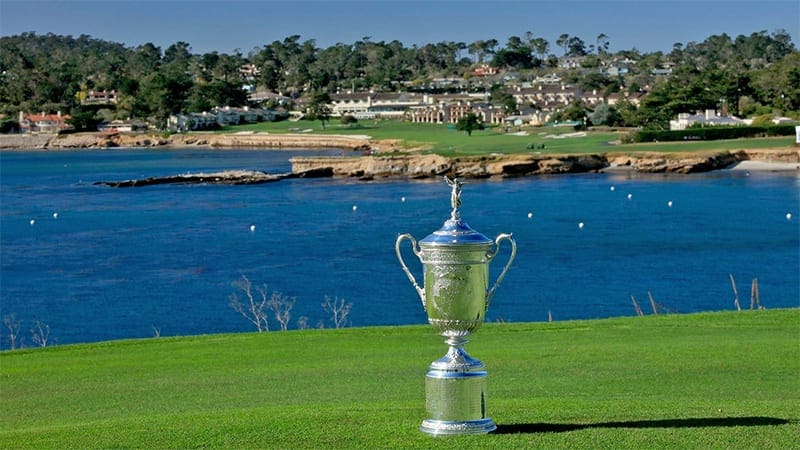 Most US Open Golf tournament titles and other tournament records
Four men sit tied at the top, having claimed a quartet of US Open titles each.
The first man to truly dominate the tournament was Scotsman Willie Anderson, who managed to win four US Open titles in five years from 1901-1905, including a hat trick of wins from '03-'05 – no one else has ever done that.
It took almost 20 years, but the great Bobby Jones claimed his first title in 1923 and his last seven years later in 1930, winning two in a row in '29-'30.
The names only get bigger from there.
First Ben Hogan, won four in six years from 1948-'53 and then Jack Nicklaus was the last man to win four, completing his feat in 1980 – eight years after he won his third and a whopping 18 after he won his first.
Tiger Woods is the only active golfer with more than two titles, his three victories from 2000-2008 equalled by Hale Irwin, who remarkably won the title in 1990, 16 years after his first in 1974.
Irishman Rory McIlroy deserves special mention for his supreme performance at the 2011 tournament.
He became the only man to finish more than 10 shots under par when he ripped up the Congressional Country Club course in Bethesda, Maryland, with a 16 under par 268. It remains the tournament record score and some believe it may never be broken.
The courses must have been tough back in 1919, when Walter Hagen fired a huge 17 over par 301 to win the tournament at Braeburn Country Club in West Newton, Massachusetts.
| Golfer | Wins # | Year(s) |
| --- | --- | --- |
| Willie Anderson (SCO) | 4 | 1901, 1903, 1904, 1905 |
| Bobby Jones (a) (USA) | 4 | 1923, 1926, 1929, 1930 |
| Ben Hogan (USA) | 4 | 1948, 1950, 1951, 1953 |
| Jack Nicklaus (USA) | 4 | 1962, 1967, 1972, 1980 |
| Hale Irwin (USA) | 3 | 1974, 1979, 1990 |
| Tiger Woods (USA) | 3 | 2000, 2002, 2008 |
| Alex Smith (SCO) | 2 | 1906, 1910 |
| John McDermott (USA) | 2 | 1911, 1912 |
| Walter Hagen (USA) | 2 | 1914, 1919 |
| Gene Sarazen (USA) | 2 | 1922, 1932 |
| Ralph Guldahl (USA) | 2 | 1937, 1938 |
| Cary Middlecoff (USA) | 2 | 1949, 1956 |
| Julius Boros (USA) | 2 | 1952, 1963 |
| Billy Casper (USA) | 2 | 1959, 1966 |
| Lee Trevino (USA) | 2 | 1968, 1971 |
| Andy North (USA) | 2 | 1978, 1985 |
| Curtis Strange (USA) | 2 | 1988, 1989 |
| Ernie Els (RSA) | 2 | 1994, 1997 |
| Lee Janzen (USA) | 2 | 1993, 1998 |
| Payne Stewart (USA) | 2 | 1991, 1999 |
| Retief Goosen (RSA) | 2 | 2001, 2004 |
Recommended!