Sportsbet starts Graham Arnold as $3.50 to take Socceroos job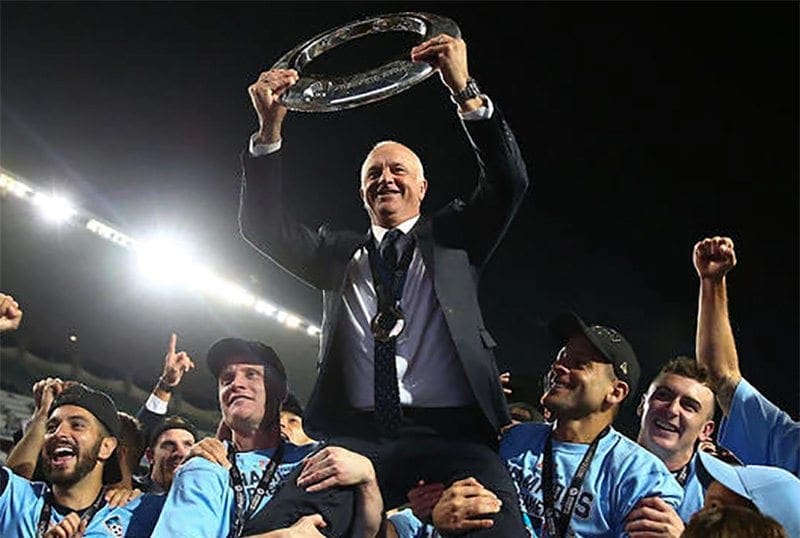 A DECADE after being sacked from the gig, Graham Arnold is the $3.50 favourite to replace the departing Ange Postecoglou for his second stint as coach of the Socceroos.
A successful stint with reigning A-League champions, Sydney FC, has Arnold at the front of punters' minds after Postecoglou resigned on Wednesday, despite guiding the nation to its fourth consecutive World Cup on Wednesday night.
Will the Football Federation of Australia look to Arnold a decade after letting him go back in 2007? Those who think the team needs new blood will get healthy odds.
But before we turn to new blood, on the second line of betting is an Australian hero – Guus Hiddink.
'Aussie Gus' is paying $8 to return to the role he departed after a brave run in the 2006 World Cup, but there's no evidence to support the fact he would return to what must be considered a weak team with no real chance to make an impression at Russia in 2018.
The Western Sydney Wanderers coach Josep Gombau is right up there in the market at $10, while Ante Milicic ($13) has the advantage of already being in the Socceroos set-up.
Manchester United legend Sir Alex Ferguson is paying $101 – we'd suggest Pauline Hanson would be a better chance to be the next Prime Minister of Australia.
"Four of the top 6 in the market are Australians so a home-grown successor appears most likely," said Sportsbet.s Christian Jantzen.
"The timing couldn't be more perfect for Graham Arnold, adding an FFA Cup trophy to a Championship and Premiers' Plate."
| | |
| --- | --- |
| Next Australian Manager | Odds |
| Graham Arnold | +250 |
| Guus Hiddink | +700 |
| Josep Gombau | +900 |
| Ante Milicic | +1200 |
| Kevin Muscat | +1200 |
| Tony Popovic | +1200 |
| Gianni De Biasi | +1400 |
| Ronald Koeman | +1600 |
| Paul Okon | +2000 |
| John Aloisi | +2000 |
| Frank de Boer | +2200 |
| Thomas Tuchel | +2200 |
| Carlo Ancelotti | +2200 |
| Laurent Blanc | +2500 |
| Aurelio Vidmar | +2500 |
| Tony Pulis | +3300 |
| Slaven Bilic |  +3300 |
| Sam Allardyce |  +3300 |
| Luis Enrique |  +3300 |
| Harry Kewell | +3300 |
| Alan Pardew | +4000 |
| Harry Redknapp | +4000 |
| Holger Osieck | +5000 |
| Pim Verbeek |  +5000 |
| Gian Piero Ventura | +6600 |
| Terry Venables | +10000 |
| Sir Alex Ferguson | +10000 |
More News

Deprecated: WP_Query was called with an argument that is deprecated since version 3.1.0! caller_get_posts is deprecated. Use ignore_sticky_posts instead. in /home/bettingsite/public_html/wp-includes/functions.php on line 5145

All Recent News