South Sydney enforcer Liam Knight to put concussion setbacks behind him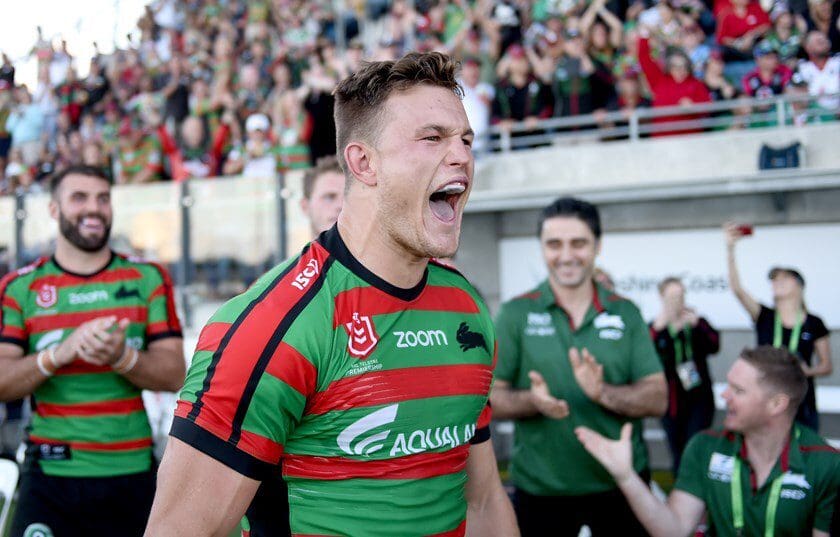 After a frustrating 2021 season, livewire Rabbitohs prop Liam Knight is once again ready for the brutal collisions which he loves in the NRL.
That was his mindset after helping South Sydney to a 32-18 win over Mounties in NSW Cup Round 2 action at Aubrey Keech Reserve, Hitchinbrook, on Sunday.
Knight was an important member of Wayne Bennett's Rabbitohs teams in 2019 and 2020, playing 23 and 19 games in respective seasons.
But ongoing concussion setbacks restricted him to just 11 games last year, made more difficult for him personally because the Bunnies made it all the way to the grand final.
If that wasn't enough, he has missed Souths' first two NRL matches this year due to off-season ankle surgery.
But the 27-year-old was his typical high-energy self on Sunday, fearlessly taking on the Mounties' defensive line and defending with the vigour he is known for.
The Alice Springs-born frontrower is now ready to move on from a personally frustrating 2021 season, his woes starting early after clashing heads with Tom Burgess during pre-season training, and initially trying to fight through it.
"It's good to get some footy back in," Knight told bettingsite.com.au.
"It's good to have some fun and get out of that pre-season grind and get a footy in my hands."
Knight is hoping he did enough to be selected in Souths' match-day team of 17 which will take on Sydney Roosters in the local derby at Accor Stadium, part of Round 3 action, on Friday night.
The winless Rabbitohs are $2.35 outsiders with NRL betting sites, while the Roosters are paying $1.60 after a convincing 26-12 win over Manly last Friday night.
"As soon as the coach wants me (I want to play for South Sydney mentor Jason Demetriou). Hopefully in a week or two," Knight said.
"It's good to build a bit of confidence again.
"That (to play in the local derby) would be really nice. I love playing against the Chooks. That's one of my favourite games of the year. See how we go."
Knight said the hardest thing about being sidelined so long last year was not being able to do anything.
The tough prop is always active when healthy. But during his concussion lay-off he was instructed to literally do nothing, including not lifting weights at the gym.
"It's frustrating. It's more an empty feeling, to be honest," he said.
"I was very happy for my team with how good they were going. But for myself personally, watching games feels empty.
"It made me hungrier to get back playing footy again because that's where I want to be.
"It's probably a natural thing to have doubts.
"But to be honest, I'm pretty confident in myself and my physio team. We've got a pretty amazing medical crew.
"So all the doubts went away when I got in there and they gave me confidence."
As hard as it was for him, Knight said the best advice he could give anyone else sidelined with concussion was to not try and be a hero, or overthink the situation.
"Concussion is one of those things. You think you're being the tough guy trying to push through it," he said.
"My advice is to just relax. It's probably the hardest thing for me because I hate sitting down and sitting still.
"Don't come back until you feel ready."
After their slow start to this season, the Rabbitohs have drifted to be sixth favourites to win the 2022 NRL premiership, at $15 with sports betting sites.
"They boys have had a couple of tough games at the start of the season. But we're not doubting ourselves," Knight said.
"We've very confident in our systems and processes. It's early stages and we're pretty keen to get a win on the board.
"Hopefully we can get over the Chooks this weekend."