Simona hoping NSW Cup form can open door for shock NRL return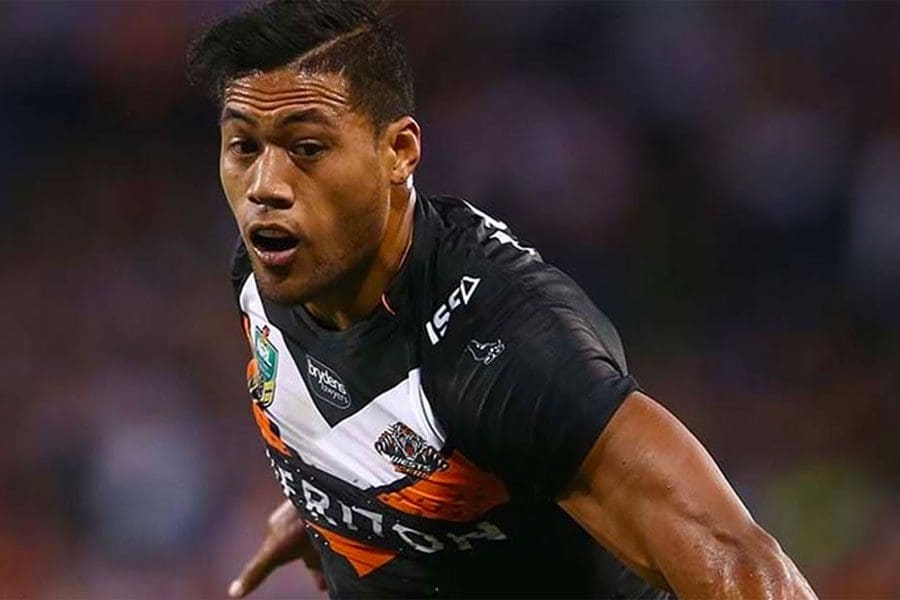 Mounties star Tim Simona is doing a lot of charity work which is going unnoticed, but he does want to make one thing clear – he's not the person many think he is.
Nowadays, he puts the needs of other people first. It's a far cry from his past.
If you do a Google search on the former Wests Tigers star and Samoan international, you will quickly see the amount of stories covering his disgraced history.
The now 30-year-old was thrown out of the NRL and given an indefinite ban in 2017 for betting on games, including rival teams and players.
He also copped an 18-month good behaviour bond after he pleaded guilty to obtaining property by deception.
That was after he kept money from the sale of signed club jerseys that were auctioned for children's cancer charity Camp Quality.
The new Tim Simona has reached out to Camp Quality, and working with disabled children is something he is now passionate about.
ALSO: Bulldogs building for the future with Clydesdales partnership
He's also back to playing good football. The centre scored two tries, assisted another two and ran for 111m in Mounties' 40-10 win over Blacktown Workers in Round 12 NSW Cup action at Aubrey Keech Reserve on Sunday.
"One-hundred per cent," was Simona's reply when asked if he had moved on from his past.
"The first couple of years were tough. But I sought help, and I've seen a psychologist and surrounded myself with the right people.
"I'm happy to say that I've turned my life around. I'm helping people with disabilities and giving back to the community.
"That's what I want to continue to do.
"Yes I have (reached out to) Camp Quality. I've reached out a few times. I've done a lot of charity work behind closed doors.
"But I'm not the person to tell anyone. I just do it because I want to, and because I know who I am as a person and I know I'm not the person people have portrayed me to be.
"I'm a loving, caring person and I want to let everyone know that."
Recommended!
The last time Simona was seen at NRL level was back in 2016, the Tigers going down 52-10 to Canberra in a nightmare last-round thrashing at Leichhardt Oval which cost his team a finals berth.
He then copped his ban and – to make things worse – the COVID pandemic led to the 2020 and 2021 NSW Cup seasons being cancelled, after turning out for Blacktown on 17 occasions.
But Simona stayed in shape and still believes he has a lot to offer at NRL level, if given the opportunity.
"It was tough, but I never gave up and kept training. I still feel like I'm 21 – like a kid again," he said.
"I think having that time off helped me a bit. I kept training, so I wasn't slackening off or eating junk.
"I feel like I can still keep up with the young boys these days.
"That's the role I'm taking on now (a mentor at Mounties). I'm the oldest in the group.
"There are a lot of young guns here, so I'm trying to nurture them in the right direction.
"I'm slowly building confidence. This was only my fifth week with Mounties. I'm slowly building and I'm pretty happy with my performance."
Simona also said confidence was slowly building at Mounties, who registered their second win of the NSW Cup season against the Sea Eagles on Sunday.
READ: NRL hopeful Sykes sticks up for Hasler as Manly woes mount
"I think it was a long time coming. We've been struggling for many weeks now and we haven't really put in an 80-minute performance," he said.
"We've been slowly building every week. I thought the boys went well.
"That was our goal – to have our big boys leading through the middle and have our outside backs doing the rest.
"Josh Carr stepped up. Jack Quinn off the bench was strong, and all our big boys were good, especially all our boys off the bench – there was a massive impact there.
"'Danger' (Dane Aukafolau), I've played with him for many years. He's really hard to tackle and I'm glad he's on my side."
Simona also threw his support behind Mounties coach Brock Shepperd, who has taken on the role from Michael Potter, now coaching the Bulldogs at NRL level after Trent Barrett's recent resignation.
"He is really good. He likes to play eyes-up footy. That's what you saw (against Blacktown)," Simona said.
"He was the head coach of our Ron Massey Cup team and he got the call-up.
"The boys were playing from one end to one end. He's really smart and this was his first win, so the boys are pretty pumped for him."