Punters can't help but fall into Kyrgios Australian Open trap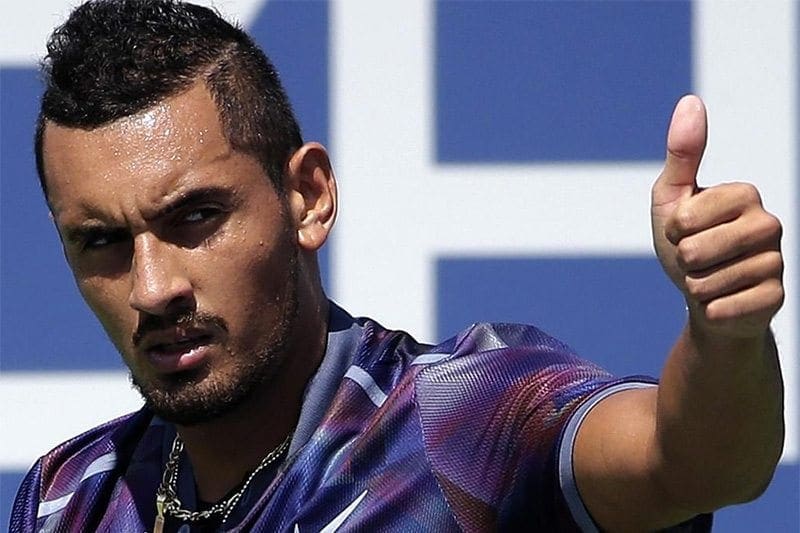 NICK Kyrgios has done it again.
He's given punters hope ahead of the 2018 Australian Open.
Online bookmaker Sportsbet.com.au has taken more money on Nick Kyrgios than any other player to win the Australian Open.
And the money coming for the volatile, yet talented 22-year-old is incredible.
A $40,000 bet on Kyrgios last week tightened his title odds from $21 to $17, but it was his win at the Brisbane International over the weekend that catapulted Kyrgios into a $12 contender and sixth favourite for Melbourne Park this weekend.
"Nick Kyrgios was a $26 chance at the start of the summer, but his price has more than halved after a great week in Brisbane, and the punters are coming from everywhere now," said Sportsbet.com.au's Christian Jantzen.
What is it about Nick Kyrgios that attracts punters every year?
Is it the power of hope in a home-town hero?
Does no one want to remember what has happened in Melbourne in years gone by?
Kyrgios has never gone past the quarter final stage of the Australian Open before and was bungled out of the tournament in the second round last year.
The current world number 21 has dealt with discipline problems and had his intensity, fitness and professionalism questioned in his brief career to date.
Kyrgios seems like a man who has had trouble dealing with the expectation that comes with his talent. In a time where there is a gulf of real singles contenders in Australian tennis, he has been unwilling and unable to step up to take the mantle.
So where is the merit in backing the consistent underachiever?
His competition is as thin as it has ever been at Melbourne Park.
Andy Murray has already pulled out with injury, while Roger Federer ($2.75), Rafael Nadal ($5) and Novak Djokovic ($6) are all coming into the tournament under fitness clouds and with limited preparation.
If there was ever a time for Kyrgios to take an opportunity presented to him, it's now while the big guns may not be at their best.
2017 Australian Open champion Roger Federer is the only other players punters are interested in. The Swiss master had his price trimmed from $3.25 to $2.75 after a faultless display at the Hopman Cup.
Australian Open men's winner odds
| | |
| --- | --- |
| Player | 2018 Australian Open Sportsbet odds |
| Roger Federer | +175 (in from $3.25) |
| Rafael Nadal | $5 |
| Novak Djokovic | $6 |
| Alexander Zverev | $10 |
| Grigor Dimitrov | $10 |
| Nick Kyrgios | +1100 (in from $17) |
| Juan Martin Del Potro | $15 |
| David Goffin | $19 |
| Stan Wawrinka | $26 |
| Dominic Thiem | $26  |
| Marin Cilic | $31  |