NRL Round 8 Review: Have the Broncos reached breaking point?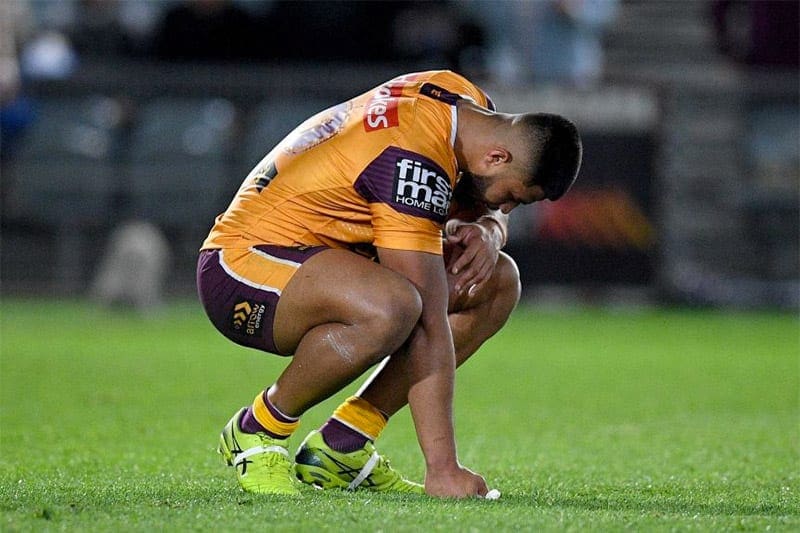 From dizzying highs to crushing lows, it was a week of intense emotion in the NRL. Let's look back at the biggest talking points and betting plays to come out of round eight.
Storm ride the lightning in epic win
Was anyone brave enough to back the Melbourne Storm at $5 at half-time on Thursday night? If you did, were you still confident when they fell behind 22-12 with 10 minutes remaining?
What happened from that moment was just about the most pulsating sporting experience one could imagine. We can't fathom what emotions the punters went through in this game, but it was more than worth it for anyone who got on the Storm midway through.
Broncos take another step towards wooden spoon
We already knew the Brisbane Broncos were a bad team, but they've somehow hit a new low.
That might seem difficult given their record 59-0 loss to the Roosters about a month ago, yet they gave up a lead to a team who sacked their coach, weren't very good to start with, are living away from home indefinitely and have players actively to seeking to leave the country.
The worst part is that it was hardly a shocking event for Brisbane fans. Under Anthony Seibold and the under-fire board, the Broncos are a mess and might just win the wooden spoon. For that to even be in the realms of possibility with all the competitive advantages they boast, there should be calls for a Royal Commission.
But seriously – the Broncos could win the wooden spoon this year. You can still get as much as $7.50 for that market at some NRL betting sites, and there are definitely worse bets on the books.
Did the Raiders find their groove again?
For 60 minutes, the Canberra Raiders looked closer to their old selves than they have done for a long time. For the final 20 minutes, however, they morphed into their 2015 version, giving the Dragons a sniff late by conceding 16 points in that period.
With their next two games against the Storm and Roosters, the Green Machine cannot afford to play well for just 60 minutes. The pleasing aspect for Canberra was scoring four tries for the second week in a row, which was something they had failed to do since rounds 18 and 19 of the 2019 season.
It wasn't a performance for their premiership backers to hang their hats on, but it was an important bounce back to keep the Raiders' top four hopes alive. They currently sit at $2.10 with Sportsbet in that market.
Central Coast Warriors strike once more
Has anyone else noticed the New Zealand Warriors are undefeated at their new home ground?
They thumped the Dragons 18-0 in round three, did the Cowboys 37-26 in round five and buried the Broncos 26-16 in round eight.
While they won't make the top eight and they have a cavalcade of problems, the Warriors are going to be big nuisance value whenever they play in Gosford. Punters beware.
Long road ahead for injury-hit Sea Eagles
Once any spine player is injured, it places enormous pressure on a team. The Manly Sea Eagles are without Tom Trbojevic and Dylan Walker for the foreseeable future and have lacked their usual attacking threat as a result.
While their second half against Newcastle showed their toughness and application to the job at hand, Manly lacked the polish Tommy Turbo brings to their back line. They moved into $9 for the premiership after their gritty win over Canberra in round six, but two consecutive losses have seen them slip back to $13.
The Sea Eagles face the Dragons next and simply must win to keep pace with the frontrunners. They may have to do it without Jake Trbojevic and Addin Fonua-Blake, who were both sent off at full-time in the Knights game for dissent against referee Grant Atkins.
Cowboys grounded with another big loss away
Following their big 32-20 win at home over Newcastle, the North Queensland Cowboys showed us more of who most people think they really are.
Another big loss on the road, their third of the season, highlights how big of a disadvantage the same-day travel from Townsville is. While it's a huge plus for them with home games, they are conceding an average of 33 points per game away from North Queensland.
For context, that's the same number the one-win Knights of 2016 conceded per game. In future, punters would be wise to back the overs and 13+ margin for NQC's opponent.
Resurgent Sharks climb into top eight
It almost doesn't feel right, but the Cronulla Sharks are in the top eight after eight rounds.
Three weeks ago they suffered an embarrassing loss to the Dragons and looked a good outside chance for the wooden spoon. Since then they've won three in a row, including back-to-back 40-point outings.
We will see how serious the Sharkies are when they take on Penrith this week, but following that they have a friendly schedule which includes the Warriors, Dragons and Broncos.
Just when it was looking like there was a clear divide between the top and bottom halves of the NRL ladder, Cronulla's form reversal has been a nice storyline to highlight the competitiveness of the competition.