NRL: Hindmarsh daring to dream of Eels premiership triumph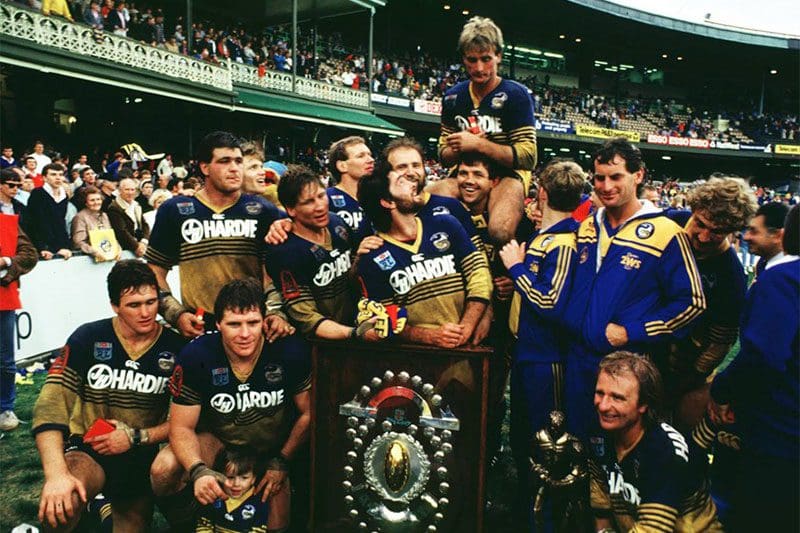 Two rugby league legends at the Eels – Hall of Famer Nathan Hindmarsh and elite pathways coach Simon Woolford – believe the club has the playing personnel to finally reward its long-suffering fans.
The Eels have not toasted premiership success since 1986, but confidence has slowly built that the blue-and-golds have a roster capable of doing something special this year.
That optimism took a hit after the side was on the end of a 35-4 thrashing at the hands of North Queensland in Darwin last Saturday night.
Despite this, the club sits in fifth place with a healthy 5-3 record ahead of its local derby against the undefeated Penrith at BlueBet Stadium on Friday night.
And Hindmarsh – who endured the heartbreak of losing the 2001 NRL Grand Final with Parramatta after a dominant season – said Eels fans had every right to believe in breaking a 36-year premiership drought.
"We all dare to dream. Our fans have dared to dream since 1986," he told BettingSite.com.au.
"They're going all right. I think our halves (Mitchell Moses and Dylan Brown) are going well, and our front row has impressed for a few years… they're all going well."
New South Wales and Australia representative Hindmarsh also reserved praise for hooker Reed Mahoney, saying he would be next in line for a Queensland jersey behind the incumbent, Storm superstar Harry Grant.
"He's not too far off (playing Origin). He's got a great kicking game," Hindmarsh said of the No.9 who has booted two 40-20s this season.
"Defensively he's great."
READ: BettingSite's State of Origin betting guide
Former hooker and Country representative Woolford – Parramatta's elite pathways and Jersey Flegg Cup coach – also believes Mahoney is not far off representative honours.
"He's obviously a good hooker. He's got a lot of talent, works hard and is a good player," Woolford said of the 24-year-old bound for Canterbury next year.
"So I don't see why not."
If the Eels do not achieve a long sought-after premiership this season, Woolford believes the club has the kind of depth to continue pushing for an NRL title in the years to come.
"There are a lot of them (Jersey Flegg players) getting a game in NSW Cup now – Tevita (Taumoepenu), Ryan Jones and Jack Colovatti," Woolford said.
"They're all up at the moment. As long as they go up there and do their jobs and hold their own, that's all we can ask."
Although his Jersey Flegg charges sit 3-5 in ninth place after last weekend's 30-6 loss to Canberra, Woolford – who has also had coaching stints at Queanbeyan Blues, the Knights' NSW Cup side and Huddersfield in England – sees plenty of upside in the young Eels players he is mentoring.
"I came to the club this year. It's a really good club to work for. I'm really enjoying my role at the moment getting these kids ready to go up," he said.
"It's been a bit tough at the moment, as far as wins and losses."
The Eels have lost their past two Jersey Flegg games in large part due to the impressive performances of key players who have moved up to the club's NSW Cup team.
"It's been tough at the moment with so many injuries at the club and a few blokes who have filtered up (to NSW Cup), but we've just got to get through it," Woolford said.
"But as long as you can see improvement in these kids over time we're heading in the right direction."