NRL 2020 Betting Update: Meet the finals contenders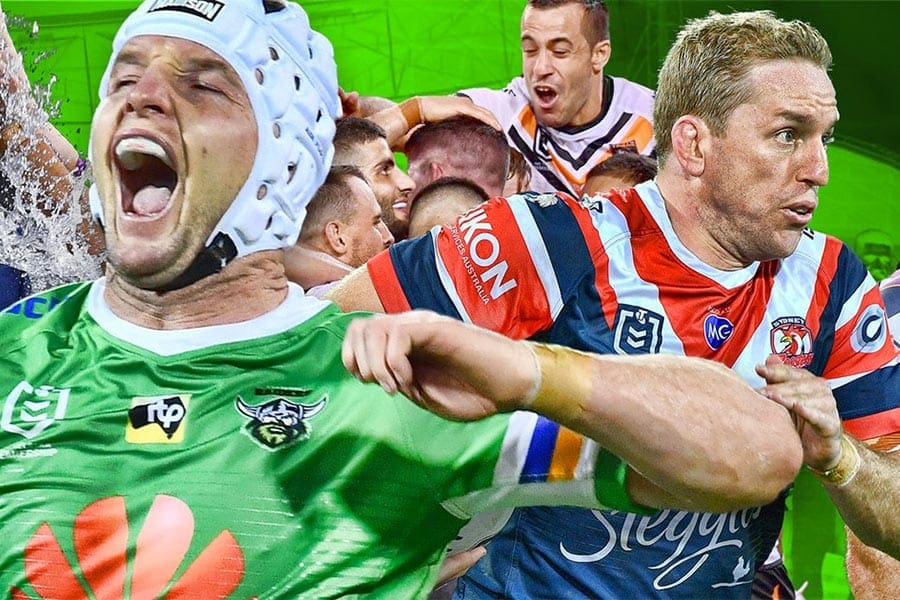 You can lock it in: the Panthers, Storm, Eels, Roosters, Raiders, Knights, Rabbitohs and Sharks will be playing finals football this October.
Manly and Wests are simply too far back and both suffered heavy defeats, which left you thinking there's just no way they can turn around their fortunes.
With five rounds to play, it might be worth looking at what makes each team a contender in the 2020 NRL Premiership betting.
Penrith Panthers
Sitting on the second line of NRL title betting at $4, the Penrith Panthers are a red-hot chance for the premiership.
They've won 10 games in a row, and there is every chance they may not lose a game again in the regular season.
Some people buy into the 'loss you need to have' theory, but that's one of those throwaway theories that has no quantifiable logic.
They can only beat the teams that are thrown in front of them on a week-to-week basis, while they have shown both the ability to pile on points and a consistent hunger in defence.
They finished 10th in 2019 and were the disappointment of the season, but make no mistake: the Panthers may win it all this year.
Melbourne Storm
They are currently in the midst of a crippling injury toll, yet the Melbourne Storm have lost just three games all season.
Their 14-0 loss to Parramatta means Penrith have the minor premiership all but locked up (which we said weeks ago looked a great bet), but the Storm will justify the $3.75 favouritism as they get troops towards the finals.
If Melbourne win the premiership having not been at home since the end of round six, it will go down as one of the finest achievements in the history of the sport. Not even their biggest detractors could deny them that.
Parramatta Eels
The Parramatta Eels have benefitted greatly from the revamped 2020 NRL draw, as they have played a lot of games at Bankwest Stadium and haven't been on a plane since round three.
They might have beaten the Storm B team, but many feel a genuine contender would have racked up more than 14 points against such a depleted side.
The Eels have scored more than 20 points in a game only once since round nine, which is barely believable for a top-four team with such a vaunted attack. Even the Bulldogs, Broncos, Warriors and Tigers have had more games where they've scored 20 points.
The Parra defence is incredible, but there is going to be too much pressure on it in the big games. To win a minimum of three finals while scoring just 12 points per game is a path you don't want to go down.
We know how good the Eels can be when they fire, but the $6.50 price has red flags all over it.
Sydney Roosters
The back-to-back premiers are another side who have been ravaged by injury but still control their destiny for a home final.
The focus for the Sydney Roosters is just about getting to week one of the finals in semi-decent shape. If they manage that, they can win a third straight title.
The Chooks are $4 to win it all and were as low as $3.25 just a month ago, but the current odds are about as good as you will get from this point on.
Recommended!
As some of their troops start to get healthy, Sydney will round into finals form and their odds will drop.
On their day, the Tricolours have enough class to win it all and are an attractive side to watch, but their fitness is paramount.
Other teams may be able to endure more injuries at the pointy end when you consider the three years of playing tough finals games, having teams try to knock off the premiers every week, the pressure of living up to that reputation each time they take the field – that all takes a toll, mentally and physically.
A lot has to go right for the Roosters to win it all again, but you can't discount it from happening.
Canberra Raiders
The Canberra Raiders lost their star hooker Josh Hodgson and have won five of their last six games. It shows the culture transformation this club went through in 2019 was no fluke and the system holds up.
They've added Corey Harawira-Naera and have John Bateman back as good as ever, and it's freshened up their squad. They may also get Corey Horsburgh and Iosia Soliola back before the end of the season.
When you see the performance Ryan Sutton put in on the Gold Coast, you start to think – if they can leap frog the Roosters, the Raiders are every chance of going back to the NRL Grand Final.
George Williams has been sensational at halfback, Jack Wighton continues to tear teams apart and Charnze Nicoll-Klokstad's ball playing has improved out of sight.
The Raiders are $13 for the flag at the moment but could drop to single digits if they beat the Chooks in round 17, so now might be the time to buy in if you fancy 'The Milk'.
Newcastle Knights
In many ways, it's shocking the Newcastle Knights have come this far.
When they lost at home to the Bulldogs, the alarm bells were ringing that it was 2019 all over again. Rookie coach Adam O'Brien slammed his squad for the "sense of entitlement" they played with, and from that day on things turned.
They played the Storm extremely hard in a 26-16 loss in Queensland and have since recorded three wins in a row. However, their injury woes have now gone beyond critical levels.
It looked like Newcastle had fixed a lot of their attacking woes when they recruited Blake Green mid-season, and then he tore his ACL. They've had major issues in the spine and have called on more than 30 players so far this season.
When a team uses more than 30 players in a single season, you expect them to finish in the bottom four. Somehow, the Knights are in sixth place and only a point outside the top four with five games to go.
They are at $31 for the premiership and would need a Parramatta 2009 or Cowboys 2017 finals run to make a fist of it. Their defence is sound for the most part, and if they get the right opponent on the wrong day in October, they could be nuisance value.
We've seen standout individuals take over finals series in the past, and Kalyn Ponga has that ability in him. It would be a brave man to take on the $31, but someone will.
South Sydney Rabbitohs
Their last win against a top-eight opponent came back in round one against Cronulla. Make of that what you will, but it feels like five years ago.
The South Sydney Rabbitohs have put themselves in the bottom part of the eight by simply beating all the teams below them.
It sounds like an easy enough way to guarantee a place in the finals, but it is harder to do than many would think.
If you kick the crap out of all the bad teams and beat the other teams in the spots directly below you, you'll almost certainly finish in the eight.
To get into the top four, however, you have to beat some of the good teams too, and Souths haven't been able to do that.
In round 16 they play a Parramatta side who are trending the wrong way in some aspects, so it's a great chance for the Bunnies to finally win a game against a decent side.
Souths are $26 to win their 22nd premiership, but they should be at a much longer price.
Cronulla Sharks
No team since 1908 has conceded 50 points in a game and gone on to win the premiership.
The Cronulla Sharks conceded 56 in round nine, which suggests they're cooked as far as winning the competition goes, but they are a big chance to upset someone in week one of the NRL 2020 finals.
If you average 26 points for and 23 against for an entire season, it says you are capable of catching fire for a day but can't win it all. Thus, the $67 price might as well be $2,067.