Can anybody beat the Patriots to Super Bowl LII?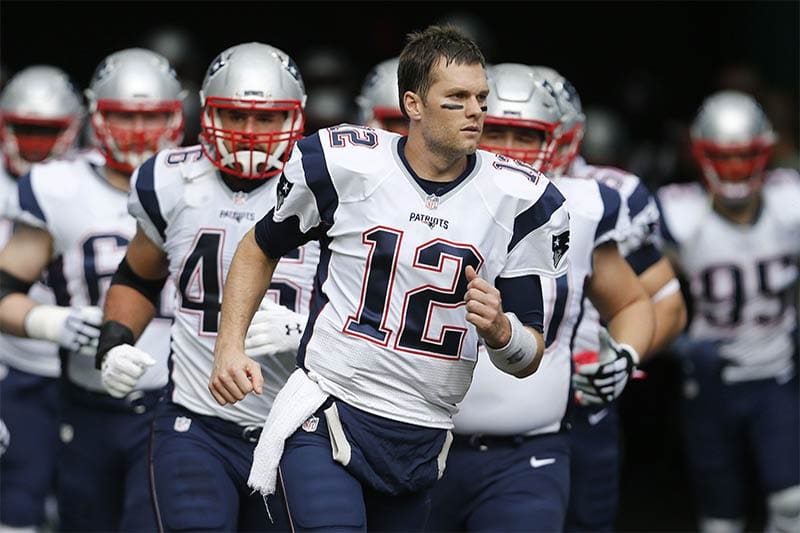 IF bookmakers' odds are any indicator of actual outcomes, we might as well hand New England the Vince Lombardi Trophy right now.
Online bookie WilliamHill.com has the Patriots pegged as runaway $4.50 favourites to win a third Super Bowl title in the space of four years.
Their nearest rivals in the outright betting are nearly triple that price.
Green Bay Packers are the best of the rest at $12, with Pittsburgh Steelers and Seattle Seahawks close behind on $13 apiece.
The Steelers are $2.80 favourites to face the Pats in the AFC Championship Game.
If there was an NFL betting market for best facial hair in the competition, Packers quarterback Aaron Rodgers would be hard to beat.
Ron Swanson looks like he's remembering back when he used to play QB and Aaron Rodgers is playing him in the flashback. pic.twitter.com/G5IJ4Wz68m

— Jesse Peel (@JPSportsRuckus) August 29, 2017
Dallas Cowboys have not reached the decider even once since 1996, yet they share $15 outright odds with the Atlanta Falcons – last season's runners-up.
While the journeyman Raiders are headed to Las Vegas, they are paying $17 to give their Oakland fans a taste of Super Bowl glory before they go.
Kansas City Chiefs and New York Giants are paired together at $23, just a few bucks shorter than the $26 Carolina Panthers.
Houston Texans ($31) slide in ahead of a $34 quartet consisting of the Arizona Cardinals, Denver Broncos, Minnesota Vikings and Tennessee Titans.
You have to scroll much further down the list to find the Detroit Lions, who are $61 outsiders despite making Matthew Stafford the highest-paid player in NFL history.
Tom Brady, Aaron Rodgers, Drew Brees when they hear Matthew Stafford is the highest paid player in the NFL. pic.twitter.com/jb7F74MBdO

— Austin (@AustinCTweets) August 29, 2017
The Lions are not even realistic contenders in the NFC Conference, where they are paying $29 odds to trump the likes of Green Bay ($5.50), Seattle ($6), Atlanta and Dallas (both $7).
William Hill customers can get $4.10 odds on Detroit just to reach the playoffs – not far shy of New England's $4.50 Super Bowl quote.
There are, however, even worse options out there.
The LA Rams ($101 to win the Super Bowl) are in for another tough season, as are the perennially disappointing Chicago Bears ($126) and Cleveland Browns ($151).
San Francisco's fortunes have not improved since the Jarryd Hayne experiment, as the 49ers are $201 no-hopes for the main prize.
But bringing up the rear and making the rest look competent are the New York Jets, who are paying $301 for the Super Bowl, $101 for AFC Conference champions and a hefty $15 to reach the playoffs.
NFL futures bet bonus at William Hill
Customers at William Hill can win big on the NFL this season even if their outright picks don't come off.
If you bet $50 or more on any team to win the Super Bowl, you will earn 200 William Hill Rewards points for every game your side wins in the regular season.
For example: if we back the Pats and they match last year's 14-2 record, we will gain 2800 loyalty points that can be traded for bonus bets, luxury prizes and other rewards.
As this promotion is all about what happens in the regular season, it does not even matter if your team fails to challenge for the Super Bowl.
Only bets made before midnight on September 7 qualify, so head over to the William Hill website now and make your picks.
Super Bowl LII outright betting
$4.50 – New England Patriots
$12 – Green Bay Packers
$13 – Pittsburgh Steelers, Seattle Seahawks
$15 – Atlanta Falcons, Dallas Cowboys
$17 – Oakland Raiders
$23 – Kansas City Chiefs, New York Giants
$26 – Carolina Panthers
$31 – Houston Texans
$34 – Arizona Cardinals, Denver Broncos, Minnesota Vikings, Tennessee Titans
$41 – Baltimore Ravens, Indianapolis Colts, Tampa Bay Buccaneers
$46 – New Orleans Saints
$51 – Cincinnati Bengals, Los Angeles Chargers, Philadelphia Eagles
$61 – Detroit Lions
$67 – Miami Dolphins, Washington Redskins
$81 – Jacksonville Jaguars
$91 – Buffalo Bills
$101 – Los Angeles Rams
$126 – Chicago Bears
$151 – Cleveland Browns
$201 – San Francisco 49ers
$301 – New York Jets