Bernie backed to retire after first round French exit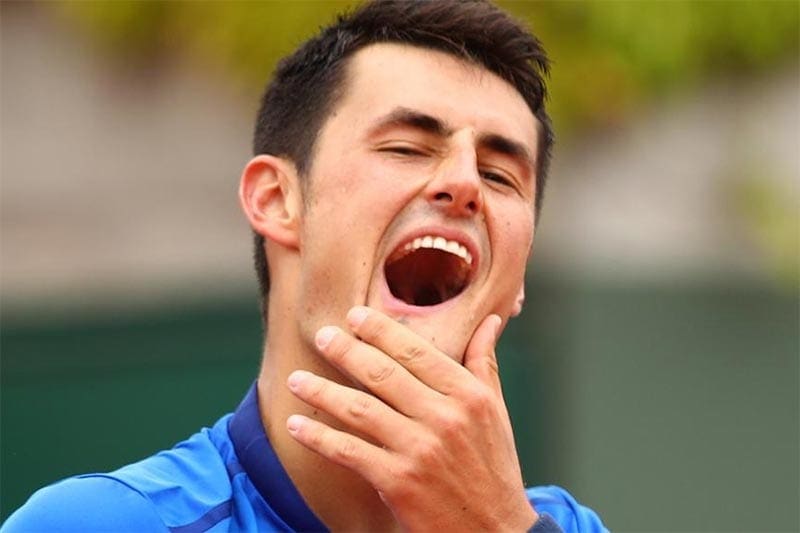 FOLLOWING yet another unceremonious exit from a grand slam tournament, the vultures are once again circling the career of Aussie bad boy Bernard Tomic.
The 25-year-old lost in four sets to journeyman Marco Trungelliti, a man he was expected to roll right through en route to the second round of the French Open.
Tomic, who had endured a tough road just to qualify for the French Open, couldn't overcome the Argentine Trungelliti, who had only reached a second round at a grand slam on three previous occasions.
Tomic wasn't exactly forthcoming in the aftermath of the match.
"Yeah, I guess I was OK," Tomic said after two-hour, 54-minute defeat.
The nonplussed attitude of Tomic has lead online bookmaker Sportsbet to offer a market on whether or not he will retire before the end of the year.
Punters who believe Tomic will retire before the conclusion of 2018 can get a $5 return on their investment.
True to form, Bernie delivered a concise summation of his short-lived stint at Roland Garros.
In a typically petulant post-match press conference, Tomic offered up just 64 words to the journalists in the room.
When asked if he could take renewed confidence into grass-court season – his preferred surface – Tomic was reluctant to give too much away.
"Yeah, we'll see. We'll see what's next."
Sportsbet has taken Bernie's own words and framed a market about what's on the horizon for Tomic, specifically in the land of reality TV.
Love Island is the favoured way at $2, while Big Brother ($5) and The Bachelor ($6) are two of the other shorter options.
For those thinking Bernie will look for a life off the tube, a job nightclub owner is at $2, with motivational speaker ($3) and meter maid ($6) also in contention.
Sportsbet representative Ella Zampatti thinks a return to reality TV could be in the offing.
"There's a lot of talk about Tomic's future going on but now that he has the next couple of weeks free – we think to go onto Love Island as an intruder would be the perfect fit."