Australia vs. England odds, news & tips for Ashes 3rd Test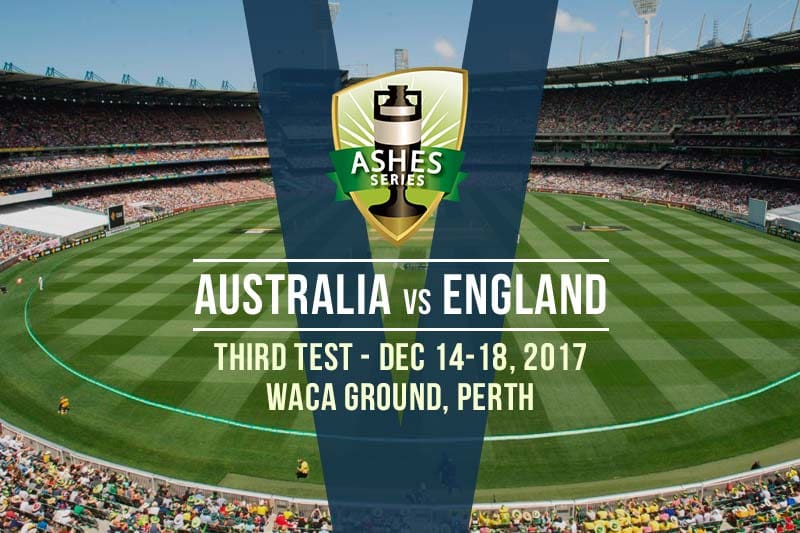 Thursday, December 14, 2017 – 10:30pm AWST (1:30pm AEDT) – WACA Ground, Perth
DESPITE leading 2-0, Australia could shuffle the deck when the the Ashes series resumes in Perth on Thursday.
Peter Handscomb's place in the middle order has come under close scrutiny after a pair of unconvincing innings at Adelaide Oval.
Both the England attack and the press box have picked apart the unusual technique that worked so well for the Victorian last summer, and several high-profile media figures have already declared his series all but over.
"My personal feeling is that he's gone in the head," former Test opener Michael Slater said on radio this week.
"All the pulling apart of his technique is valid in the commentary box and they're doing the same on the radio, it all gets back to the player.
"They can't avoid it. If they don't hear it their mum or dad or their brother or sister hears it or they're friend says, 'Gee they're ripping into you, I don't know why mate, you've had a couple of bad innings'. And he says, 'It doesn't bother me'.
"But it's in his head and as soon as you doubt yourself, and I think he's doubting himself, then that's enough for me.
"They've got the form player there."
The form player in question is Mitchell Marsh, who joins the squad on the back of an impressive start to the Sheffield Shield season.
Not again… #Ashes pic.twitter.com/nPFm4RgwGC

— Sportsbet.com.au (@sportsbetcomau) December 11, 2017
There is a suggestion that Marsh's seaming bowling will give him the edge over Handscomb if the WACA pitch shows a bit of character, but Slater rubbished that notion.
"They're saying it'll come down to the pitch conditions," he said.
"We know what we get over there. We get a flat deck and we'll see hundred after hundred.
"Forget this theory that it's quick and bouncy. That went 15 years ago.
"But if it is bouncing a little bit, let's just say that it has a little bit of carry there, then it actually suits Handscomb because he plays off the back foot and that's his favourite shot."
Meanwhile, the England camp is falling to pieces in the wake of yet another after-hours scandal.
Ben Duckett will not play again on this tour after pouring a drink over Jimmy Anderson during a bar session in Perth.
What most upset Michael Vaughan about that incident was that it occurred in the same venue where Jonny Bairstow greeted Australia's Cameron Bancroft with a headbutt only weeks ago.
"To think you've gone back to the same bar where the Bairstow incident happened, the first night you're back in town, it's just stupid," the former England captain told the press.
"You can't fathom the mentality of a group of people who suddenly say 'Right, we're going out, we've found a venue, and you know what, we're going back the Avenue bar'.
"You have one or two bad eggs and let's be honest, they act like students when they go out, big trays of shots."
The other big issue for England is what to do about Ben Stokes.
The red-haired allrounder was considered a near-certainty for the WACA when he flew out to New Zealand before the Adelaide Test, but his returns for Canterbury have hardly inspired confidence.
In three domestic one-dayers, Stokes has registered scores of two, 34 and zero while taking only a single wicket.
That form (or lack thereof) could well see Chris Woakes given another opportunity to prove his worth as England's seam-bowling allrounder.
David Warner best bets
Australia's hard-hitting opener has shown flashes of his quality so far this series, but we expect a whole lot more in Perth.
In nine Test innings at the WACA, David Warner has cracked three centuries and two half-tons at an average of 89.22.
That includes two of his most famous knocks: a brutal 180 off only 159 balls against India in 2012, and a career-high 253 against New Zealand two summers ago.
Unless this pitch has invisible demons that are ready to wake after two decades of undisturbed slumber, Warner will fancy his chances of another big one against England's mid-strength pace attack.
Bookie specials for Ashes 3rd Test
New Ashes Frenzy specials each day, Monday to Thursday, from 1pm at Sportsbet
Extra Odds Boost available on all Innings of Winnings bets at Ladbrokes
Double William Hill Rewards points for all bets on the third Ashes Test
Australia vs. England match prediction
Is Australia's luck bound to run out sooner or later?
Steve Smith's men came out on the happy side of several borderline decisions in Adelaide, yet England were right in the game until collapsing early on the fifth day.
The other big question is whether an undisciplined and under-pressure England can find the extra bit of quality required to clinch a win.
A captain's knock from Joe Root would help, as would some meaningful contributions from Alastair Cook, Mark Stoneman and James Vince at the front end.
Lucky for them, there is no better place in the world to find form with the bat than the WACA – now a shadow of the bouncy, fast-bowler's dream it once was.
Despite that, the Perth Test has delivered only three draws since the turn of the millennium.
England have not won at this venue since 1978, and there isn't much to suggest a change of fortune on what may be their last-ever visit.