Weekend Sports Wrap: Tuivasa salutes, Whittaker falls short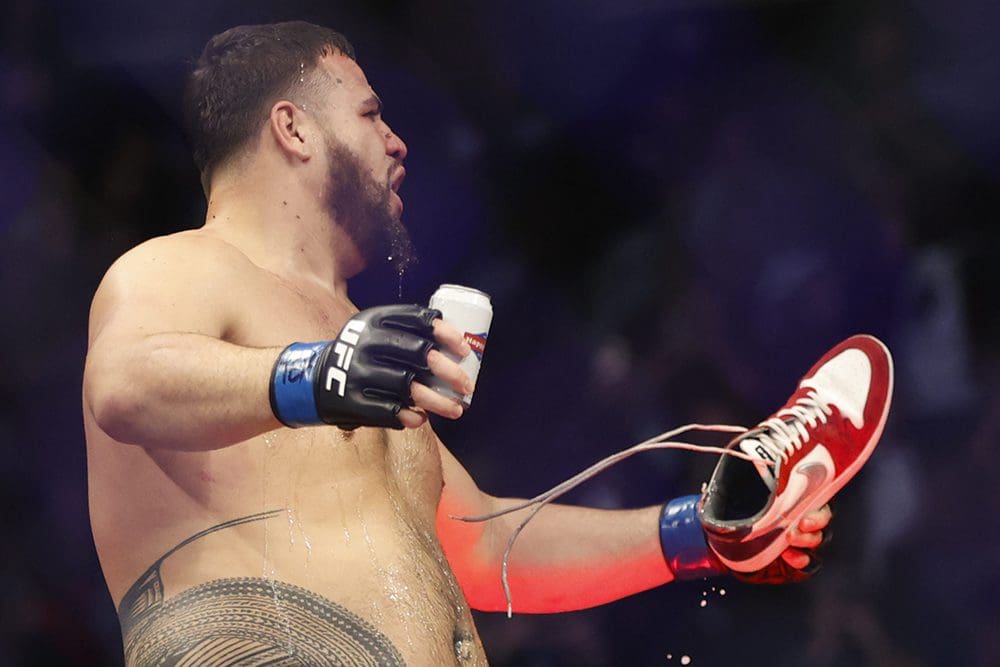 The sports betting world is in a slight lull right now. Traffic is slow following a disappointingly one-sided Ashes series that provided summer punters with few opportunities. The AFL and NRL seasons are yet to resume, so we're in the calm before the storm. Fight fans were, however, spoilt to a solid card over the weekend as UFC 271 featured a couple of Aussies starring in the main and co-main events. Without excessive bragging, the team had a pleasingly profitable day thanks to the heroics of Western Sydney's favourite son, Tai 'Bam Bam' Tuivasa.
Tuivasa was matched with Derrick Lewis, a huge man who has stood and traded with the MMA's best heavyweights and even holds a victory over current heavyweight champ Francis Ngannou. But at age 37, the wear and tear might be catching up with the Texan. He's a banger, a stand-and-deliver man with huge power in his right fist and limited evasive skills. By way of background, his fight before UFC 271 was against an over-rated, flabby Boston police officer, and the team landed some very nice bets on the Lewis KO result. The banger versus the cop was in fact our biggest UFC betting play in recent memory, so the self-named 'black beast' will always hold a special place in our hearts.
Tuivasa would present Lewis with an altogether different challenge because he too is a powerful swinger who does not retreat. When two heavy hitters face off the fight often becomes a contest of chins, and the golden rule in such a circumstance is: bet on the young guy. Chins and their ability to take shots diminish with age, and Tuivasa is only 28, so we backed him at healthy odds to take the Lewis blows and keep firing. Tuivasa did not disappoint, fighting through some solid early blows before finishing Lewis with two devastating elbows in the second round.
The main event appeared to be a well-handicapped affair, so we were happy to sit out from a gambling perspective. Middleweight champ Israel Adesanya is the purest striker on the UFC roster, and online bookmakers seemed to have the contest with Aussie challenger Robert Whittaker priced correctly. The fight was a rematch with Adesanya having knocked out Whittaker back in October 2019 to claim the title, and although Whittaker has been on a solid run since the defeat, he gave up significant height and reach to the Kiwi champ.
Recommended!
The fight played out largely as expected. Adesanya kept Whittaker at long range and deployed his formidable striking arsenal. The Aussie had a few moments of joy, but the judges were not convinced the belt should change hands. Adesanya and Whittaker are probably the two best middleweights in the division, so it's not clear where the twice vanquished Aussie might go from here at this stage in his career.
The team also had a small win when Jarod Cannonier got the job done with some impressive ground and pound versus a tiring Derek Brunson. So, it was a winning day, and cold beer was drunk in celebration. As they say at the Vegas craps tables, 'when you're hot, you're hot'.
These words were penned prior to Super Bowl LVI, a sporting event wrapped within layers of almost impenetrable Americana. For the record, we are warm on the Rams, who might just sack the Bengals' quarterback into oblivion. So, if you can stomach the endless timeouts, the unfunny, multi-million-dollar corn chip commercials, the never-ending half-time show, and the nauseating celebrity appearances, take the Rams at -4 in what looks like a free-scoring contest.
Stay sharp, sports punters. Keep your wits about you and punish the bookies whenever possible. We will be covering the major Australian sporting codes when they resume, delivering tips and trends that will keep you in steak and gravy through the cooler months.
See the latest sports betting tips