Tim Cahill odds and betting for A-League City vs. Victory derby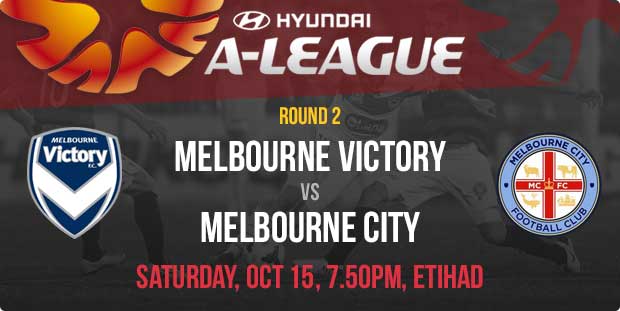 Saturday, October 15, 2016, 7.50pm AEDT, Etihad Stadium.
Table position:
Melbourne Victory: Seventh
Melbourne City: Second
Season record:
Melbourne Victory: 0-1-0
Melbourne City: 1-0-0
Win draw win odds:
Melbourne Victory: +150 with WilliamHill.com.au
Draw: $3.60 with WilliamHill.com.au
Melbourne City: $2.50 with WilliamHill.com.au
THIS is the big one.
All eyes will be on Etihad Stadium on Saturday night as Tim Cahill makes his A-League debut in front of a packed Melbourne Derby crowd.
Cahill has had a storied professional career and is the darling of the Australian soccer scene.
And even Melbourne Victory fans could be forgiven for being excited to see him in action for their bitter rival Melbourne City.
It is unclear how City coach John van't Schip will use the Socceroos' goal scoring machine, given that he has played a pair of internationals in the past week.
Our money is on him to come off the bench, but we're hoping he is out there for kick off.
The Victory kicked off the season with a tough trip to Brisbane and managed to snatch defeat from the jaws of … err … victory.
Roar, with the addition of Socceroo Brett Holman, was always going to be a tough ask on their home deck.
But both sides enjoyed plenty of attack that unfortunately amounted to nothing until Mitch Austin struck in the 83rd minute to give Victory the lead.
It was a clinical finish from Austin, who followed up a Ben Fahid Khalfallah chaos ball and struck it sweetly through the legs of Roar keeper Michael Theo.
Roar skipper Matt McKay was shown red, 25 minutes from time, and, after Austin's strike, it looked like this one was all she wrote.
But, a remarkable moment in injury time cost Victory dearly.
Roar striker Jamie McLaren earned a free kick near the box in stoppage time and the delivery into the box was not cleared by Victory, giving Luke Devere a chance to level the scores.
He did so, and the Victory went home with one point, when it should have been three.
Conversely, City kicked off its new season with a bang, knocking over the Wellington Phoenix in stunning fashion.
It is never easy to cross the ditch and take points from the Phoenix, but City did so thanks to a perfect finish Anthony Caceres, who latched onto a superb cross from Bruce Kamau, weaved his way around on rushing Phoenix goal keeper Glen Moss and deposited it into the back of the net with precision on 31 minutes.
The former Heart men peppered the Phoenix goal and should have had a bigger lead, with Bruno Fornaroli denied by Moss in the chance of the match, before they lost a man early in the second half.
Goal keeper Thomas Sorensen was adjudged by the match referee to have handled the ball outside the box.
But that mattered little as they stood solid and snuffed out any chance of a Phoenix revival.
Victory coach Kevin Muscat said this week he wants to see a Melbourne Derby played under the bright lights of the Melbourne Cricket Ground – giving Melbourne a chance to take back the crowd record set by the Sydney Derby on the weekend.
"I'm up for it," he yesterday.
"Strategically it would take some thought … but who's to say if we took Round 1 there this year how big it would have been?
"I'm not saying the MCG won't be right but that should be the first priority (the pitch quality).
"We shouldn't be thinking 'we could get an extra 20,000 in' because that 20,000 that don't go to the game normally will go home disappointed and the entertainers go 'look what I had to work with'.

"The product is king. You can build the best restaurant and fill it out with all kinds of entertainment — people blowing fire out of their mouths and jugglers — but if the food's bad you don't go back to see the juggler."
Muscat down played Cahill's presence on Saturday night.
"It's the biggest one ever, until the next one," Muscat said of the Derby when asked about Cahill.
"They're great games regardless of which players are playing in them and the rivalry is just going to grow and grow and grow."
First goal scorer tips
Melbourne Victory:
Fahid Ben Khalfallah (+1100 with Sportsbet.com.au)
Ben Khalfallah is a proven finisher who might benefit most from the absences of Troisi and Rojas. There was the fear that he would be squeezed out by their additions and the emergence of Mitch Austin, so he will want to grab this opportunity with both hands. Was instrumental in the Victory's goal on the weekend and expect him to figure prominently.
Melbourne City:
Nicolas Colazo ($10 with Sportsbet.com.au)
Many City fans were left asking "Nicolas who?" when Colazo was announced as their marquee signing. Does not come with the wraps of Cahill, but is arguably more important to the success of this side.
Match predictions
Match result: Melbourne Victory to win ($2.50 with WilliamHill.com.au)
Correct match score: Melbourne Victory to win 2-1 (+850 with WilliamHill.com.au)
Total match goals: Over 2.5 match goals ($1.57 with WilliamHill.com.au)
This is a tough, tough game to pick. But we're going with our gut and sticking with the Victory, even though their new signing James Troisi is out for a month with broken collarbone. Add to that the potential absence of Marco Rojas and the Victory have some serious injury concerns. But depth is a huge key for Melbourne's foundation A-League club and, they have a raft of attacking options to throw at City in support of Besart Berisha. With City coming hard, Victory will want to prove it is still the number one club in Melbourne and bounce back from the disappointment of the weekend.
More News

Deprecated: WP_Query was called with an argument that is deprecated since version 3.1.0! caller_get_posts is deprecated. Use ignore_sticky_posts instead. in /home/bettingsite/public_html/wp-includes/functions.php on line 5145

All Recent News