The greats who defied father time to dominate their sport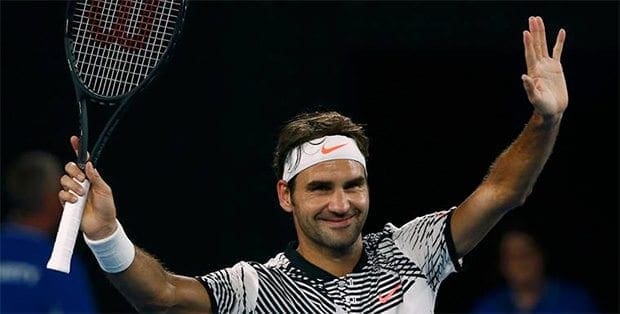 SOME sporting legends are born from years of consistent success.
Others come and go in the blink of an eye. Some do it when they are young, some do it when they are old and others just do it, no matter the age.
Inspired by Roger Federer once again winding back the clock at the Australian Open, we have delved deep into the sporting archives and come up with a list of men and women who either dominated their individual sports late in their careers, or helped their teams win.
Roger Federer, Serena and Venus Williams, Martina Navratilova, Tennis
To some people, Roger Federer is the greatest tennis player of all time. Period. There are some arguments for both Pete Sampras and Andre Agassi, who both won titles late in their careers, but Federer's remarkable longevity and production holds him in the highest esteem. If he can somehow win this year's open he will become the second oldest man ever to win a grand slam, behind Australian legend Ken Rosewall. The Williams sisters obviously need no introduction. Serena at 35 is a little younger than sister Venus and she is the dominant one, arguably the greatest women's tennis player ever to step on the court. Venus, at 36, has joined Serena in the quarter-finals at this year's Australian Open and, while she hasn't exactly gotten better with age, she still plays the sport at a high level, keeping herself in the top 20. While Serena is the oldest woman to win a grand slam title and the oldest woman ever to be world number one, her longevity is surpassed by the great Martina Navratiliova, who played at a high standard until the age of 49.
Michael Tuck, Brent Harvey, AFL
Talk about blokes with guts. Hawthorn legend Michael Tuck played a remarkable 426 games for the Hawks. To give you an idea of just how good Tuck was, he arrived at the club as a full forward, was brought into the side as a wing man, graduated to a ruck roving roll and finished second in the club best and fairest a staggering seven times, three times behind arguably the greatest player of all time, Leigh Matthews. But only last year, newly-retired North Melbourne pocket dynamo Brent Harvey broke that record. Harvey's diminutive frame was a ball of muscle, pace and hard-running determination. He is one of only three mean to boot better than 500 goals for his club – the other two? Legends Wayne Carey and John Longmire.
Gary Player, Golf
Nine majors, 163 tournament victories – and a hole in one at last year's Masters warm up event… at age 80. Gary Player was and is one of the greatest golfing products of all time and he did it for what seemed like an eternity, remarkably becoming the oldest player to make the cut of a major when, at aged 62, he made it through the weekend at the 1998 US Masters. But the legendary Jack Niklaus remains the bench mark for aged golfing success, holding the record for most major wins, culminating with the 1986 Masters, at just over 46 years of age.

Misbah ul-Haq, Younis Khan, cricket
Two Pakistani cricketers make our list for tremendous longevity and success at the highest level. ul-Haq, the Pakistan captain, had contemplated retirement after a dismal tour of Australia, but has shelved those plans and will will look to continue as age 43 approaches. Not to be outdone, Khan is almost 40, but that has not stopped him producing at the highest level, clubbing 298 runs at just under 60 against the Australians, including a majestic unbeaten 175 at the SCG, becoming the only man to score a Test century in 11 different countries. Both men were part of the Pakistan side that was the number one Test nation in the world only a few months ago.
Peyton Manning, NFL
Peyton Manning retired at the end of the 2015-16 NFL season, wearing a Super Bowl ring, at the ripe old age of 40. In his 18 season career, he won the Super Bowl twice and earned over $400 million across his career, more than any other NFL player in history. He was so often the regular season benchmark that often struggled when it really counted, losing the Super Bowl twice, giving him a 50-50 record.
Kareem Abdul-Jabbar, Michael Jordan, Kobe Bryant, Tim Duncan, NBA
Many NBA players have had an impact well into their late 30s and even early 40s, but one stands alone as having the greatest longevity of production. The towering athletic freak, Lew Alcindor, who became Kareem Abdul-Jabbar, retired with the greatest resume in NBA history at the time, Abdul-Jabbar played for 20 seasons for the Milwaukee Bucks and Los Angeles Lakers, scoring more points than any other player in history, before retiring in 1989 at the ripe old age of 42, with six NBA championships and six MVP awards. It might seem like lip service, but MJ, Kobe and Tim Duncan all produced notable numbers well into their late 30s.
Gordie Howe, NHL
Imagine being a young bull taking to the ice in your first season, facing up against a 52-year-old who had played hockey across four different decades… and absolutely crapping your pants. That was the legacy of Mr Hockey Gordie Howe, who was a scoring machine for the Detroit Redwings and Hartford Whalers across the 1950s, 60s, 70s and 80s, retiring at age 52 in 1980.
Satchel Paige, MLB
If you discuss the greatest major league pitchers of all time, Satchell Paige is always in the conversation. And what makes that so remarkable is that this bloke debuted at an age when most men are going through a mid life crisis and expanding their waistbands. Paige's midlife crisis was obviously to take up baseball, scoring his major league contract at the age of 42 in the early 1940s, becoming the oldest rookie in league history. When he retired in 1966, he played his last game as a 59 year old. No other player has come close.
[interaction id="5886ddd76904cee705a69a53″]