Taaffe credits Latrell Mitchell for South Sydney's NRL revival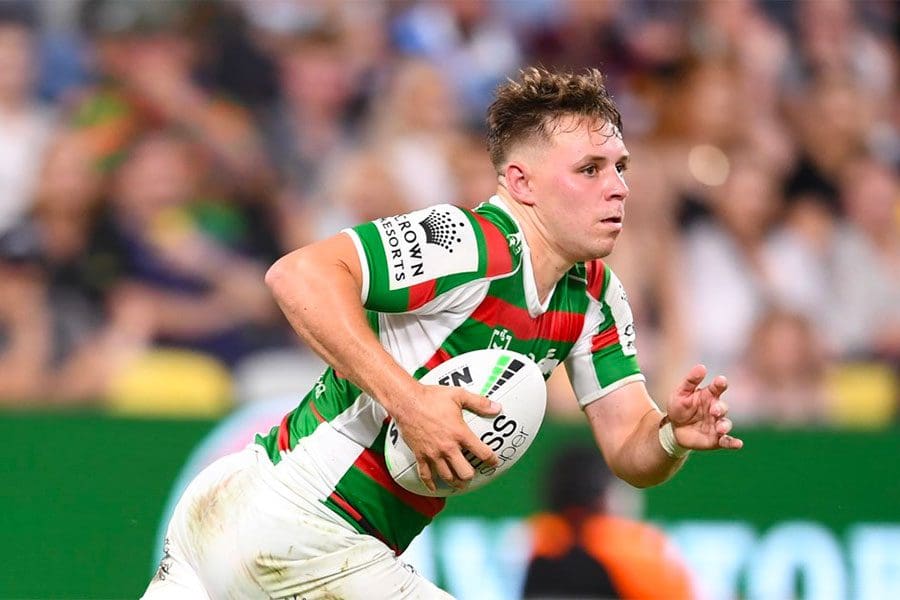 Blake Taaffe has summarised the Rabbitohs' form turnaround in just two words – Latrell Mitchell.
It means the fullback/half is happy to bide his time behind the superstar custodian, named on the bench with Kodi Nikorima out injured for Saturday's Round 21 clash against the Warriors at Sunshine Coast Stadium.
It is no coincidence South Sydney has won four of its past five games since Mitchell's long-awaited return from a hamstring injury, with the Bunnies climbing to seventh place on the NRL ladder as a result.
Taaffe, who has been a consistent performer in the No.1 jersey at NSW Cup level, said the New South Wales and Australia representative's presence at training has had a huge uplifting effect on his teammates.
"Just the attitude at training. A lot of boys seem a lot closer. With Latrell coming back he's hungrier than ever," Taaffe told BettingSite.com.au.
"He's driving the energy and it's going through the whole squad.
"He's done it all. He's won two grand finals, played for his state and country. Everything he does you just thrive off him.
"He's a great player and a great bloke. He's a real cool, calm and collected person."
Taaffe believes the Rabbitohs will take plenty of encouragement and belief from last Saturday's 21-20 defeat to Cronulla in the golden-point period into their clash against the struggling Warriors.
The loss snapped South Sydney's four-match winning streak.
Meanwhile, the 13th-placed New Zealand outfit has shown signs of improvement in recent weeks, losing to the Storm, Raiders and Eels each by 12 points or less.
"They (the Warriors) are a good side, and every side in the NRL is good. So it's about being the best team on the day," Taaffe said.
"If we play how we've been playing, then I'm sure we'll have a good day.
"But if they come ready to go, it'll be a tough game."
ALSO: This week's NRL betting tips
Taaffe, with nine NRL matches under his belt in his second season at the elite level, is just happy to get game time off the bench behind Mitchell, who is a proven matchwinner.
"I'm still young and learning. There are a lot of things I need to improve to be a regular first-grade player," the 23-year-old said.
"But I'm enjoying my time here. I love it here and I love playing with these boys.
"I think there are some patches I can get better at. At the moment I'm going all right, but there's always room for improvement."
Taaffe also said the seventh-placed Rabbitohs outfit in the NSW Cup needed to get better if it wanted to go deep into the finals.
The Bunnies lost 42-18 to the first-placed Newtown Jets – the feeder team for Cronulla – at Henson Park on Saturday.
That result came after Souths led 12-0 inside the first 15 minutes of the game.
"I think it was just discipline," Taaffe said.
"You can't get away with giving away penalties – you've got to D-up and we weren't doing that.
"I thought we were the better side and we showed that in parts. But we beat ourselves and paid the ultimate price.
"It's something we've got to get better at over the coming weeks if we want to play semi-finals."
The Rabbitohs' reserve-grade outfit is not short on talent – it contains the strikepower of Taaffe, Jacob Gagai, Richie Kennar and Josh Mansour, complemented by clever halves Jack Campagnolo and Dean Hawkins.
But Taaffe believes his teammates can show better composure in pressure moments.
"I think we've got a great team. But discipline loses you games and that was what did it (on Saturday)," he said.
"It got the better of us and it's something we definitely need to get better at."