Bennett calls for more player protection in rugby league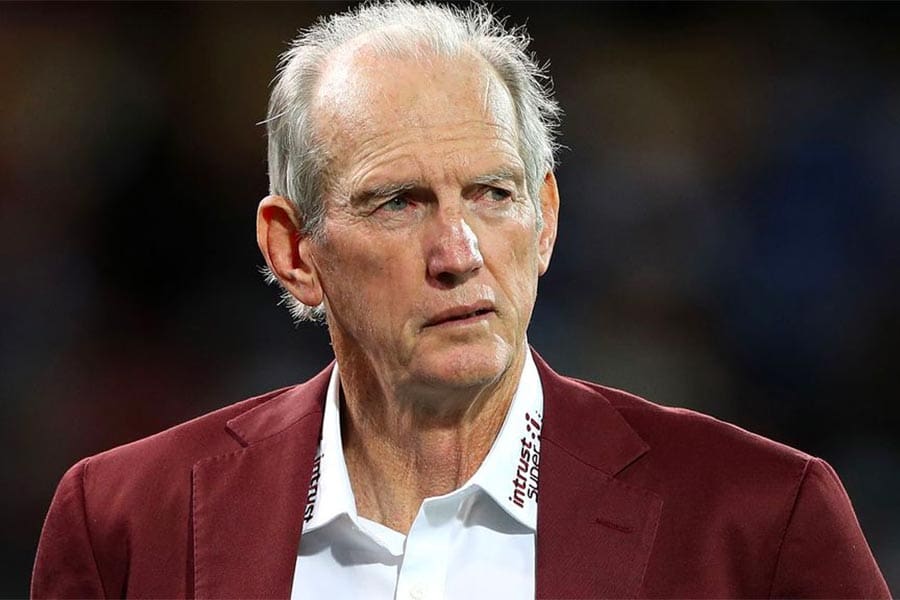 The game's most successful coach, Wayne Bennett, believes it is time for rugby league's governors to outlaw gang tackles to protect its players from suffering serious injuries.
In a candid and insightful interview with our senior sports writer, Wayne Heming, the master coach opened up on the current state of rugby league and its ever-changing landscape.
Heming has known Bennett on a professional basis for over 40 years.
During the interview, Heming quizzed the seven-time premiership-winning coach on a number of hot topics — including the success of several controversial rule changes, the captain's challenge, the 'hip drop' tackle dominating headlines, and the current state of the game.
Brisbane forward and Wally Lewis medallist Patrick Carrigan is facing a long stint on the sidelines after being charged with a hip-drop tackle which ended Wests Tigers utility Jackson Hasting's season with a broken leg.
"His (Hastings) season is over and he is dealing with the pain and we're worried about someone doing five or six weeks," argued Bennett.
And he didn't hold back when asked about the number of illegal tackles this season, including Carrigan's ugly effort.
"I'm over this 'they didn't mean to do it' — they all know the rules," he fired.
"These guys have got a brain in their head. If they refuse to use it, there's usually a consequence for that.
"We've all seen the hip drop, the damage it can cause.
"The responsibility has always been on the player.
"The lucky players get up and walk away unlike Hastings, it doesn't mean the player hasn't done anything wrong.
"They (Brisbane players) were holding him up waiting for the third player to come in to get him to the ground.
"The obsession of getting players to the ground, that's where all this rubbish comes in."
Bennett, who coached Canberra before launching the Brisbane Broncos in 1988, said in the "old days" the referee would call tackle and that was it.
"If you were Arthur Beetson, they (refs) might give you a little more time, but the end result was they'd call 'tackled' and if you didn't stop, you were penalised.
"Today they call 'held', and 'held' again, and that gives them time to do all this other rubbish."
READ: Best NRL betting sites in 2022
Bennett said the problem could be solved with an all-out tackle blitz, similar to the one which has cleaned up head-high tackles.
"It's not as hard to solve as many people think," he said.
"In the '80s and '90s, there were predominantly two men in a tackle — one hit in the middle, the other over the top. They were wonderful tackles and you didn't have all this stuff that we see today.
"We can change it.
"Look at the turnaround in head highs in 12 months and they copped undeserved criticism for that.
"But 12 months on you've just about got the game cleaned up.
"Everyone knows the consequences of hitting someone in the head these days.
"I believe they can limit the number of players in a tackle but there would be a bit of pain to go through.
"If you look at the tackles that are in the spotlight, it's the third man in all the time.
"What you see most time is two defenders holding the attacker up, waiting for the third man to come in and put him on the ground.
"My point is don't give them the chance for the third man to come in.
"If you start calling tackle straight away, you'll get a quicker play-the-ball, or a penalty or six to go.
"I bet you it would be cleaned up in a month.
"They'll be tackling through the middle and they'll make sure the second defender does his job and you won't see a third man coming in late.
"But while we continue to put band-aids on it, we will continue to bleed."
Bennett also believes the captain's challenge has to go.
"I'm over it because of the amount of time it is taking," he said.
"Everybody sees it as a break in play and an opportunity to have a rest.
"That's when the game is at its best — when the players are tired, fatigued, and exhausted and barely hanging on.
"Maybe you could bring it in for the last five minutes of the game."
Bennett — who is preparing the bring the NRL's 17th team, the Dolphins, into the competition next year — is adamant that more can be done with the HIA rules.
"Without going into a whole lot of detail, I think we can do it better," he said.
"It needs to be revised a bit and tweaked a bit, not at the expense of the player who is injured — that would never happen."
Bennett laughed at speculation that rugby league players could be wearing helmets in five or 10 years to protect them from brain injuries and trauma.
"No, no, no, no," he scoffed.
"They wore helmets in America.
"They used the helmets as weapons and then they put all that other gear on to protect the rest of their body.
"They got that wrong in America and it's still wrong.
"I know those young men are brave and courageous, they would use a helmet as a weapon (if we introduced it to rugby league).
"In America, they thought because they had helmets on it wasn't affecting their brains — well, we know with research that was not the case, now.
Bennett stressed rugby league was a combat sport that required toughness and courage to play.
"The players haven't lost the plot," he said.
"They've got more rules against them than they've ever had and they are under more scrutiny than they've ever been under.
"You have to understand our game is about intimidation.
"Within the rules and outside the rules you are trying to intimidate because that's where you get an advantage.
"It's combat.
"It's a tough game, but it's a game that is fair and you have to have a fair bit of toughness to play it.
"Some guys are tougher than others, but the bottom line is they keep bringing new rules in because coaches and players are finding ways to play around them."
So, is the game now in good shape with all the changes and constant calls to scrap some rules and ditch the multi-million Bunker?
"There's been a lot of sell-out crowds this year, that's the best indicator for me if the fans are watching," said Bennett, who has always advocated playing attacking, entertaining rugby league.
"We have made some changes, and there'll be more changes probably down the track.
"We're in the entertainment business and we've got to entertain fans.
"Sport is a theatre, you're never sure what you are going to see.
"That's why you go and watch games.
"We're always going to find fault, but we've got this great product out there and we're all enjoying watching it.
"It's a bit like the ocean. You go to bed at night and the ocean is still, there's not a wave to be seen.
"Then you wake up in the morning and there's a cyclone on top of you, that's sport."
---
WAYNE BENNETT AM
BORN: January 1, 1950 – Allora, Queensland
POSITION: Fullback, Wing
REPRESENTATIVE PLAYING RECORD
Nine games for Queensland (7 against NSW)
Two games for Australia (both on the 1971 tour of New Zealand)
NRL COACHING RECORD
Canberra (28 games) 1987
Brisbane (629 games) 1988-2008, 2015-2018
St George Illawarra (79 games) 2009-2011
Newcastle (75 games) 2012-2014
South Sydney (75 games) 2019-2021
TOTAL GAMES: 886 (wins 545 @63%)
NRL PREMIERSHIPS: Seven (6 with Brisbane, 1 with St George Illawarra)
REPRESENTATIVE COACHING RECORD
Queensland (27 games, 14 wins*)
Australia (16 games, 12 wins)
England (15 games, 10 wins)
Great Britain (4 games, 0 wins)
CAREER ACHIEVEMENTS
1994: Medal of the Order of Australia
1997: Super League Coach of the Year
1998: Queensland Father of the Year
2000: NRL Coach of the Year, Australian Sports Medal
2004: Member of the Order of Australia
2012: Inducted into the Sport Australia Hall of Fame
2015: Dally M Coach of the Year
(* Includes 3 Super League Origin games)