Sportsbet punters praying for a St Kilda miracle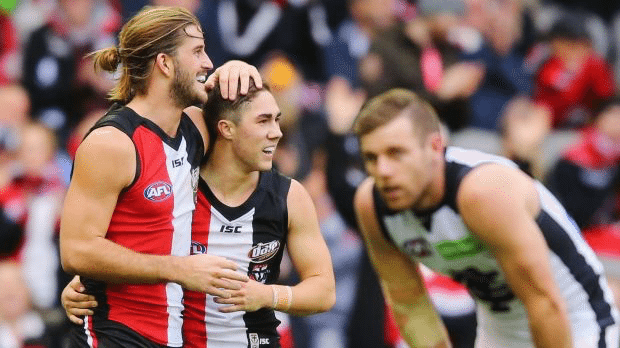 THEY can be an ambitious mob those Sportsbet.com.au punters.
In some of the more bolder bets for the 2016 AFL season, 90 Sportsbet customers have invested money on St Kilda to force its way into the final eight at odds of $101.
The Saints are four premiership points and 15 per cent adrift of the Kangaroos with just one game remaining in the home and away season.
St Kilda faces Brisbane in the final round of the home and away season while North Melbourne hosts Greater Western Sydney at Etihad Stadium.
The odds suggest the Saints and the Roos will be deadlocked on 48 premiership points apiece, but to leapfrog North St Kilda would have to defeat the Lions by 141 points and the Giants would need to win by 140 – a 281 point turnaround.
The Saints go in against Lions as the $1.05 favourites, while the Kangaroos are the $2.70 outsiders against the Giants.
The majority of the 90 bets on the Saints achieving an unlikely finals berth have been less than $20, but one punter stands to earn $10,000 after staking $100, while another is looking at netting $8,500 payout after investing $85.
A hammering of that magnitude is not out of the question in either game.
St Kilda coach Alan Richardson spoke of the importance of finishing off the season on a winning note.
"We've got a real focus to have a positive year in terms of win-loss and we have that opportunity." Richardson said.
For the Kangroos the equation is simple; win and their spot is set in stone, but if a loss is to occur they need to limit the damage and September action will be assured.
Unfortunately for Brad Scott, the Giants need to win big in the final round if they are to secure the club's first ever top-four finish.
GWS coach Leon Cameron confirmed his side will be out to cull the Kangaroos in their quest for a top-four berth.
"It'll be full steam ahead, there'll be no holding back from our end," Cameron said.
"We know any side that's capable of winning nine in a row is a very good side, and they've had their injury concerns but I'm sure they'll attack it 100 per cent as well.
"We need to win the game."
GWS is at the $3.25 price to make the top-four this season.
Sportsbet representative Ben Bulmer said the company's customers will be hoping for the unlikely across round 23.
"The 90 punters who backed the Saints to make the Top 8 this week will be praying for a final round miracle. They only need North to lose to GWS and the Saints to defeat Brisbane while closing a 281 point margin – simple right?"
2016 Final eight finish
Odds provided by Sportsbet.com.au
St Kilda to finish inside the top eight in 2016 – Yes $101