Rip Curl Pro Bells Beach betting preview and odds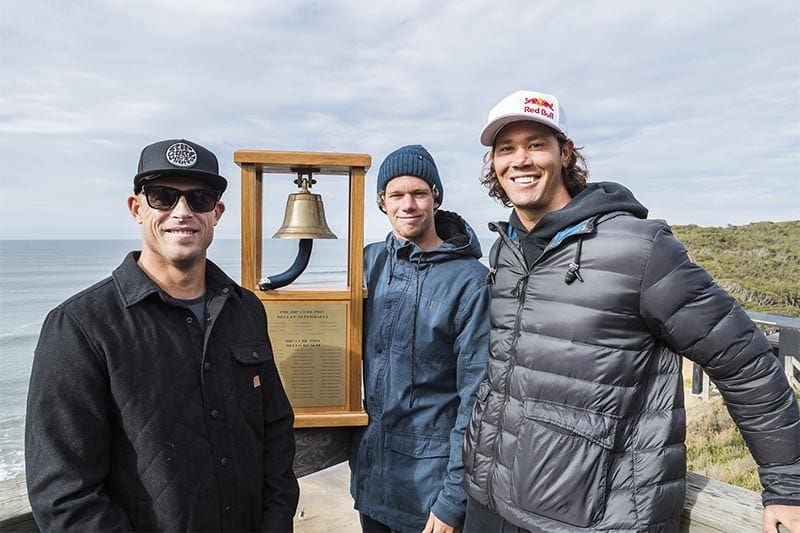 The second stop on the World Surf League (WSL) Championship Tour (CT) starts tomorrow with the annual Rip Curl Pro Bells Beach competition celebrating its 57th year. As is tradition, the event will run from March 28 to April 8, over the Easter Weekend at one of the world's most iconic surfing locations.
This year's event will be bittersweet as it will be the last CT event the three-time WSL Champion, Mick Fanning (AUS), will compete in. The four-time event winner will look to end his competitive career the way that it started in 2001, with a win at the Rip Curl Pro Bells Beach ringing the coveted Bell. Fanning, paying $1.67 to win his 3 boards heat with Sportsbet, will match-up with Sebastian Zietz (HAW) ($2.80) and 2018 CT Rookie Jesse Mendes ($6)(BRA) in Round 1 Heat 12 when the competition gets underway. 
"I really love Bells and how pretty this place is with the cliffs and surroundings," Fanning said.
"I also really love the history of this event and how the traditional landowners have so many amazing stories. There are also so many moments in surfing folklore from this place that it just feels special to be here. I first came here in 1998, and now 20 years later, I'm coming here for my last event — I've come full circle. It's my last event, but definitely not my last time here at Bells, I'll be surfing here for a long time to come."
Reigning two-time WSL World Champion John John Florence (HAW) is ready for redemption after his shock Round 2 elimination on the Gold Coast. Florence has never made a Final at Bells but thinks it's time he gets his name on the most iconic trophy in professional surfing.
"The Bell is probably the most legendary trophy in surfing," Florence said.
"I'd be super excited to ring it, but it's a hard one to win because a lot of guys seem to have this wave dialed. I do feel at home here. It's a challenging wave, but I love the raw ocean power and how it's always changing — it keeps you on your toes."
Lakey Peterson (USA) comes into the second stop of the 2018 CT as the Jeep Ratings Leader for the first time in her career. After a breakout season in 2017, the 23-year-old has a genuine shot at the title and will be a real threat when competition kicks off at Bells. The fact that the Californian earned a solid 3rd place result at this event last year puts her in a prime position to capture her second CT win of the year and strengthen her World Title campaign.
"My fiancé [Thomas Allan] lives about one minute from here, so I'm enjoying being a half local," Peterson said. "I've been spending a lot of time here recently and have a lot of support crew around me, so I'm really looking forward to the event getting started. This will be my first event in the yellow Jeep Jersey so it feels really special, but at the same time, my goal is to be in the No. 1 spot at the end of the year, so I'm not too focused on what's happening now."
Current Jeep Ratings Leader Julian Wilson (AUS) is also fresh off a victory at the Quiksilver Pro Gold Coast and is keen to continue his run towards a maiden World Title in 2018. Currently nursing a shoulder injury, the natural-footer is feeling rejuvenated after his recent success at this and eying another win to back-up his early lead.
Jordy Smith (ZAF) has always been a contender at the Rip Curl Pro Bells Beach, finishing 2nd and 3rd multiple times leading up to his commanding win in 2017 in near-perfect conditions. Round 1 will see a 2017 final re-match as Smith takes on last year's runner-up Caio Ibelli (BRA) and Californian Patrick Gudauskas (USA).
"I'm here to try and go back-to-back," Smith said "I'm going to do everything I was doing last year, and some. We've got an incredible pool of great surfers here, so you need to focus on what you can control and not put too many expectations on yourself. This is a right-hand point like what I grew up surfing, so I feel at home and ready to go. It's sad to see Mick Fanning go, but he's done so much for our sport. I really hope I can get a heat with him here. Hopefully, we can meet in the Final."
Reigning two-time WSL Champion Tyler Wright (AUS) has yet to find success at the Rip Curl Pro Bells Beach but will be on the hunt in 2018. Known for her aggressive forehand attack, the big open walls of the Bells Bowl suit Wright to a tee. She will be one to watch over the Easter Weekend as she comes up against Malia Manuel (HAW) and Paige Hareb (NZL) in Heat 4 of Round 1.
"Bells Beach is such a special place in surfing, so it's great to be back," Wright said. "I love it down here and have so many great memories. I'm feeling really good at the moment and am definitely confident leading into the event. I feel like this wave suits my surfing a lot. Winning the event and ringing the Bell is definitely a massive goal of mine and something I've yet to achieve, so I'm definitely putting that as my number one goal this year."
Courtney Conlogue (USA), the two-time, defending event winner, has withdrawn from the Rip Curl Pro Bells Beach event due to a foot injury sustained earlier this month. The 2017 World Title contender will continue to assess her injury in the lead up to the Margaret River Pro next month.
Conlogue will be replaced by Macy Callaghan (AUS), who will make her second appearance as an injury replacement on the 2018 CT. The 2016 World Junior Champion missed out on qualification for the CT by 1 heat at the end of last season and will be keen to make her mark among the world's best surfers.
11-time WSL Champion Kelly Slater (USA) has also withdrawn from the event as he continues to recover from a foot injury sustained midway through last year. The three-time Bells winner will be replaced by Michael February (ZAF). In addition to this event, February will surf through the rest of the 2018 CT season as a replacement for the outgoing Fanning.
Yesterday, the Trials took place in pumping surf at the Bells Bowl and was taken out by Phillip Island's Carl Wright (AUS), who after 10 years of attempts has found himself with a spot on the big stage. Kobie Enright (AUS) took out the women's Trials to surf in her first ever CT event, while young-gun Mikey McDonagh (AUS) took the Rip Curl Trials win for his 2018 event entry.
Event organizers will convene at 8:00 a.m. AEDT to assess the conditions and determine if the Rip Curl Pro will get underway for its opening day.
The conditions
Surfline, World Surfing League's forecast partner is predicting good conditions for the Bells Beach event.
The official word is: The event window starts off slow, but then a solid SW swell moves in for Fri/Sat, and with favorable conditions for the most part. More decent size swells stacking up in the longer range.
How to bet on the Rip Curl Pro: Bells Beach
Our no.1 bookie for the Rip Curl Pro Bells Beach is Sportsbet.com.au, because it offers the most markets on the iconic surfing event. Having said this we are still a few days away from the really exciting part of the competition so more bookies may get involved down the track.
Rip Curl Pro Mens Odds
Mick Fanning, John John Florence – $7
Julian Wilson, Filipe Toledo – $9,
Gabriel Medina – $12,
Jordy Smith – $14,
Owen Wright, $15
Matt Wilkinson, Joel Parkinson, Griffin Colapinto – $21
Kelly Slater – $23
* Odds courtesy of Sportsbet – The online bookmaker is also offering odds on 3-Boards. View them live here. Or try another bookie:
Rip Curl Pro Womens
Tyler Wright – $4.50
Carissa Moore, Sally Fitzgibbons – $5
Stephanie Gilmore $6
Lakey Peterson $7
* odds courtesy of Sportsbet.com.au
Rip Curl Pro Bells Beach Round 1 Matchups:
Heat 1: Filipe Toledo (BRA), Griffin Colapinto (USA), Michael February (ZAF)

Heat 2: Owen Wright (AUS), Conner Coffin (USA), Ezekiel Lau (HAW)

Heat 3: Jordy Smith (ZAF), Caio Ibelli (BRA), Patrick Gudauskas (USA)

Heat 4: Gabriel Medina (BRA), Italo Ferreira (BRA), Ian Gouveia (BRA)

Heat 5: John John Florence (HAW), Tomas Hermes (BRA), Mikey McDonagh (AUS)

Heat 6: Julian Wilson (AUS), Joan Duru (FRA), Carl Wright (AUS)

Heat 7: Adriano de Souza (BRA), Michel Bourez (PYF), Keanu Asing (HAW)

Heat 8: Matt Wilkinson (AUS), Jeremy Flores (FRA), Yago Dora (BRA)

Heat 9: Kolohe Andino (USA), Frederico Morais (PRT), Willian Cardoso (BRA)

Heat 10: Adrian Buchan (AUS), Connor O'Leary (AUS), Michael Rodrigues (BRA)

Heat 11: Joel Parkinson (AUS), Kanoa Igarashi (JPN), Wade Carmichael (AUS)

Heat 12: Mick Fanning (AUS), Sebastian Zietz (HAW), Jesse Mendes (BRA)


Rip Curl Women's Pro Bells Beach Round 1 Matchups
Heat 1: Carissa Moore (HAW), Sage Erickson (USA), Bronte Macaulay (AUS)

Heat 2: Stephanie Gilmore (AUS), Keely Andrew (AUS), Coco Ho (HAW)

Heat 3: Sally Fitzgibbons (AUS), Silvana Lima (BRA), Kobie Enright (AUS)

Heat 4: Tyler Wright (AUS), Malia Manuel (HAW), Paige Hareb (NZL)

Heat 5: Lakey Peterson (USA), Tatiana Weston-Webb (BRA), Macy Callaghan (AUS)

Heat 6: Nikki Van Dijk (AUS), Johanne Defay (FRA), Caroline Marks (USA)