Punters rally behind Alavrez to beat McGregor at UFC 205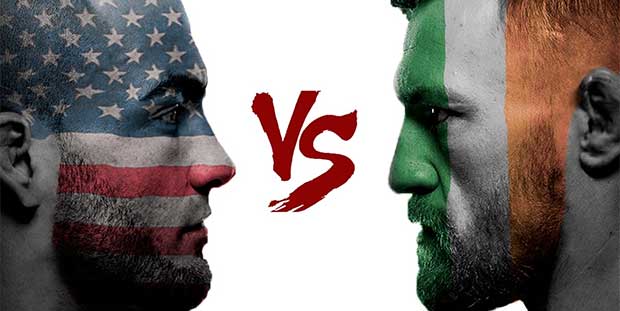 UFC 205 may be billed as Conor McGregor's coronation, but Sportsbet.com.au customers believe Eddie Alvarez will stymie the Notorious one's dual title ambitions on Sunday.
Punters are backing the Philadelphia native in from $2.53 to $2.21 to retain his lightweight belt.
Alvarez has drawn 56 percent of all money placed on the head-to-head market at Sportsbet.
The Irishman has drifted slightly in the market to settle at the $1.67 mark, but retains favouritism to win via second round knockout at odds of $7.
Punters believe the fight will not go to the judges as the 'no' option on whether the fight will go the distance continues to firm into a borderline unbackable price of $1.30.
More than five times the amount of money has come in for the fight to be decided by any method other than the judge's scorecard.
The current featherweight champion believes the fight will not make it to the fifth, but stated that if it does go to a final round he will have the advantage.
"I don't think he's going to last anywhere near the fifth round." McGregor said.

"If he does, he'll never fight again. If he does, I'll take my hat off to his heart, but he'll never ever be the same again.
"If he can make it to the fifth, that's when I take off. I'm sprinting in the fifth. I'm ready."
McGregor may have unwavering confidence going into the bout, but Alvarez doubts his opponent would even be given the opportunity to fight for the lightweight title if he was not the biggest star in the company.
"The guys he's picked to fight, these are subpar guys. Even Nate (Diaz) is a .500 lightweight and everybody in the lightweight division has beat Nate and he had trouble doing that," Alvarez said.
"The guys that he's faced are nothing of the calibre of fighter that I am.
"(I cannot wait to) get back to fighting the real No. 1 contenders who fight the best guys and earn their way to the title.
"Not the guys who have a funny accent and sell tickets."
Despite the market shape changing significantly over the last week, Sportsbet.com.au's Will Byrne believes McGregor could be feeling the pressure heading into the biggest fight of his career.
"McGregor has been somewhat quieter than usual in the build up to this cage fight so he might be a bit unsure of himself for once and the punters absolutely think he has reason to be,'' Byrne said.
Markets courtesy of sportsbet.com.au
UFC 205 Main Event – McGregor vs. Alvarez odds
$1.67 – Conor McGregor
Will the fight go the distance?
$1.30 – No
$3.20 – Yes
Method of Victory & Round Combo
$3.60 – Conor McGregor KO & Round 1
$7.00 – Conor McGregor KO & Round 2
$11 – Eddie Alvarez Submission & Round 1
$12 – Conor McGregor KO & Round 3
$12 – Eddie Alvarez KO & Round 1
$14 – Conor McGregor KO & Round 4
$14 – Eddie Alvarez Submission & Round 2
$18 – Conor McGregor KO & Round 5
$18 – Eddie Alvarez KO & Round 2
$21 – Eddie Alvarez Submission & Round 3
$23 – Eddie Alvarez KO & Round 3
$26 – Conor McGregor Submission & Round 1
$26 – Eddie Alvarez Submission & Round 4
$31 – Eddie Alvarez KO & Round 4
$31 – Eddie Alvarez Submission & Round 5
$36 – Eddie Alvarez KO & Round 5
$41 – Conor McGregor Submission & Round 2
$56 – Conor McGregor Submission & Round 3
$61 – Conor McGregor Submission & Round 4
$76 – Conor McGregor Submission & Round 5
More News

Deprecated: WP_Query was called with an argument that is deprecated since version 3.1.0! caller_get_posts is deprecated. Use ignore_sticky_posts instead. in /home/bettingsite/public_html/wp-includes/functions.php on line 5145

All Recent News