Norfolk Gaming Authority shut down, and not too soon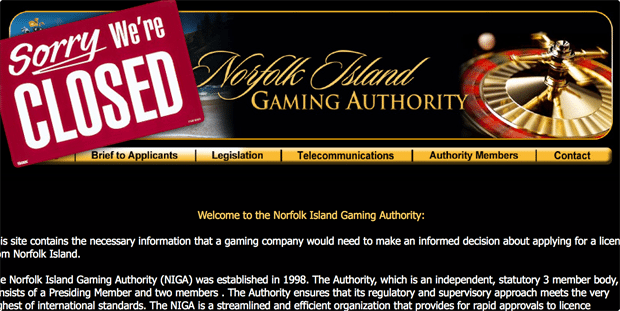 THE Turnbull Government has shown it is serious about cleaning up the gambling industry, after making the unprecedented move to shut down the Norfolk Island Gaming Authority,
The writing had been on the wall for some time for the troubled licensing body. It was left red-faced following a decision to grant a license to BetHQ, a company closely linked to Asian betting exchange Citibet.
Citibet is an offshore betting company that offers betting on Australia's racing codes, but does not have a license to operate in this country, or many other countries it targets. BetHQ having a Norfolk license meant it could legally accept bets on Australian racing despite not having the required approval from the codes.
Since the government suspended NIGA's ability to grant new licenses, pending a review, its two biggest customers, English bookmaking giant Ladbrokes and Topbetta both secured licenses from the Northern Territory Gambling Commission.
Other bookies licensed by NIGA now have six months to secure a license from another body in Australia, or they will no longer have the right to legally operate in this country. Plenty of unlicensed bookmakers including Citibet accept Australian money, with many bigger punters using these offshore bookies because they are more likely to take large wagers.
The review, conducted by Centium, said NIGA was "barely viable" and was more interested in raising revenue, than maintaining the integrity of sport and racing in Australia. This lead Territories Minister Fiona Nash to declare the government had no option but to shut down the body.
"Centium's report made it abundantly clear that the authority is beyond redemption and that these problems cannot be resolved satisfactorily. As a result, I am entirely confident that closing the authority is the right thing to do." She said.
The report states NIGA's probity checks on new licenses did not meet the standard of other states. This means a potentially fraudulent company without means to stay afloat could be running legally in Australia.
"We recommend that it not continue to operate in its current form," the report said.
Our take on the closure of NIGA
WE should have seen the demise of the Norfolk Gaming Authority coming.
The troubled gambling licensing body had been hit hard by the loss of its two biggest clients, English bookie Ladbrokes and Australian-owned Topbetta, with both securing new licenses.
As with all things in this industry, our government seemed to have given the two big operators advance notice of the closure of the body and they were well-prepared by switching to the more expensive Northern Territory Licensing Body. This means barring a few smaller operators, punters will barely be affected by the closure.
While the process in reviewing NIGA seems a little bit flaky going on the lack of depth in the report released to the public, we simply cannot trust this body to make the right decisions for Australians, as judged by the decision to license BetHQ – did they do no homework at all?
Interestingly, recent News Corp purchase Punters.com.au holds a Norfolk Gaming License, but this is most likely held to allow them to use products like Pay Per Click (gambling advertising) and some avenues of social media that require you to hold a license to promote products.
This is probably a prime example of the revenue raising the organisation was found to be doing in the report, with this style of license understood to be going for as little as $5,000.
More News

Deprecated: WP_Query was called with an argument that is deprecated since version 3.1.0! caller_get_posts is deprecated. Use ignore_sticky_posts instead. in /home/bettingsite/public_html/wp-includes/functions.php on line 5145

All Recent News