Punters keep coming for Malcolm & the Libs ahead of election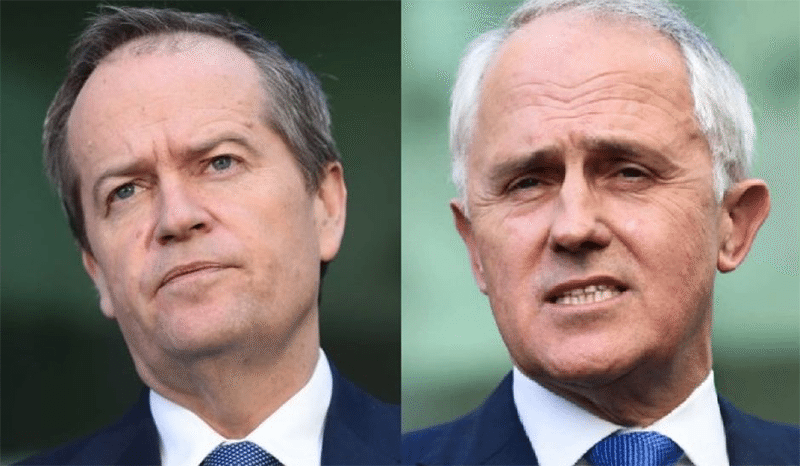 PROOF that the friendly for at sportsbet.com.au are not only good sports when it comes to the best markets in Australia, they also dig down and do the research into the real important stuff.
Like who was the best Prime Minister of the past 30 years and which current leader Aussies would like to have a beer with.
Yep, forget the opinion polls on the Federal Election, the online bookmaker has conducted a poll of its own.
And it has found a number of interesting things.
The Coalition is a hot $1.20 favourite to win the election on July 2 at Sportsbet.com.au, and there's probably a good reason why.

The bookie has found that Prime Minister Malcolm Turnbull is the Aussie leader 32 per cent of us would like to have a beer with.
Labor leader Bill Shorten is lagging behind, with 26.8 per cent keen to have a few froths with him and that is probably why the ALP is a long $4.50 outsider to take government.
But the odds could be a little misleading: the poll found that The Coalition and Labor remain locked on 50/50 in the two arty preferred vote with less than a month to go until the election.
Although Turnbull (54.3 per cent) leads Shorten (45.7 per cent) as the preferred Prime Minister.
The bookie reports a steady stream of money for the Coalition over the Queen's Birthday long weekend, with multiple bets of $1000 or more, including one for $8000 and another for $5000. The majority of bets on Labor were less than $100.
The poll found Nationals head honcho Barnaby Joyce is hot on Shorten's heels at 25.7 per cent, while stately Greens boss Richard di Natale had 15.6 per cent, but we reckon he would probably have a fine wine, rather than a VB.
The Sportsbet-ReachTEL poll surveyed 1,597 residents across Australian on June 8 and found that a staggering 46.7 per cent rated long time Liberal man John Howard as the nation's best Prime Minister of the past 30 years.
Turnbull received just 1.8 per cent of the vote and, surprisingly, 1.5 per cent actually though Tony Abbott was a good Prime Minister.
Sportsbet has also delved into the sporting world to see if Australians would like to be led by a sportsman or woman and found that there was some support for controversial tennis star Nick Kyrgios.
He received 8.8 per cent of the vote from those polled when asked who would be a good prime minister from the sporting world.
We reckon things might be tough under the young firebrand, as Nick Kyrgios appears to really only care about Nick Kyrgios.
Legendary NRL coach Wayne Bennett was the person from the sporting world most preferred for leadership, with 22.5 per cent supporting the hard-nosed Brisbane Broncos mentor.
Four time Hawthorn AFL premiership coach Alistair Clarkson also had some love, with 19 per cent of respondents opting for the former North Melbourne defender who changed the game with his X's and O's

Some respondents were sick of the current leaders and nearly 30 per cent of them reckoned deputy prime minister Julie Bishop would make the best Prime Minister outside of them, with 22.4 per cent going for deputy opposition leader Tanya Plibersek.
There were a few who would like to see Kevin Rudd's former right hand man Anthony Albanese in the chair. Albo received 8.7 per cent of the vote.
There were a few scary results as well.
More Australians think Pauline Hanson (9.3%) would make a better prime minister than Barnaby Joyce (9.1%), while here were some (3.8 per cent) who even thought Jacqui Lambie would make the best leader outside of Shorten and Turnbull.
The man who destroyed Sydney's night life, New South Wales Premier Mike Baird, had plenty of support for the prime ministership, with some 35.9 per cent picking him out of all the current premiers.
Victoria's Daniel Andrews, currently embroiled in a huge spat with the Country Fire Authority over its bargaining agreement, had nearly 20 per cent of the vote.
"With the current election campaign failing to inspire, Sportsbet decided to take a look at what Aussies look for in a leader," sportsbet.com.au's Ben Bulmer said.
"The overwhelming consensus was that John Howard was Australia's best Prime Minister over the past 30 years, with Mike Baird rated the Premier who has what it takes to rise to the highest office in the land.
"Julie Bishop is Australia's pick for Prime Minister if Bill Shorten or Malcolm Turnbull weren't around, with almost one in 10 giving it to Pauline Hanson.
"The man who has done it all in Rugby League, Broncos coach Wayne Bennett would make the best PM from Australia's sporting world, followed by four-time Hawthorn premiership coach Alastair Clarkson.
"The 8.8 per cent of Australians who rated Nick Kyrgios as their preferred PM from the sporting world can't be serious!"
The bookie reckons the aforementioned handling of the CFA dispute by Andrews has had no impact on the chances of two key country seats for the Labor Party at Federal level.