Why Victorians don't care about NRL State of Origin
As Origin fever hits the country, Victorians will look to their northern cousins this week and again wonder what the hell is going on. We've asked Todd Davey to speak for the AFL die hards and try to explain why the care factor is low on this side of the border.
Brace yourselves northerners – shots will be fired.
IT is that time of the year again – State of Origin fever is about to 'grip' the nation.
Or are the only states which care.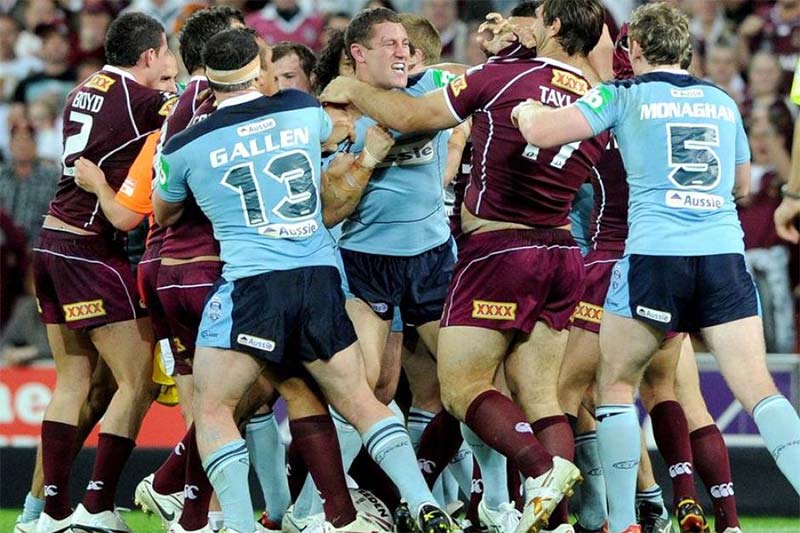 This year Victorians are making a stand. No longer will we get invested in a game that does not involve us.
We took a look at the reasons why Victorians – or Mexicans as they like to call us – have no interest in Origin.
We suggest you wear your indifference proudly on your sleeve and just wait until the real stuff – AFL – is back front and centre.
Recommended!
Our club competition is so much better
State of Origin south of NSW will garner some attention in Victoria, for about five seconds.
Then focus will shift to AFL. Do you know why? Because our club competition routinely gets as many fans in the ground and people watching from around the country week in, week out.
Our State Of Origin is happening every weekend.
The Bombers host the Eagles at Etihad Stadium and get 45,000, Collingwood travels to Adelaide to face the Crows and sell out the stadium.
We don't need gimmicky – and truth be told, meaningless – games to evoke passion in our sport. A regular season game can and routinely does draw upwards of 80,000 fans between the powerhouse clubs.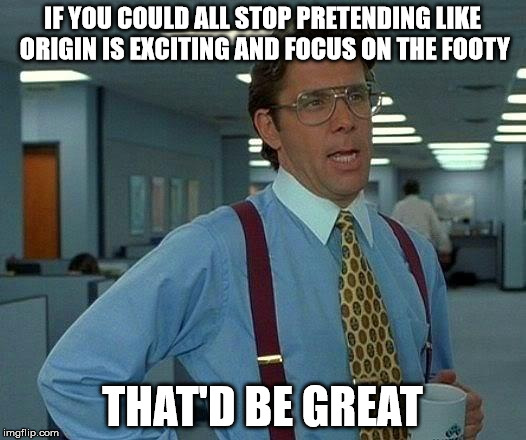 AFL is just much better
So which one is it on Wednesday night? The one where you get to run into guys as many times as you can or the one where you get a tackle count?
Rugby is one of the only games in the world where you pass the ball backwards to go forwards, and running directly into the person that is trying to tackle you is actively encouraged.
Oh, and when you score you get the ball back – make sense of that.
If it's a choice between seeing Buddy Franklin evading defenders and banging goals from 70 or seeing Aaron Woods endlessly and monotonously tackle a guy who flails around like a fish out of water, I know which I'm picking every day of the week.
Tough call isn't it? Although, even we have to admit the greatest ever moments in Origin history are pretty special.
It doesn't involve us
Let's face it, as much as those sporting hipsters in their boutique bars in Brunswick will tell you they have family up in Townsville and that is why they go for Queensland, no one truly cares about State Of Origin in Victoria because it does not involve us.
The people of Melbourne will get behind any sport. That is why it is known as the sporting capital of Australia, but it is hard to wholeheartedly get behind a sport as an impartial observer that is built on state-pride and love of where you came from.
A Victorian team is not entering the State Of Origin fray anytime soon, and that is the only true way to get the sports-mad public of God's country to get involved.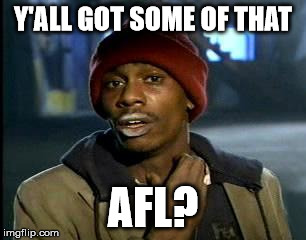 It's on a Wednesday night
There is only two things in life more irrelevant than a Wednesday night in 2017 – a landline phone and a VCR.
What better timeslot for Origin then?
The game no one cares about outside of Queensland and NSW gets the perfect prime-time space for everyone to ignore it and pretend it didn't happen.
New South Welshmen we understand – of course you'll put it on a Wednesday, there's no risk of going into work the next day battling a celebratory hangover. But Queenslanders? Shame on you.
The biggest question for Victorians on a Wednesday night in Origin time is whether or not we're watching Seinfeld re-runs or having an early night.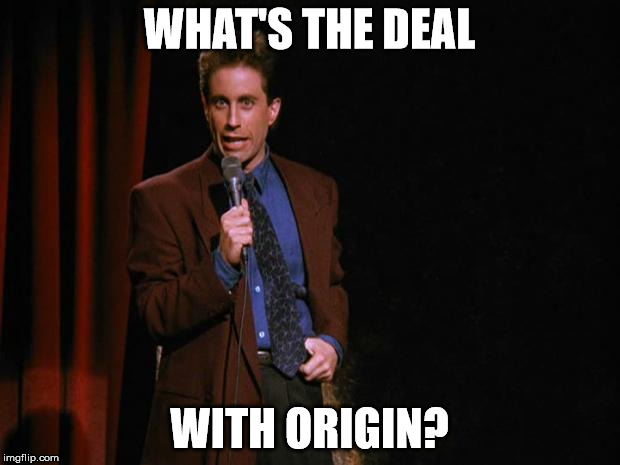 Queensland always wins
What is it now, 30 State Of Origin series in a row to the Maroons?
There comes a time when passion just seeps out of a game because one side is so dominant (best Origin players of all time) the other team does not get a chance.
While Victorians love seeing NSW get scorched in every sport imaginable, it just becomes a sad state of affairs when the Blues barely offer an entertaining contest.
At this stage it seems like we will perennially be watching the Harlem Globetrotters facing the Washington Generals – and we all know how that ends up.