Top 5 NRL State of Origin players of all time
State of Origin is one of the greatest gladiatorial events on the Australian sporting calendar. The three part series that pits the Queensland Maroons against the New South Wales Blues.
Each year the best of the best from Queensland and New South Wales are called on to put their bodies on the line in the most grueling contest that has the most tense under current of violence we're allowed to watch on free to air.
So who, of the 445 players to have donned either Maroon or Blue for their state since Origin's inception in 1980, are the top five players ever?
5. Mal Meninga
Mal Meninga is one of the greatest centres the Maroons have ever seen. Big Mal played 32 games for Queensland racking up a massive tally of 161 points.
That's all well and good, but Meninga's true greatness in the Origin arena has come in the form of his coaching career.
Meninga began one of the greatest Origin dynasty's in 2006 when he took the reigns of the Maroons as a full time position. Meninga's coaching saw the Maroons win the first of their eight straight series wins in his maiden year.
During his time as coach of the Maroons Big Mal oversaw eight series' wins, nine series wins in 10 years and a series white-wash. Big Mal retired his position after the 2015 series win to take up the coaching position of the Australia national squad, but his legacy will remain.
4. Darren Lockyer
There is talk "Locky" will be the next man inducted as an immortal of rugby league and quite rightly so. Locky captained Queensland through the beginning of their unbeaten eight straight Origin series' wins.
Locky debuted for Queensland in Game One in 1998 and went on to be named Captain of the Maroons in 2001. Locky went on to play 36 games for his state, scoring 82 points along the way.
Locky started his Origin career as the custodian at fullback but moved to five-eighth in 2004.
Arguably Locky's greatest Origin moment came in Game Three, 2006. The series was tied up one a piece and with less than seven minutes to go in Origin Three, the Maroons were down 14-10. Locky had just kicked the pill on the fifth. Eric Grothe Jnr cleaned it up and managed to make 15 metres out from his own try line. Blues fullback Brett Hodgson threw a wild pass from dummy half only for Locky to dart through, collect the down ball and dive across for the match and series winning try.
3. Benny Elias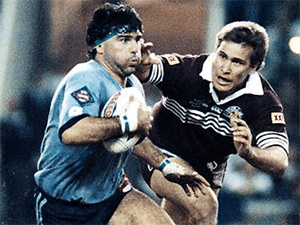 Benny Elias was the very definition of a gritty Origin hooker. He was hard to miss in his massive shoulder pads.
Elias played 22 games for the Blues between 1985 and 1994. During his Origin career he won three man of the match awards and helped resurect the Blues in 1990 after several years of Maroons dominance.
Elias was never the biggest bloke on the field but he would not back down from any one. His gritty, never say die attitude epitomizes what Origin is about. One of the lasting Origin images is a battered Elias with blood smeared all over his face as his mother tries to mop it up after the Blues 14-6 victory in Game One in 1992.
2. Johnathan Thurston
They call Thurston the greatest rugby league player of the modern era. He is a future immortal of the game. He has won four Dally M Medals, three Golden Boot Awards, has been named the indigenous halfback of the century, has won a Clive Churchill Medal and has played and won for his club, state and country.
Thurston has been instrumental in Queensland's current Origin dominance of nine series wins from the last 10 years, racking up five man of the match awards, a Wally Lewis Medal for player of the series, a Ron McAuliffe medal for Queensland Origin player of the series and playing 33 consecutive Origin matches since his debut for the Maroons in Game One of 2005.
Since then Thurston has produced a shopping list of stunning Origin moments as long as your arm during his 34 game career that has born 202 points.
1. Wally Lewis
How can you call anyone else but the man they dubbed "The King" as the number one Origin player of all time? The King played 38 games, amassing 44 points during his Origin career.
Lewis was there for the inaugural State of Origin match in 1980 as lock. In 1981 he was named captain at the last minute by Arthur Beetson and moved to his more commonly known role at five-eighth. From there King Wally went on to captain Queensland on 30 occasions and churned out one after another of memorable Origin moments.
The most classic moment of all came in 1991. It was Lewis' final Origin series but in Game Two Mark Geyer had been running around the field acting as though he had a licence to kill. Just on half time things blew up after Geyer threw a swinging arm into Steve Walters. King Wally charged in trying to get at Geyer, the fight that followed has gone down in Origin legend. Once the dust settled the refs called up Geyer and the King, where Wally gave Geyer one hell of a spray. The two stood face to face screaming obscenities at each other. It is the single most iconic Origin image yet.