News Corp secures Punters.com.au in major coup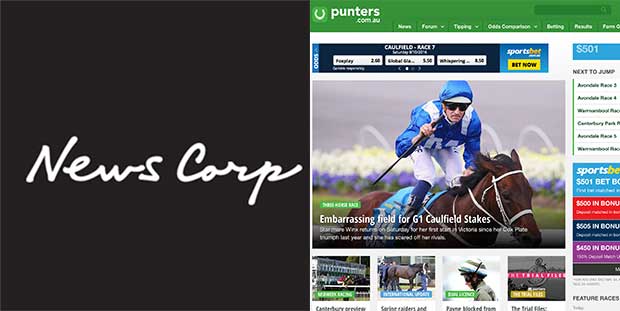 NEWS Corp has purchased Punters.com.au in a multi-million dollar sale, indicating an intention to improve its digital presence in sport and racing.
While a figure for the release has not been made public, it has been heavily-speculated by industry insiders that Punters.com.au owners fetched in excess of $25 million for the sale.
The acquisition follows News Corp's move to dip its toe in Australia's lucrative gambling industry in July with the establishment of its 'wagering category' of websites, led by director Simon Anderson.
Founded in 2008 as a blog, Punters.com.au has grown to become one of Australia's most popular racing websites. It's monthly average of 375,000 visitors is set to receive an incredible boost from News Corp's 16 million monthly audience.
News Corp today confirmed Punters.com.au will continue to operate under its current leadership, with CEO and founder Luc Pettett leading the business and Heath Kilgour continuing as COO. It's unknown how long the Punters.com.au founders will remain with the site.
While the move can be seen as a major coup for News Corp in its bid to diversify its business into wagering, questions will be asked about the effect this move will have on the Australian bookmaker industry and the potential conflicts of interest that may arise with News Corp's ability to maintain its journalistic integrity.
Our take
The guys at Punters.com.au have made it big and we send our congratulations.
From humble beginnings, the site has come a long way and sets a high standard for the competition.
There's no doubt that News Corp has made a great buy.
Where we have doubt is how a company that owns the majority share of Australia's media will operate a website purely based on horse racing and form.
With its considerable audience and pre-existing advertising deals with Australian online bookmakers, Punters.com.au has the ability to become a superpower in the affiliate market.
We'll watch this space with great interest.