Multi tips & bookie specials for Friday, April 28 NBA Playoffs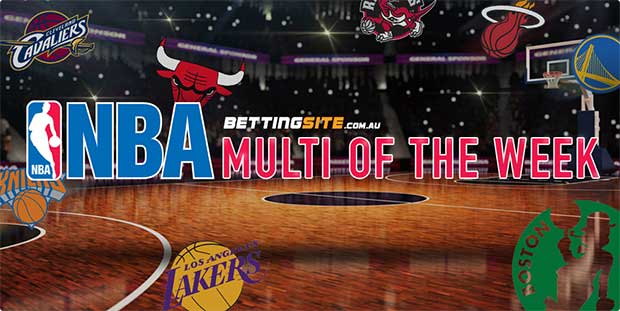 Games from Friday, April 28, 2017, 9.10am AEST
WE'RE up for another dose of first round NBA playoff action today with two teams on the brink of elimination.
Milwaukee has it all to do against the Toronto Raptors, but at least they will be doing it at home from 9.10am AEST, the Bucks needing a win to keep their series alive.
Down three games to two, the Aussie contingent will be rooting for the Bucks, thanks to exports Matthew Dellavedova and Thon Maker. They are $1.86 with Sportsbet.com.au to keep their season alive, with the Raptors looming at just below even money, $1.99
Memphis, too, face elimination, with the fired up San Antonio Spurs odds on favourites at $1.55, with the Grizzlies needing to fortify their home floor if they want to force a decisive game seven.
The Grizz aren't given a whole lot of hope, with Sportsbet rating them only a $2.53 chance to survive.
We've been over the two playoff games with a fine toothed comb and think there are a couple of juicy results available today that could help our punters with a tasty collect.
Let's hope we are on the money.

Suggested multi for NBA Playoffs Friday:
Milwaukee Bucks to defeat Toronto Raptors ($1.86 with Sportsbet.com.au)
Memphis Grizzlies at the line +4.5 vs. San Antonio Spurs ($1.95 with Sportsbet.com.au)
Two leg multi pays +262 with Sportsbet.com.au
San Antonio Spurs at Memphis Grizzlies
It all boils down to this for the Grizzlies. Not many thought they would make it this far and only a few more think they can make it past Friday's game.
But that won't stop them believing, especially after they were able to win both of their home games, despite being pumped in all three they have played in Texas.
It means that they get a huge boost from the fans in Memphis and gives them the belief that they can hang with the Spurs.
In game five, a Patty Mills special off the bench laid the foundation for a 116-103 win for the Spurs.
Mills shot the lights out from deep, nailing a quintet of three pointers that the Grizzlies could not combat.
If Mills provided the fireworks, then the dependable Kawhi Leonard lit the fuse, with a 28 point effort to go with six assists, while Tony Parker had another 16 in a further signal that he is not a spent force in this league.
For the Grizzlies, the were well represented by point guard Mike Conley, who banged in 26 points to go along with six assists and four steals, while Marc Gasol had 17 points and seven rebounds, but just has not been able to recapture the form of the series opener.
The Grizz will need Gasol, more than anyone else, to help Conley share the load carrying duties, with the no frills point guard unable to carry them on their back by himself.
Gasol is big, strong and superbly skilled and we're backing a much improved effort from him in Game 6 as his side stares down an early playoff exit.
Are the Grizz good enough to win? Absolutely.
Will they? That's the debate.
One thing we are pretty confident of is a close contest. Defensively, they have been able to knuckle down on the Spurs when the series has swung to Memphis and closing out series' on the road against under rated opponents is never an easy thing to do.
The Spurs might win, but, if they do, it will take everything they have and we reckon it will be by only a couple of points.

Toronto Raptors at Milwaukee Bucks
Our tip: Milwaukee Bucks to defeat Toronto Raptors ($1.86 with Sportsbet.com.au)
We said this series would probably go to seven and it is looking more and more likely. Both teams split their clashes on home court, before Toronto pushed the Bucks to the brink of elimination with a huge victory on its home floor in Game 5.
Backs against the wall, we are tipping the Bucks to respond. The two teams have alternated their wins, ensuring the games are with home court advantage, even though both have won away.
But the series heads to Milwaukee for a do or die clash, after they were trounced in Toronto in Game Five.
The unlikely Norman Powell got the start for Toronto and delivered in spades, dropping a career playoff high 25 points in a crushing 118-93 victory.
But Powell was not alone as all five starters reached double figures, with big man Serge Ibaka hitting 19, back court combo DeMar DeRozan (18) and Kyle Lowry (16 and 10 assists) combining for 34 points and DeMarre Carroll coming up with 12.
Giannis Antetokounmpo was the lone ranger for the Bucks, having a hand in every thing they did with 30 points, nine rebounds, three assists, three steals and three blocks.
The Raps only need one more win, but we reckon they are going to have to wait for it – if they are going to do it at all. We're hoping the Bucks can turn it around at home and force an elimination game seven in Toronto.
Either way, this has been a superb, topsy turvy series that has seen Antetokounmpo come of age as a force in this league and again exposed Toronto's stars in DeRozan and Lowry as too often wilting in the bright playoff lights.
Make no mistake, this one is poised on a knife's edge and could go either way, but we're giving it to the home team.