NBA playoffs multi for Thursday April 27 – free tips & bonuses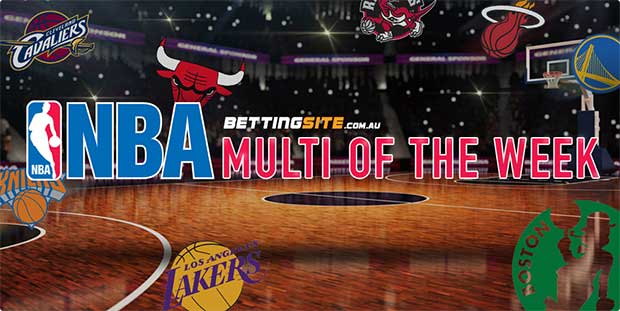 Games from Thursday, April 27, 2017, 8.10am AEST
WE'RE getting to the business end of the first round of the 2017 NBA playoffs and there are a couple of series on the line on Thursday.
With the Cleveland Cavaliers and Golden State Warriors completing 4-0 sweeps of their respective series and booking their places in the second round, there is plenty of intrigue across the rest of the playoffs, with tight tussles across the board.
The tight series between the Atlanta Hawks and Washington Wizards has gone with the home court advantage so far, with the two teams tied at 2-2.
John Wall and the Wizards are the $1.44 favourites to take the lead in Game five on Thursday, at 8.10am AEST, but the Hawks are not out of the equation at $2.88.
The bizarre Boston v Chicago series – which has been owned by the away teams – is at a two all stalemate as the Celtics head home to the TD Garden in the hope of breaking the Bulls' back AT 10.40am.
The Celts are $1.27 favourites with Crownbet.com.au to take a 3-2 lead in the series, with the Bulls outsiders at $3.95.
Here are our picks for a massive day of NBA action, slam them in a multi and hope for the best.
Suggested multi tips for NBA Thursday playoffs:
Washington Wizards to defeat the Atlanta Hawks ($1.44 with Sportsbet.com.au)
Boston Celtics to defeat the Chicago Bulls by 11 points or more ($2.35 with Sportsbet.com.au)
Two leg multi pays $3.36 with Crownbet.com.au
Atlanta Hawks at Washington Wizards
Our tip: Washington Wizards to defeat the Atlanta Hawks ($1.44 with Crownbet.com.au)
It's hard to get a gauge on this series. After two games in Washington, it looked like the Wizards would absolutely plow through the Atlanta Hawks and leave them in their wake.
But the Hawks had other ideas and bounced back with a pair of wins that has this series right back where we started.
With no out and out superstars, the Hawks need an even spread of contributors to make them great and they got that in game four, with all five starters part of seven players to have double figure scoring nights.
Talisman Paul Millsap was the Hawks best player, churning out a tasty line that featured 19 points to go along with nine rebounds, seven assists and two steals, while big man Dwight Howard wound back the clock with a double double of 16 points and 15 rebounds.
There was also 18 points from Dennis Schroder, 15 from Tim Hardaway Jr and 11 from Taurean Prince, as well as 16 off the bench to go along with seven assists from Kent Bazemore and 10 from Jose Calderon.
John Wall rammed out another 22 point, 1o assist double-double, while Bradley Beal made five three pointers on his way to 32 points, but the contributors were few and far between, despite big man Marcin Gortat crashing the glass to tear down 18 rebounds.
So what is going to happen? Well you know Wall is going to have another big game, because that is just how he rolls and, provided Beal can keep up his hot shooting and Gortat can keep hitting the glass, the Wizards should be able to ride their home court advantage to a 3-2 series lead. We wouldn't be touching any lines here, but, with the Hawks wrenching back the ascendancy in this series, we feel like it will be a tight affair and the Wizards by 1-10 ($2.38 with Sportsbet.com.au) could be a good little sighter.
Chicago Bulls at Boston Celtics
Our tip: Boston Celtics to defeat the Chicago Bulls by 11 points or more ($2.35 with Crownbet.com.au)
Boston has wrested back the ascendency from Chicago in this series that is tied two games apiece.
After dropping the first two games on their home floor, the Celtics have roared back into the series thanks to stellar play in Chicago – and perhaps the fact that a rejuvenated Rajon Rondo suffered an injury that has kept him out of both of those contests.
National TV Rondo is something to behold and he put his former club to the sword in the first two games. But, without him, the Bulls have had to rely heavily on superstar Jimmy Butler, but they just haven't had the cattle to go with him, allowing the Celtics back into the series.
The Celts creamed the Bulls in Game Three and then backed it up with nine point victory, 104-95, in Game Four, with little maestro Isaiah Thomas leading the way, pouring in 33 points to go with seven assists.
Thomas has again been the shining light for Boston, overcoming the tragic death of his sister in a car accident on the eve of the series to average 25.5 points, six assists and four rebounds, with a couple of threes for good measure.
The Celts are finally getting some playoff production out of big money signing Al Horford, who's 15 point 12 rebound double double helped the Celtics dominate the middle. It helped that Gerald Green tied one on with 18 points, riding his hot hand in just 22 minutes.
For the Bulls, Butler was again the catalyst, equaling Thomas with 33 points, while adding nine assists and five rebounds in a marathon 45 minute effort. You know you're in trouble, though, when Isaiah Canaan is your second top scorer – with just 13.
it shifts back to Boston now and the Bulls without Rondo, frankly, look like half the team they were with the combative, but flawed, point guard in the line up.
The Celtics have won both contests by at least nine points and we think they will ram home their advantage in front of their rabid fanbase and win this one by 11 plus.