Marmelo poised to usurp Almandin as Melbourne Cup favourite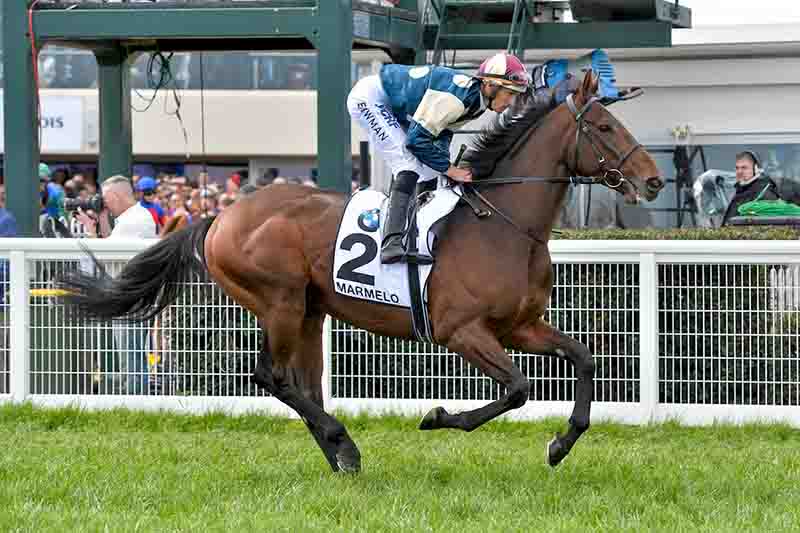 LEADING bookmaker Sportsbet.com.au reports a strong move for Marmelo to win the Melbourne Cup.
The British stayer has held firm at $9 odds on the back of some sizeable bets, including a $20,000 wager and several stakes of $5000.
Meanwhile, defending Melbourne Cup champion Almandin has drifted from $6.50 out to $8.50 while drawing only half as much money as its chief rival.
As such, online bookies are forecasting that there could be a new market leader by Tuesday afternoon.
"At the current rate Marmelo will start favourite for the Melbourne Cup," said Sportsbet's Will Byrne.
"Almandin is popular, but the groundswell of support for Marmelo is huge and he now holds twice the money than Almandin."
2017 Melbourne Cup winner
$8.50 – Almandin
$9 – Marmelo
$10 – Johannes Vermeer, Humidor
$12 – Rekindling
$13 – Wall Of Fire
$14 – Max Dynamite
$17 – Thomas Hobson
$18 – Red Cardinal, Amelie's Star
$19 – Big Duke
$26 – Tiberian
$27 – Hartnell, Boom Time
$35 – Nakeeta, Ventura Storm
$46 – Libran, Single Gaze
$51 – Wicklow Brave, Cismontane
$61 – US Army Ranger
$67 – Bondi Beach
$91 – Gallante