Jordan de Goey goal-scoring tips – Tigers vs. Magpies prelim odds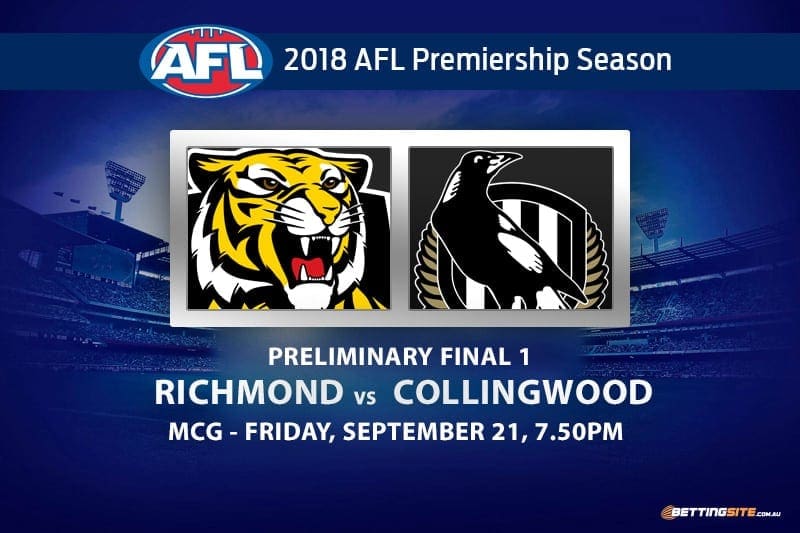 Final Ladder Position:
Richmond Tigers: 1st
Collingwood Magpies: 3rd
Premiership odds:
Richmond Tigers: $1.95
Collingwood Magpies: $5.50
Form Guide:
Richmond Tigers: WWWWW
Collingwood Magpies: WWWLW
Latest Match Result:
Richmond Tigers: Win over Hawthorn in Qualifying Final, 95 – 64
Collingwood Magpies: Win over GWS in Semi Final, 69 – 59
The AFL is going to need two MCG's this weekend to fit everyone in.
Old foes Richmond and Collingwood — the two biggest clubs in the AFL  — will do battle at the MCG on Friday night in a Preliminary Final that will rock Melbourne to its core.
Factoring in the MCG's official crowd capacity of 100,024 and the combined 180,000 members of both competing clubs, this will certainly be the hottest ticket in town — potentially overshadowing the following week's Grand Final.
The Tigers and Pies have played twice this year — Richmond clinching victory in both games. Collingwood were more than competitive in both encounters and will point towards significant injury tolls in both matches that may have tainted the final results.
Despite Richmond's all-conquering season and its incredible winning streak at the venue, Collingwood will take a lot of confidence into the contest. The last time they played the reigining premier, Collingwood lost by 28 points,  but were without injured stars Jordan de Goey and Adam Treloar, lost key backman Jeremy Howe to concussion in the first 10 minutes and, despite these hurdles, trailed by just one goal at three quarter time, before another key backman, Matthew Scharenberg, suffered a season-ending knee injury.
Collingwood have since got de Goey and Treloar back and have been bolstered by the return of Tyson Goldsack as a key post in defence. After a season cursed by injury, could things be going right for the Magpies at the pointy end?
It may be the Tigers turn to deal with injuries this week as Dustin Martin has failed to train fully in the lead up to the clash. Dusty will play, but whether he operates at 100% — a key component for the Tigers.
There's value all over the place waiting to be collected in what looks to be the biggest Preliminary Final of the modern era.
Here are our tips for the first Preliminary Final between the Tigers and the Magpies.
Richmond Tigers vs. Collingwood Magpies Preliminary Final – Goal Scoring Tips
Josh Caddy to Kick 2 + Goals @ $2.00
Caddy has the potential to kick huge bags on any given day, whether he plays deep forward or up the ground. We suspect that Caddy will play deep in order to counter the Collingwood backline, which has been working well in the past month. Caddy has fantastic hands, is a beautiful kick and has strong form against the Magpies – $2 for two goals is great value.
Jordan de Goey to Kick 3 + Goals 2 $2.60
After almost single-handedly winning the match for the Magpies last week, it's very difficult to overlook the in-form black and white beast. Jordan de Goey is another player who is a natural talent in front of the goals. With his blistering pace and bull-like strength, he is going to pose a very real match-up problem for the Tigers. De Goey didn't get the chance to play Richmond in their last clash, he will make up for it in this one.
Richmond Tigers vs. Collingwood Magpies Preliminary Final – Disposal Tips
Shane Edwards to get 20 + Disposals @ $1.62
The only Tiger to consistently accumulate disposals against the Magpies this season has been Shane Edwards. Across both matches Shane was one of the few players to get above 20 disposals, making him a solid choice to get 20 this week. He is smart with the footy and his teammates know it, which advocates for his ball use in the midfield. Do not be surprised if he gets a few cheeky handball receives.
Adam Treloar to get 35 Disposals @ $2.80
After selecting the Magpies as his destination club when seeking a trade out of the Giants, Treloar stated that Collingwood had a better list than the Tigers. A rivalry between Treloar and Richmond has been established since and Treloar has responded, saving his best football for them. Treloar found the footy on 42 occasions in his last match against Richmond, the highest on the ground by a few lengths. Expect the hard-nosed midfielder to back up his effort from last week with a massive Preliminary Final performance.
Richmond Tigers vs. Collingwood Magpies Preliminary Final – Total Match Points Tip
Over 180.5 @ $3.60
The last three matches between Richmond and Collingwood have been above or around the 180-point mark, and it will exceed that amount again this Friday night. Collingwood have been in a scoring drought as of late due to inaccuracy and average form, but that won't stop them from scoring this week against the Tigers. Richmond also is capable of a large score if they play well, which should be the case this week.
Tigers vs. Magpies Match Predictions
Match Result: Richmond Tigers to Win @ $1.37
Line Betting: Collingwood Magpies + 16.5 @ $1.92
The Tigers are the reigning premiers who have beaten the Magpies twice this season. They should win again with their class and chaotic style of football, but make sure you take the Magpies at the line as 16.5 is plenty of points to play with.