Joe Hachem joins fight for Australia's online poker future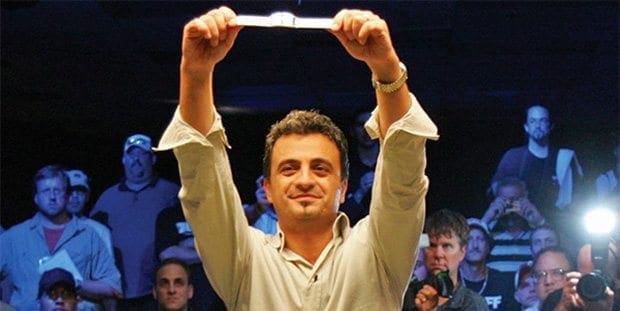 WITH the days of online poker in Australia looking numbered, one of the most revered men on the nation's poker scene has come out all guns blazing.
Joe Hachem, perhaps Australia's most recognisable figure of all time in the poker world, has gone in to bat to try and save an industry that has been put in jeopardy with the government's move to initiate sweeping amendments to the Interactive Gambling Act 2001.
The Interactive Gambling Amendment Bill 2016, a product of former New South Wales Premier Barry O'Farrell's wide-ranging probe into online gambling, was introduced in November and will all but destroy the online poker industry, unless something can be done.
That's where Hashem, the 2005 World Series of Poker Champion, comes in.
He, along with a grassroots movement, want to try and save the industry.
And Hachem is pulling no punches.
"I feel sick to my stomach to be honest," he told PokerNews this week.
"The fact that our country allows online sports betting and horse racing so freely, which are both truly gambling, and doesn't allow online poker is truly embarrassing."
The key issue here is the wording of the amendment.
It has been brought in by the government to tackle illegal off shore and unlicensed gambling service providers who are reaping millions, if not billions of dollars from the Australian punting community.
The law states that only those who hold licences in Australia can provide their service to Australians.
The problem is, there are no licenses for online poker, only sports betting.
That means that any operator providing the service once the bill passes will technically be illegal and liable for heavy fines and prosecution.
Hachem supports the government's move to crack down on illegal operators, but he says it cannot be at the expense of the burgeoning online poker market.
"Of course, regulation is smartest and best answer," he said.
"Poker players can play confidently on the sites knowing that they are legal and regulated.
"The government will be happy knowing that its people are safely playing a game of skill on fully licensed and regulated sites that are accountable for their actions.
"But let's not let good solid logic get in the way of political lobbying and big business bullying, shall we?"
The issue is two-fold because the overwhelming majority of operators that Australians use are run by offshore companies.
And one of those – among the biggest on the planet, 888Poker has already pulled out of Australia.
The group, spruiked by the likes of Shane Warne, said it simply could not continue among the current political climate and made a business decision to wind up.
888 users were left shocked when they were given this message by the company.
"Following a business reevaluation, we'd like to inform you that 888poker's services are not being offered to players residing in Australia and therefore your account will be closed as of 01/16/2017. You can still withdraw funds from your bankroll at any time using our web cashier. Please check your email for more information."
If it is number two, then Poker Stars is number one and there are fears the massive online poker provider could be the next to jump ship from Australia's shores.
It has indicated that, if and when the amendment is passed, it would potentially cease operations in the land down under.
If reputable companies – many listed on stock exchanges all over the world – are forced to pull out of Australia, does that not leave the door wide open for disingenuous operators to come in and fill the void, illegally?
People in Australia will still want to play the game, and, with the big guns gone, they will be forced to engage with less-reputable companies, with fears that credit and winnings could very easily go missing without that level of responsible use and regulation.
The Australian Online Poker Alliance, in conjunction with the Australian Taxpayers Alliance, has launched a petition on change.org that, as of Thursday, Melbourne time, had 1665 signatures.
It supports the principles of the amendment, but says online poker will "become a casualty of this bill".
"The intention of the Bill is not to end online poker in Australia but as it stands online poker will become a casualty of this bill, destroying a past time enjoyed by many Australians," the group writes in its petition.
"All we are asking is for the Government to amend the Bill to stipulate the exclusion of online poker.
"As consenting citizens of mature age it is our right to be able to pursue any hobby or past time we choose as long as it doesn't effect others.
"One small amendment to this bill will go along way to keeping online poker in Australia."
The government could choose to add in a stipulation about licensing for online poker, in order to ease the pain for operators and those who wish to use the services.
"It is amazing just how many poker players have come out and supported our fight to keep online poker in Australia," Joseph Del Duca, media contact for the Alliance, told Poker News.
"The support has ranged from people of all ages from right across the country," he said.
"It just shows that poker is truly a game which can be enjoyed by everyone.
"This is why we are fighting so hard to keep it."
The Productivity Commission, in 2010, recommended the regulation of the online poker industry.
And it seems insane that the government – always keen on the tax payers' dollar – would not look into doing so. It would certainly reaps the benefits of a regulated industry that was paying its fair share of tax in Australia.