Federer to start favourite in 2017 Australian Open final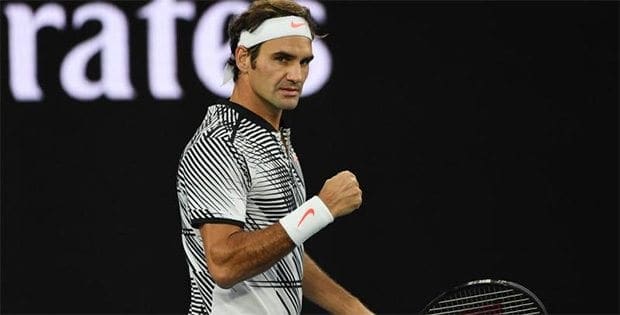 DESPITE back-to-back five set epics at the Australian Open, Swiss superstar Roger Federer is now the odds-on favourite to win the Australian Open.
The Fed Express is $1.83 with Sportsbet.com.au to win the title after somehow finding his way into the decider against fellow countryman and world number four, Stanislas Wawrinka.
Federer, now the oldest man to make a grand slam final anywhere since Ken Rosewall made it to the US Open decider way back in 1974, is ahead of both Rafael Nadal at $2.25 and 'Baby Fed' Grigor Dimitrov, at $8.50.
Those two men play each other tonight in what is tipped to be another thrilling match.
But last night was all about Roger.
He stormed out of the blocks against Big Stan, claiming the opening two sets with precision and guile, before the match somehow suddenly turned.
An injury break for Wawrinka, who came back out with heavy strapping on his right knee, gave him the impetus he needed to take it to his more experienced counterpart, fighting back from two sets to love down by taking the next two sets and forcing it into a decider.
It was as if Wawrinka had taken Federer's game into the locker room with him and left it there as the younger man simply dominated sets three and four.
But the fans came to see Roger and he did not disappoint. The Fed was gifted a break from Wawrinka mid way through the final set and went on to display his remarkable abilities as a front runner to storm home with it in the last – after taking an injury timeout of his own, winning it all 7-5 6-3 1-6 4-6 6-3 to book his spot in his sixth Australian Open final – and giving him a chance at a fifth title in Melbourne.
And, of course, with Federer's win, it makes the dream "Fedal" final one step closer.
Although the Fed Express will probably be rooting for Dimitrov to knock over Nadal, given the Spaniard's dominance over the Swiss.
In eight meetings in grand slam finals, Nadal has beaten Federer six times. And Federer has never beaten him at the Australian Open. It is food for thought for the champion, who will surely bunker down and watch every moment of tonight's match.
"You would probably think I have a slight better chance to beat Dimitrov than Nadal, but who cares," Federer said.
"At the end it matters if you win or not.
"I'm in the finals, I know that.
"I know I will have a chance to win on Sunday now.
"That's a great position to be in.
"Regardless of who it's going to be against, I think it's going to be special either way.
"He (Dimitrov) has a very complete game, he can mix it up very well, he is very confident right now, you never want to play competent players but it has to be him or Rafael (Nadal), so it will be tough regardless.
"I really like Grigor Dimitrov's game, he has a nice style, and that's why many players come and watch him.
"He has had a tough couple of years and I'm happy that he could turn it around.
"I did not think it would be this tough this tournament, but he beat some really quality players and now he has one of the ultimate tests in the game.
He said he was Nadal's biggest fan.
"Rafael Nadal has given me the biggest challenge in this game," Federer said.
"I have to play offensive, I am his number one fan, I think his game is tremendous, he is an incredible competitor.
"I am happy for us to have some epic battles over the years, and of course it would be unreal, both of us would never have thought that we would be here potentially playing in the final again.
"I think it is very special for both of us."
Whoever makes it, you just feel like they will have their work cut out for them against a guy who is just rounding back into form after taking six months off to recover from knee surgery.
The break appears to have done him good, with the 35-year-old still as wiley as ever, but as fit and as fresh as he has been in a long time.
In the women's draw, it is All American and All Williams, with ageless pair Serena and Venus Williams winning their respective semi final clashes to book a date with each other at the Australian Open – for the first time since way back in 2003.
In that clash, the older sister could not keep up with her younger sibling, Serena winning the match 7-6 (7-4) 3-6 6-4.
The pair is a little bit older now and the younger sister has streaked away as one of, if not the greatest women's tennis player ever to walk the earth and a win on Saturday night would give her the outright grand slam record in the open era with 23.
Today, Venus had a struggle on her hands against fellow American CoCo Vandeweghe in the opening set, but the veteran was too wily, winning the next two to be the first Williams sister into the final, 6-7 (3-7) 6-2 6-3.
Sister Serena then took centre court on Rod Laver Arena and then promptly took less than an hour to obliterate feel good story Mirjana Lucic-Baroni. Lucic-Baroni was just happy to be there as Serena picked her apart in straight sets, 6-2 6-1.
2017 Australian Open winners odds
Men:
Roger Federer ($1.83)
Rafael Nadal ($2.25)
Grigor Dimitrov ($8.50)
Women:
Serena Williams ($1.20 with Sportsbet.com.au)
Venus Williams ($5 with CrownBet.com.au)
2017 Australian Open men's semi final odds
Rafael Nadal ($1.41 with CrownBet.com.au)
Grigor Dimitrov ($3 with CrownBet.com.au)
See our full betting preview to the remaining semi final here.