Green the early favourite to square the ledger against Mundine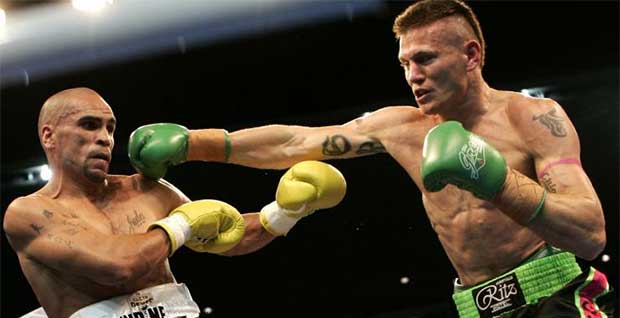 THE long-awaited sequel in Australia's most bitter boxing rivalry is finally set to take place as Danny Green (-181.82 at Sportsbet.com.au) enters his second bout against Anthony Mundine (+140) as the red-hot favourite.
The bout is set at catchweight (83kg) and will be contested at South Australia's iconic Adelaide Oval on February 3.
'The Man' may be going in as the heavy underdog, but he stated at the fight announcement press conference that his previous performances have been hampered by nagging injuries that he has now recovered from.
"I've been fighting with a bad hip – a very bad hip – for the last seven, eight years," Mundine told a press conference on Tuesday.
"That's fixed now. I feel my feet are back, my movement's back.
"I just want to put this s–t to rest, that I'm the better man.
"Skills pay the bills. I'm going to be as sharp as I was in 2006."
The fight will be the 41-year-old's first bout since he suffered a TKO loss to American Charles Hatley back in November of 2015.
The 43-year-old Green brings much better form into their second fight.

His last bout was back in August when the 'Green Machine' defeated Kane Watts on points to win the vacant Australian cruiserweight title.
In the aftermath of that victory, Green signalled his intentions of settling the long-time score with Mundine.
"I'll do it now if he wants to. I'm warmed up. Somebody throw him some gloves. He's going to get smoked like a cigar. He think he's the best and I think I'm better than him." Green said in his post-fight interview.
"I don't like him. I don't like some of the s–t that he talks or some of the s—t he stands for.
"I don't like the way he chooses to divide the community. We had a chance the last fight to unite people and instead he chose to divide them."
Both men may be entering the end of their glittering careers, but the fight is expected to sell out the 40,000 seat venue and draw a massive pay per view audience.
Sportsbet.com.au representative Ben Bulmer said the event could be the biggest sporting spectacle of the summer, and despite installing Green has the early favourite he would not be surprised if the man causes a boil over in the city of churches.
"They may be getting on in years but Danny Green and Anthony Mundine can still draw a crowd, and a headline, with their Adelaide Oval fight set to be one of the hottest tickets this summer," Bulmer said.
"With the fight set to take place at catchweight 83kg, a heavier Danny Green deserves favouritism but Anthony Mundine has made a career out of overcoming the odds, with only a brave punter to write him off this early."
Danny Green v Anthony Mundine
Market provided by Sportsbet.com.au
$2.40 Anthony Mundine