First online poker operator prosecuted under current legislation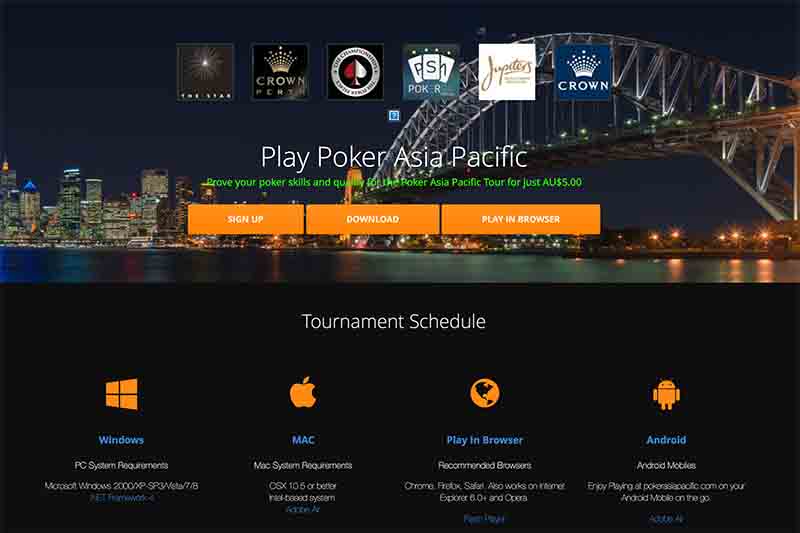 The online gambling crackdown in Australia has commenced with authorities targeting an online poker operator and fining him $10,000.
A well-known professional poker player, Luke Brabin, is the first to be charged under a new crackdown on poker and gaming websites targeting Australians.
Brabin, who has had experience as a bookmaker, was found guilty of breaching the Interactive Gambling Act 2001 by the Southport Magistrates Court.
He was convicted of providing an illegal gambling service via the website PokerAsiaPacific.com on Monday, June 5.
When the site first launched, Brabin hoped it would result in "a new era for poker in Australia".
The Australian-based website, now taken down, claimed to be affiliated with major gambling venues across Australia, including Sydney's Star Casino and Crown Resorts Melbourne and Perth.
The website offered real money online poker games, as well as online satellites into live poker tournaments across the Asia Pacific. It was also a comprehensive resource for poker news.
Along with Brabin, bloggers on the site included cricket legend and poker enthusiast Shane Warne and professional poker players Grant Levy, Oliver Gill and Daniel Laidlaw.
While the current legislation is quite vague when it comes to offshore gambling operators, it is clear that you cannot run an unlicensed gambling site out of Australia.
Still, Brabin is the first to be prosecuted under the 16-year old legislation, despite other major poker operators like Pokerstars targeting the Australian market for much longer.
Recently lawmakers have been discussing the Interactive Gambling Amendment bill 2016, which is yet to be officially introduced.

Brabin acquired the online poker site via his company, EV Plus Pty Ltd, in 2015. But the Court only charged him for offences between April and August 2016. It is unclear why Brabin was fined specifically for his conduct between these months.
In August last year, Poker Asia Pacific's Facebook page posted a statement saying the website would be suspended "until pending legal action regarding the Interactive Gambling Act is resolved."
"During this time, Poker Asia Pacific will be lobbying strongly to exclude online poker from the Interactive Gambling Act and resume its services without any legal implications," the message read.
The Facebook post also said it would be offline "for 2-3 months" and its operators were "confident of obtaining a positive result given the current landscape of the online poker market."
But the site is still offline and Brabin, who is a WSOP Asia-Pacific gold bracelet winner, has to pay a five-figure fine.
The attempts to exclude poker from the IGA and allow Australians to offer the game and play it legally online have been quite prominent. But the bill to amend the legislation, and in turn tighten the laws surrounding online gambling, has seen this attempt and other groups' efforts thrown out by Senators.
The amendments to the IGA will also give more power to the Australian Communications and Media Authority (ACMA), including the ability to issue civil penalties of up to $1.35 million per day for individuals and up to $6.75 million per day for companies which have been found in breach of the Act. But it seems the media watchdog is already exerting its powers as media reports have revealed ACMA tipped authorities off about Brabin.
ACMA is not the only interested party to get ahead of the new legislation changes, with a number of international gambling operators already exiting the Australian market.
Online casino operators such as 32Red Pic and GIG brands, which includes Guts online casino, have already exited the market.
Amaya Gaming's Pokerstars is still active in Australia despite having a much bigger market share of poker players than PokerAsiaPacific.com did.
Management for PokerStars has said it will block Aussies within 30 days of the new amendments being enforced.