Extreme Choice the favourite for star-studded Coolmore Stakes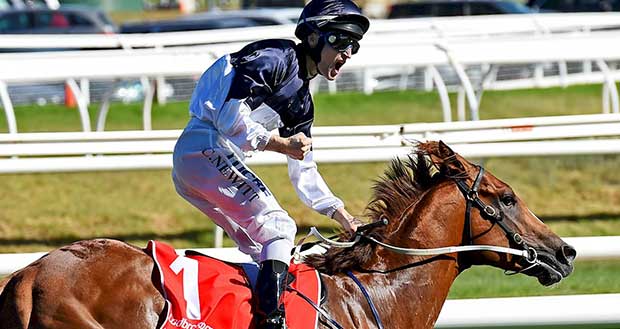 THE headline act of Victoria Derby day at Flemington on Saturday might be the eponymous race, but the Coolmore Stud Stakes could be the most competitive Group 1 race of the Melbourne Spring.
A star-studded field will compete in the 2016 edition of the Coolmore Stakes at Flemington, which will be contested by no fewer than four former Group 1 winners.
Superstar sprinter Extreme Choice is the +230 favourite to take out his second Group 1 race in a month, while Astern ($3.60) and Star Turn ($4.40 in from $5) have both tightened after favourable barrier draws.
Godolphin head trainer John O'Shea said his elect Astern will benefit greatly from what he believes will be the ideal stall to jump from.
"I think he's drawn beautifully in barrier eight," O'Shea said.
"There's plenty of speed around him, he should get good cover straight away.
"He's trialled beautifully down the straight, settled in well in Melbourne and I'm really bullish about his chances."

Golden Slipper winner Capitalist is out on the fourth line of betting at $9, but jockey Blake Shinn said it would be foolish to write off the Group 1 winner based on his last run.
"People wrote this horse off before the [Golden] Slipper because of one run on a shifty track, where he ran second, and he came out and was too good for them in the Slipper," Shinn said.
"He just needs confidence in his footing and will get that on Saturday.
"They are writing him off again on Saturday, but they underestimate how well he is going and the skill of Peter Snowden to have him ready."
Shinn said Capitalist's form against the field speaks for itself.
"He has beaten Astern, Extreme Choice, Star Turn and Flying Artie in the Slipper and although I have the utmost respect for them and what they have done as three-year-olds, I think they would have to be worried if the real Capitalist turns up on a firm track."
Despite Shinn's confidence in the Golden Slipper winner, Sportsbet has had no action around the chestnut colt.
Sportsbet.com.au representative Ben Bulmer said the punters are rallying around the Sydney pairing of Astern and Star Turn.
"Extreme Choice won the Moir Stakes in brilliant fashion, but punters are yet to show any confidence. The bulk of money has been for Astern and Star Turn, with Star Turn holding a slight edge over his Sydney counterpart."
2016 Coolmore Stud Stakes betting market
Market courtesy of sportsbet.com.au
$3.60 Astern
$4.40 Star Turn
$9.00 Capitalist
$11 Russian Revolution
$11 Flying Artie
$26 Saracino
$34 Derryn
$41 Archives
$67 Manolo Blahniq
More News

Deprecated: WP_Query was called with an argument that is deprecated since version 3.1.0! caller_get_posts is deprecated. Use ignore_sticky_posts instead. in /home/bettingsite/public_html/wp-includes/functions.php on line 5145

All Recent News