Dancing hurdler Michelle Jenneke attracts Sportsbet punters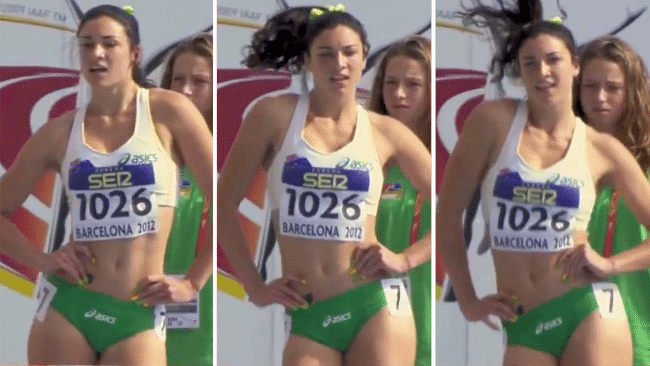 SHE'S never won anything at a major level, but Aussie Michelle Jenneke has become the darling of the Rio Olympics.
The stunning hurdler, made famous by her jovial warm up at the 2012 World Junior Athletics Championships, has become the focus of a series of sportsbet.com.au specials in the lead up to the Olympics, which officially kick off with the opening ceremony on Saturday morning.
The bookie has zeroed in on Jenneke's trademark pre-race dance and she is a $1.20 chance to strut her stuff before her race in the 100m hurdles.
Jennie, 23, went viral with that dance in 2012 and she has revealed that she is working on some new moves.
"I don't think that much about it, it sort of happens organically, so we'll just wait and see what happens," Jenneke said.
"It comes natural to me, and I actually started doing it in 2009 and had a really good race back then so I have kept doing it.

"I honestly don't get too nervous about the race I am more excited more than anything else – and the pre-race routine is an outlet for that, it gets me into a right frame of mind.
"It even happens at training and some of my training partners do try and do it, especially the younger ones, and they are pretty good too."
Forget about her winning a medal in the race, her odds of $501 giving her almost no chance of winning gold. And she's $251 to get any medal.
In fact, the bookie doesn't even think she can make the final, rating her just a $26 chance of being able to battle it out for a medal.
The woman herself has basically conceded that she has no hope, saying that she just wants to run a personal best and wants to make the semi final at the least.
"I really want to run to the best of my ability, my training has been going really well, and I am hoping for a personal best time and get me into the semi-final and anything can happen then," she said.
"It would really depend on the times I am running but hopefully I can get me into the final."
Up against a trio of USA starlets, including red-hot odds on favourite Brianna Rollins ($1.45), it looks as though Jenneke is just there for the experience.
But the bookie does think she is a chance of making it even bigger off the track, with the athletics glamour girl at $5 to show her moves on the next series of Dancing with the Stars.
The bookie's Christian Jantzen said her moves have also made her a $16 hope to get a start in a Beyonce music video.
"Michelle Jenneke is almost certain to do her little dance at the starting blocks and who knows, maybe she'll throw in a bit of a samba to get into the spirit of the Rio games," Jantzen said.
sportsbet.com.au Michelle Jenneke Rio Olympic specials
Will Michelle Jenneke do her famous warm up dance before a race?
Yes ($1.20)
No ($4)
Michelle Jenneke Futures:
To become a David Jones fashion ambassador by 2018 ($4)
To contest the next season of Dancing with the Stars ($5)
To start her own fitness brand by 2018 ($7.50)
To be the number one ranking women's hurdler by 2018 ($101)
To become a V8 supercars driver by 2018 ($101)
Michelle Jenneke in Rio:
To win gold ($501)
To win any medal ($251)
To make the final ($26)
First group Michelle Jenneke appears with:
5 Seconds of Summer ($3)
The Veronicas ($4)
Flume ($6)
Justin Bieber ($7.50)
Calvin Harris ($11)
Taylor Swift ($11)
Ariana Grande ($12)
Rihanna ($14)
Beyonce ($16)
All odds provided by Sportsbet.com.au