Danny Green starts as favourite in Anthony Mundine rematch market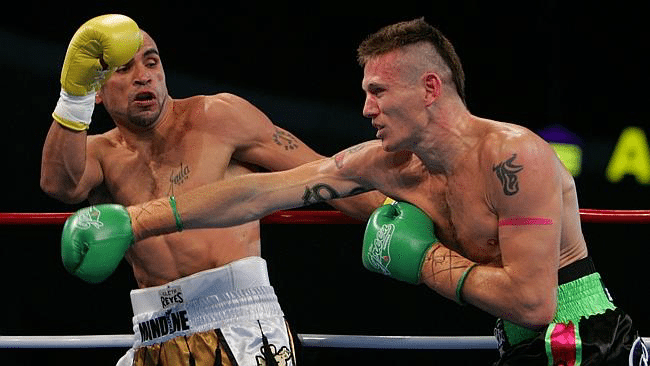 SOME people say it is two old dinosaurs battling it out in walking frames, rather than boxing gloves.
But there is no doubt the fight between bitter rivals Anthony Mundine and Danny Green has unprecedented interest in Australia.
And the hysteria was only enhanced by the Green Machine's Australian Cruiserweight title win against Kane Watts in Melbourne last night.
And, that points decision has Green as sportsbet.com.au's favourite to win the bout, which is yet to have a scheduled date.
The last time they fought, in 2006, Green was defeated by Mundine.
"Ten years is a long time to wait for a shot at revenge but 'The Green Machine' has opened as the $1.80 favourite for the bout," the bookie's Will Byrne said.
"Mundine cannot be ruled out though, and at $2 is likely to attract plenty of punter support.

"They say all good things come to those who wait and Green is foaming at the mouth to avenge his points decision loss to Mundine way back in 2006, we've given him the edge in the early betting."
At age 43, Green showed he still somewhat had it, winning the title in a three round decision over Watts.
Mundine, true to form, seized on it as an opportunity to throw shade at a man he has had so much history with.
He was ring side for Green's bout, but took to radio to smash his upcoming opponent, saying he was Kanye to Green's Taylor Swift.
"He built his name off me, nobody would know who he was if it wasn't for me," Mundine said of Green.
"I put him on the map, he'd be playing in an RSL if it wasn't for me.
"I'm not going to trash talk and say this and say that, I just know that I've got the skills to pay the bills, I've got the skills to beat him again, and he didn't win a round in the first fight, and I don't think he's going to win a round in the second fight either.
Green was quick to hit out at Mundine after his title win.
"Mundine won't hurt me," Green said.
"It will be more of a boxing test and my sparring partners will be totally different.
"It will be a whole new ball-game.
"And I'll be a lot sharper (than he was last time).
"This is a fight that's real, 'Choc' thinks he's the best, I think I'm better than 'Choc'.
"It means something, he doesn't like me, I don't like him."
There are still details to be thrashed out, times, dates, etc, and that will be up to the two camps to come to terms with but, like it or hate it, these two are on a collision course in the ring.
"We'll sit down and get it going," Green said of the planned fight.
"We'll get a venue and a state and then we'll talk the black and white details.
"Hopefully, we'll fight at the end of November, the start of December.
"That would be the optimum time."
While he had spruiked to the media that he was not thinking about Mundine as he led in to Watts, the four-time world champion admitted it had been difficult not to look forward to a chance to avenge his
loss a decade ago.
"It's in the back of your mind and anyone who said it wasn't, would be lying," he said.
"I did my best to block it out over the last 10 days," he said.
"I'm happy to get the W (win) and move forward and reset, give the body a break and try to stay healthy and as young as I can."
Back in 2006, Green toiled manfully but, at the end of the day, acknowledged Mundine was the better man in the ring.
"He's hard to tag and to be honest it was a very difficult fight," Green said at the time.
"It's hard to explain, some nights you fire, some nights you don't.
"I'm not going to take anything away from Choc.
"I'm not going to say this or that or I didn't do this.
"Simple as that, I was beaten on the night by a better man."
Mundine was a little more gracious than you would expect of him these days, but he still had some choice words for his opponent.
"I just want to thank Danny for a great fight," he said.
"He put up a good performance.
"He come around, he come prepared – I was the better man tonight Dan, thank you very much.
"We can do it again maybe, soon."
And by soon, he meant 10 years.
So frustrated was Green at one point with Mundine's continued stalling, he issued an open letter the the boxing champ.
"I'm an easy fight for you Anthony. You've said it many times. I am without question the biggest financial opportunity you will ever face," Green wrote in media.
"Quite simply Choc, you are not the fighter you preach to be."
Mundine came back with: "Dan relax, your time will come. There is only one captain of this ship —and it ain't you."
The time for relaxing will be over, later this year.
Danny Green v Anthony Mundine market
Danny Green ($1.80)
Anthony Mundine ($2)
Odds provided by Sportsbet.com.au