Could Cahill give Australian soccer a boost with City contract?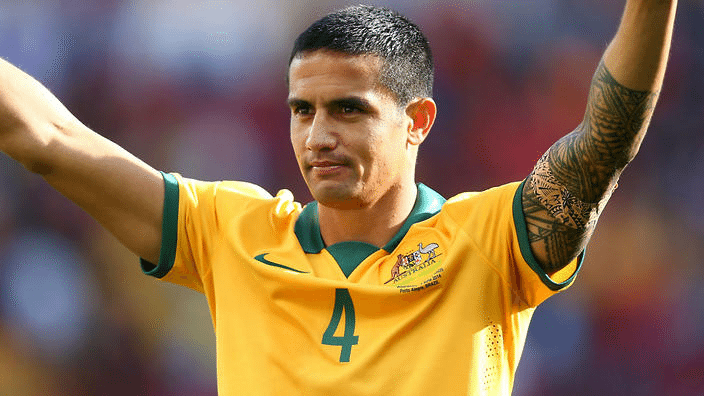 AUSTRALIAN bookmaker Sportsbet.com.au is confident Australian goal-scoring machine Tim Cahill is about to join A-League side Melbourne City after slashing his odds from $6 to $1.90.
One-time favourites to sign the superstar, Sydney FC, has drifted out to $4.50 after being at the $3 price at the beginning of the week.
The former Everton and New York Red Bull star's current contract at Chinese Super League club Hangzhou Greentown is due to expire and Cahill has mooted that a move to the A-League might be on the cards.
The 36-year-old stated he will make an announcement on his playing future following Australia's friendly against Greece on Tuesday night in Melbourne, but still admitted there are a few issues that he and league boss David Gallop need to address before he will step out as an A-League athlete.

"I will address this issue after (the) game," Cahill said.
"I don't want to take the focus away from the Socceroos by talking about the A-League.
"I am a massive supporter of the competition and I have always said I will never close the door. But overall, I think it's going to be left down to the big boss man of the league (David Gallop) to decide what he wants to do."
Melbourne City – which is owned by City Football Group, the same Abu Dhabi-based company that have Manchester City on is books – are determined to make a big splash in the A-League after a disappointing end to last season and Cahill could be the catalyst.
CFG is said to be envious on the weight of support Melbourne Victory has in Victoria and views Cahill not only an asset on the field, but a chief marketing tool heading into the future.
Manchester City has shown over the last five years that money is no object when it comes to obtaining success and their mentality for achieving their goals looks to be universal.
The Socceroo legend will command a hefty price tag, but such is the influence of his signature, Sportsbet is offering $4.50 for City to win the title if Cahill is playing there next season and $6.50 if he is not.
Sportsbet.com.au's Christian Jantzen said irrespective of who Cahill plays for, his signature will be a massive coup for the A-League as a whole.
"The dogs are barking that Timmy Cahill will sign with Melbourne City. Sydney appeared the club most likely, but Melbourne looks to have beaten them to the punch." Jantzen said.
"In the end everyone's a winner though because Timmy is a superstar and will give a massive boost to the A-League,''
Markets courtesy of sportsbet.com.au
Which A-League team will Tim Cahill sign for?
$1.90 Melbourne City (in from $6.00)
$4.50 Sydney FC (out from $3.00)
$5.00 Western Sydney Wanderers (out from $3.25)
$12 Melbourne Victory (out from $10)
$21 Brisbane Roar (out from $11)
$34 Adelaide United (out from $21)
$34 Perth Glory (out from $21)
$41 Newcastle Jets (out from $26)
$41 Central Coast Mariners (out from $26)
$67 Wellington Phoenix (out from $51)
Melbourne City Specials
$4.50 Melbourne City to win A-League with Tim Cahill
$6.50 Melbourne City to win A-League currently