Bookies KO'd as punters win millions on Horn vs. Pacquiao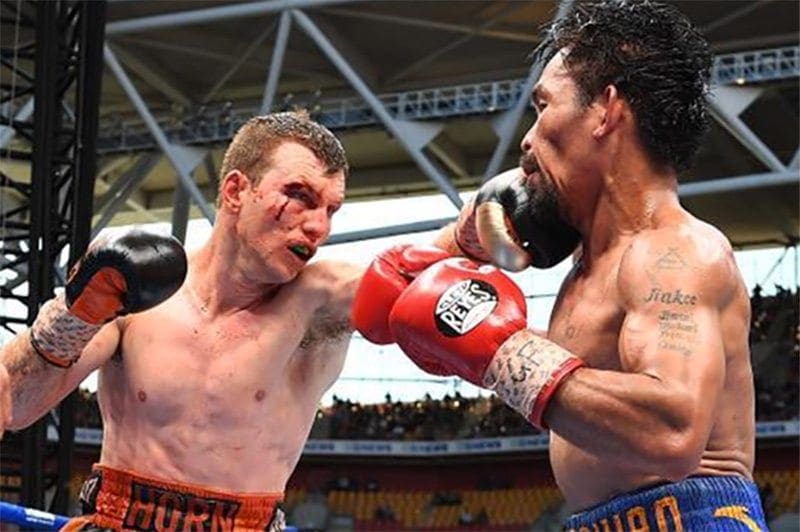 JEFF Horn's shock win over Manny Pacquiao on Sunday had repercussions far beyond the ownership of the WBO welterweight belt.
Australian bookmakers have lost millions on the fight, which was awarded to 'The Hornet' in a contentious points decision.
Last week, Sportsbet.com.au reported that around 95 per cent of the money for the Battle of Brisbane was on the underdog.
Now, the online bookie is claiming to have lost over $2.8 million on a fighter who was paying as much as +450 in the lead-up.
Perhaps just as surprising as the overall result was the method of victory, which scored a very tasty return of +1500.
"Punters delivered the knockout blow to us yesterday but we'll get up off the canvas and hopefully get another shot at the title in the rematch," said Sportsbet's Christian Jantzen.
Despite being cast as a rank outsider, Horn ended up drawing nine times as much money as 'Pacman'.
It remains to be seen whether that will be the case when the two renew hostilities later this year.
HORN WINS! HORN WINS!
THE HORNET!
HORN HAS DONE THE UNTHINKABLE!#PacHorn pic.twitter.com/M9z5QY3Zvj

— Sportsbet.com.au (@sportsbetcomau) July 2, 2017
Once bitten, twice shy, Sportsbet has brought the newly crowned welterweight champion into +140 for the rematch.
Pacquiao said immediately after the fight that he wanted to win back his title, but key players in his entourage have since imposed some very specific conditions.
They want three new judges and a different referee, highlight the widely held belief – at least overseas – that the Filipino star was stitched up.
"The rest of the world is saying it's a bullshit decision, the more people that say it was a crap result, the better it is for a rematch," said Pacquiao's conditioning trainer, Justin Fortune.
"Manny won't want to go out like that.
"Knowing him like I do, he will stew on this for a couple of weeks and then decide that he can't let a loss to Jeff Horn be his last fight.
"But if a rematch happens, there needs to be an experienced referee like Kenny Bayless, Tony Weeks, Jack Reiss, Vic Drakulich — there's plenty of referees that have the experience and good enough to handle a fight like that.
"Manny won that fight by a couple of rounds.
"It was a close fight — how someone can score it 117-111 to Horn is beyond me.
"We would be asking for three new judges for the rematch, for sure."
Speaking to News Corp, Fortune added that the rematch with Horn would almost certainly be Pacquiao's last professional fight.
"It's 1000 per cent up to Manny whether he wants to fight again," he said.
Horn beating @mannypacquiao is like saying Apollo beat Drago in Rocky 4 #HornPacquiao pic.twitter.com/8ASzTAbzSW

— Hyperion (@gfmete) July 3, 2017
"I think he should take the rematch and then retire win, lose or draw, and I think [head trainer] Freddie Roach would agree with that.
"Manny has got nothing left to prove.
"Hopefully he comes back in the rematch and beats Horn just like he did to Tim Bradley after losing that first fight, which was also a bullshit decision."
Horn vs. Pacquiao 2 outright odds
-181.82 – Manny Pacquiao
+140 – Jeff Horn