Manny Pacquiao vs. Jeff Horn re-match odds, tips & bonuses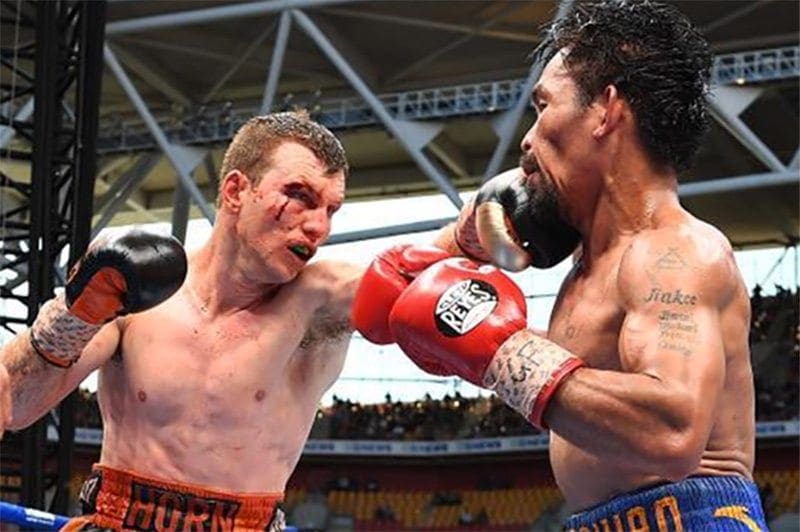 AUSTRALIAN boxing has a new hero in Jeff Horn.
The plucky Queenslander was able to vanquish boxing legend Manny Pacquaio in a 12-round decision at Suncorp stadium in front of more than 60,000 fans, justifying the huge build-up and hype.
Paying as much as $6 before the fight, Horn took it to Manny early in the fight, setting a precedent that he was able to maintain throughout, withstanding a late comeback from the Philippines politician who is set for a place in the sport's hall of fame.
Now it's time for the re-match.
Pacquiao, a punching machine who has made more than half a billion dollars across his fight career, has already committed to a re-match with Horn where he will start as favourite.

The question is for punters, the two contestants and a new legion of boxing fans around the country – can Jeff Horn do it again?
We can only hope.
Here's everything you need to know about the Horn Pacquiao fight and how you can get a taste of the betting action.
How to bet on the Manny Pacquiao vs. Jeff Horn re-match
So you want to have a punt on the big fight.
Once you have met your obligations, it is time to find an online bookmaker with the clout to make your bet on the Pacquiao vs. Horn fight work for you.
You will find a labyrinth of bookies all keen to soak up your hard earned dollar.
But not all of them are reputable and not all of them will look after you.
You want a bookie that combines the best odds and a wide variety of markets, coupled with the security chops to protect your money and your bets.
Sign up to one of more of these guys and you will be doing yourself a favour:

This is my table
What are the betting odds for the Manny Pacquiao vs. Jeff Horn 2 fight?
Odds provided by Sportsbet.com.au
When and where is Manny Pacquiao vs. Jeff Horn?
A venue is yet to be set for the Horn vs. Pacquiao re-match. But Jeff Horn has already stated on the record that he would like to host the bout in Australia yet again.
How can I watch the Manny Pacquiao vs. Jeff Horn fight?
As with most boxing bouts in Australia, Main Event channel holds the rights to the fight and it will cost you $59.95 to watch it from the comfort of your own home.
How much will the two fighters earn?
In the first fight Pacquiao was obviously the show and made somewhere around $10 million for his trip to Australia – that's more than 20 times Horn's purse. Not bad for a night's work. It's estimated that Pacquaio will again make that figure, but Horn's pay packet is expected to grow substantially.
Manny Pacquiao vs. Jeff Horn: By the numbers
Jeff Horn

Born: 4 February, 1988
Age: 29
Country: Australia
Nickname: The Hornet
Stance: Orthodox
Height: 175 cm
Reach: 173 cm
Career wins: 17
Career losses: 0
Draws: 1

Manny Pacquiao

Born: 17 December, 1978
Age: 38
Country: Philippines
Nickname: Pac Man
Stance: Southpaw
Height: 166cm
Reach: 170 cm
Career wins: 59
Career losses: 7
Draws: 2
Who will win the Manny Pacquiao vs. Jeff Horn re-match?
Aussie Horn is a rising star of the ring and his come from nothing back story is one that resonates with Aussies. His win on July 2 at Suncorp Stadium will go down as one of the country's great boxing moments.
The two blokes stood form and delivered a great bout – the kind of fight we had been waiting for.
Horn used his strengths to perfection – legs that are almost a decade younger than Pacquiao's and a huge weight advantage. His spacing and speed were a factor.
Talk post-fight was that Pacquiao was slight underdone coming in. Will he make that mistake in a re-match?
Will Horn, after tasting blood once, rise to a new level of confidence?
The odds suggest Pacquaio will start favourite, but it's fair to expect another 12-round epic.
We're betting this one goes the distance to points again.
What the fighters said before the first fight
MANNY PACQUIAO
"I know what it is like to be young and hungry."
"Many times I would lie awake and dream of my chance."
"I like this fight with Jeff Horn because he stands and fights, he does not run away in the ring."
"It will be a very exciting fight for the fans."
"I hope he is training hard."
"I want him to be ready because I want to entertain the fans with a good fight."
JEFF HORN
"My message to him is relax and enjoy your stay in Brisbane because on July 2 I'm taking your world title."
"But I have to first say thank you to him for giving me the chance. I never thought I would ever get the opportunity to fight for his world title and certainly not before a packed crowd at Suncorp."
"This is a huge event because of the star power of Manny Pacquiao."
"He's one of the greatest boxers in history and people in Australia have supported the fight because of his name and the chance to see an Aussie against him."
"But I believe this is the start of a new era in boxing and a changing of the guard."
Recommended!