A guide to Betfair.com.au for punting beginners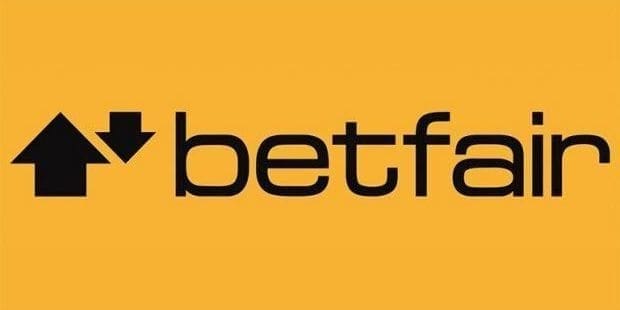 While Betfair looks much like any other online wagering domain at first glance, it operates in a very different manner to bookmakers such as Sportsbet, Bet365 and Ladbrokes.
Let us show you how to maximise value and get the most out of this popular betting exchange – the only one of its kind in Australia.
Also read:
What is a betting exchange?
When gambling with an online bookmaker, you are always playing against the house. The bookie sets the odds and the punter can choose whether or not to take them.
The Betfair online exchange is different. Instead of wagering against a bookie, you are taking on other punters directly. The customers post the prices and bet against each other, which opens up a number of punting possibilities not found at regular sports betting sites.
For more on how Betfair.com.au works, see our full review.
Lay the odds and become the bookie
Perhaps the defining feature of Betfair is that you put yourself on either side of a wager. Online bookies only allow punters to 'back' a result, but the interactive nature of a betting exchange means you can also choose to 'lay' the odds.
What's the difference? When you back a team, player, dog, or horse, you are picking it to win (or to successfully complete a proposition, whatever it is). When you lay a bet, however, you are tipping that said runner or competitor will lose.
Thus, laying the odds casts you in the role of bookmaker. This creates huge opportunities to collect when a favourite fails to fire, but without having to place a specific counter-wager.
For example, let's say all the money is on Australia to win the ICC Cricket World Cup. If you think the Aussies won't get the job done, you can bet against them and win money without having to pick which team will actually lift the trophy.
Look for late fluctuations in racing markets
There are already so many different ways to bet on greyhounds and horse racing. Fixed odds, top fluc, mid div, tote – every racing bookie offers a wide variety of price options for each runner.
The Betfair Global Exchange provides a very interesting alternative, especially for customers who like to wait for the late mail.
The beauty of the peer-to-peer wagering format is that it is about people. As corporate bookmakers set their odds according to very specific formulas and profit margins, sometimes their prices do not reflect the true value of a result.
P2P punters are not bound by such business interests, which creates a much higher level of volatility and variance than you will find at most other betting sites. People will float exaggerated odds to try and attract interest, especially in the last few minutes before the start of a race.
This is where Betfair racing markets suit the patient punter. Whether you wait it out and watch the back/lay odds develop, or you jump online just in time for last call, you can all but guarantee a better price than the market average.
See where the money is going
Online bookmakers are not in the habit of advertising how much money is coming in for any given market. Even when they publish such figures for special events, it is usually done through a press release issued to media affiliates.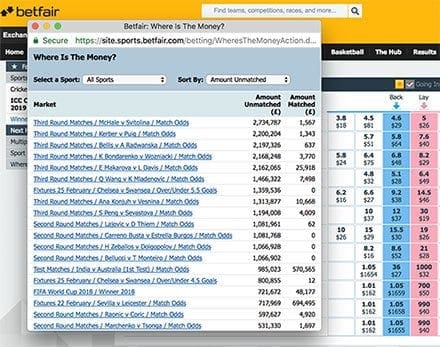 At Betfair, you can see exactly where punters are putting their hard-earned. At the top of every market on the betting exchange site is a display that shows how much cash has been matched, while each back and lay option tells you how much money remains unmatched for that particular bet. These figures are refreshed every few seconds, so they are always up to date.
If you want to find out which races, matches and futures are attracting the most action, select 'Where is the money?' from the side bar on the Betfair.com.au homepage. This opens up a new window that displays the busiest markets in the entire exchange. You can refine your search by sports category and rank findings by either the amount matched or the amount unmatched.
Get top value on racing and sports futures
Betfair is a haven for racing punters, especially now that the Australian site is hooked up to the Global Exchange. There is a market for just about every thoroughbred race on the planet, including some long-range futures you might not find elsewhere.
Bookies can be rather conservative with their antepost betting options for horse racing, often waiting until the field is significantly narrowed before opening their markets. This makes it difficult to jump on a promising runner early and get the best pre-hype odds. The Betfair system is much more flexible, with markets cropping months and months in advance of major meets like the Melbourne Cup, the Cox Plate, the Kentucky Derby, the Grand National, L'Arc de Triomphe – all the big ones.
Sports betting is a developing facet of the exchange system, but the future and outright markets on offer are right up there with the very best in the business. If you want great early prices on the FIFA World Cup, the Ashes, the US Masters, Wimbledon, the Monaco Grand Prix, or any other major sporting event, Betfair is well worth a look.