Best try-scoring bets for Gold Coast vs. Brisbane, NRL Rd 5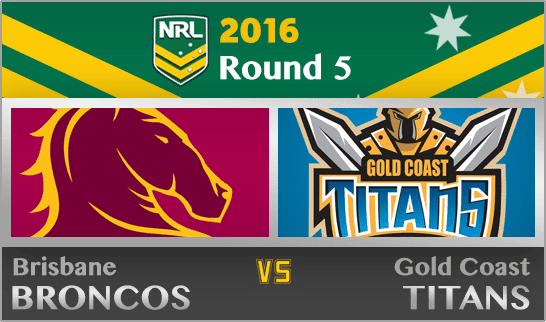 Friday, April 1, 8:05pm. Cbus Super Stadium
The Gold Coast Titans have shown this season that they're no joke and they will look to continue their winning ways against the Brisbane Broncos this April Fools Friday.
The Titans came into the season as outsiders and bookmakers questioned whether they would get into double figures in the win column, but they have already won their first three from four.
Wins against the Knights, Tigers and Raiders have set them up in a nice position come Round 5, but the competition will start to get harder from here on out. The teams they have beaten aren't expected to be title contenders and their only loss to date was a 16-34 loss to the Storm – a title contender.
They face another contender in the Brisbane Broncos which produced a one-for-the-ages win against the Cowboys last week. The 21-20 overtime win was much needed for the franchise which would have been on edge having been beaten by the Panthers in Round 3.
Another Friday night battle is on the cards for the Broncos and bookmakers are expecting an easy win with the points spread line sitting at 12.5.
It's an all-Queensland showdown so take a multi-bet with Sportsbet.com.au and get cash back if your 5-leg multi loses by one leg.
Titans vs. Broncos history and betting markets
Gold Coast Titans – $4.75
Brisbane Broncos – $1.20
This market accurately represents their two respective seasons to date. Both have won three games a piece, but the Broncos have faced four potential playoff teams whereas the Titans have faced only one.
The lesser-fancied sides have a tendency to start their season well before finding it tough in the mid-rounds. This looks a classic case for the Titans and we're expecting them to start slipping down the ladder. There isn't any value taking the Broncos at $1.20, unless they're involved in your 5-leg multi-bet with Sportsbet.
The points spread line of 12.5 is a tricky one. The Broncos will need to win by more than two converted tries, but that was no problem for them when these two teams met last. The Broncos won 34-0 in their most recent meeting and the statistics don't get any better for the Titans.
In the 19 games between these two sides, the Titans have won only five. They have won only 51 from 99 at Cbus Super Stadium which is a very bad home record and even the Broncos have a better record at the Titans' home ground.
The Broncos have won five from nine at Cbus, but that means the Titans have won the other four at home. The Titans have looked good winning both home games to start this season and covering the +12.5 points spread is a real possibility.
This game is a tough call and we think the best value is with the Broncos 1-12. This option pays $3.10 at Sportsbet.com.au and looks the best value chance this Friday night.
Titans vs. Broncos lineups and tryscoring options
The Titans welcome back Nathan Friend at hooker after he missed their latest game against the Raiders. Eddy Pettybourne has played only one game this season and has been added to an extended bench.
Cameron Cullen and John Olive are set to make their season debuts and we think Olive is a good chance of scoring a try. Players having their first game can often score first and at $23, that's a risk worth taking.
Other strong first tryscoring players for the Titans are Anthony Don and Josh Hoffman. Both players have scored twice this season and Hoffman would love to score against his old side.
A more interesting bet is Ryan James at $46. The large prop has scored three times already this season and those odds are very appealing. Place a small bet on James to cross the line first at $46 with CrownBet.com.au.
Titans try-scorer market:
1. David Mead – $20
2. Anthony Don – $12
3. Josh Hoffman – $18
4. John Olive – $23 at Sportsbet.com.au
5. Nene Macdonald – $15
6. Tyrone Roberts – $26
7. Ashley Taylor – $31
8. David Shillington – $67
9. Nathan Friend – $56
10. Ryan James – $46
11. Zeb Taia – $34
12. Chris McQueen – $34
13. Greg Bird – $46
The Brisbane Broncos have a stacked team full of representative players. They also welcome back Corey Oates and Jack Reed from injury which will bolster up their backline.
With players such as Darius Boyd, Anthony Milford, Ben Hunt and Corey Parker, the Broncos have a good mix of youth and experience which makes them tough to beat. Sam Thaiday is starting from the bench which is slightly surprising, but his inclusion mid-way through the first half will be tough for the Titans to cope with.
Noted speedster James Roberts had his best game of the season against the Cowboys and he should kick on from here. The former Titan has firmed nicely in the tryscoring market at $10 and he looks a top chance.
Brisbane Broncos first try-scorer odds:
1. Darius Boyd – $20
2. Corey Oates – $8.50
3. Jack Reed – $11
4. James Roberts – $10 at CrownBet.com.au
5. Jordan Kahu – $9.50
6. Anthony Milford – $11
7. Ben Hunt – $18
8. Josh McGuire – $46
9. Andrew McCullough – $26
10. Adam Blair – $46
11. Alex Glenn – $26
12. Matt Gillett – $17
13. Corey Parker – $51