NRL: Dolphins will be a competitive force in 2023, says Katoa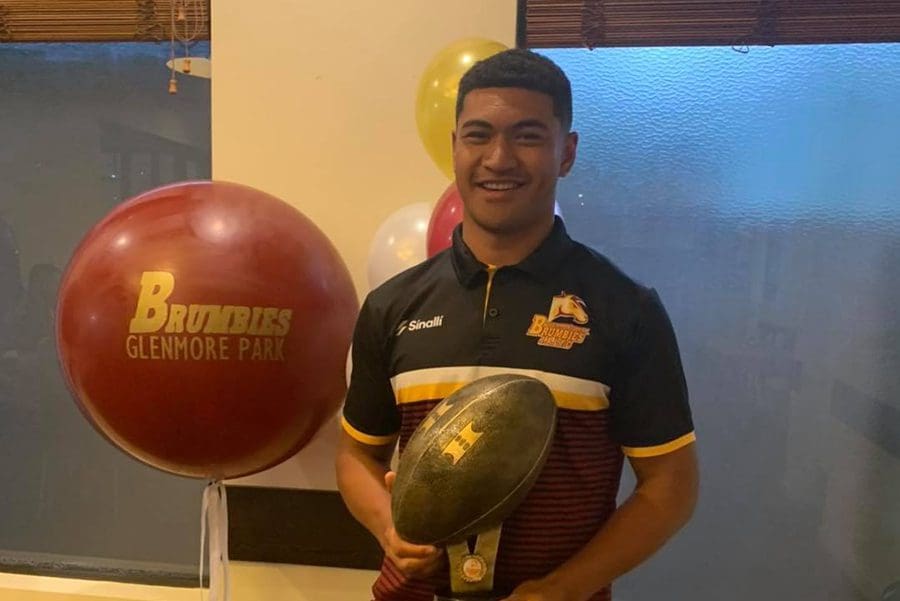 The Dolphins have no shortage of rival NRL fans already writing them off, with plenty of rugby league supporters saying there isn't enough talent to support a 17th franchise.
Don't believe all that talk, says exciting young halfback signing Isaiya Katoa.
The 19-year-old playmaker – shrewdly poached from a strong system at Penrith – has given the South East Queensland region a massive tick of approval.
READ: No regrets for Isaiya Katoa over Dolphins switch in 2023
The newest NRL expansion club might not have landed a marquee signing yet.
But Katoa believes – with master coach Wayne Bennett at the helm and supported by hard-working recruitment manager Peter O'Sullivan – the Dolphins will be ready to be a competitive force in 2023.
"There's plenty of talent in Queensland. Obviously they haven't made a marquee signing yet, but all the players who have been signed and who will be signed strive for that status," Katoa told BettingSite.com.au.
"You don't always need a marquee signing to do well. Obviously it helps, but it's not always the case.
"If we get a marquee signing it'll be pretty good, but even if we don't I have full faith in Wayne."
And Bennett is slowly building a strong 30-man roster which Katoa will be a part of.
Tom Gilbert, Jack Bostock, JJ Collins, Ryan Jackson, Robert Jennings, Connelly Lemuelu and Edrick Lee have committed to the Redcliffe-based club in the past three weeks.
Backrower Gilbert has been a revelation at the North Queensland Cowboys this year and winger Lee is a Maroons representative currently at the Knights.
Collins (Tweed Seagulls) has previous NRL experience as well as Lemuelu (Cowboys), with Panthers star Jennings notching up 33 tries from 65 first-grade appearances.
Jamayne Isaako, Felise Kaufusi, and Jesse and Kenny Bromwich are other Dolphins signings with representative experience.
Bostock (Illawarra) and Jackson (Wynnum Manly) have been respective stars in junior New South Wales and Queensland competitions.
Katoa – who led the Panthers to this year's SG Ball Cup – said Bostock was a clever signing.
"I played one game against him. I've also watched some videos of him. He seems like a freak," he said.
"I was watching highlights of him when the news of him signing came out. He's a big body too. It's not like he won't be ready for it.
"He'll definitely be working hard over the pre-season. I reckon he's a good footy player. Jack's in pretty good hands."
Recommended!
Fellow Panthers half Sean O'Sullivan, who is coming off-contract, recently played down rumours that he was set to join the Dolphins 2023.
But Katoa might have a word to him about that in the coming weeks.
"It'll be pretty good if I could get him over there. When I was at Paddy's (Patrician Brothers Blacktown) he was in Year 12 and I was in Year 7," he said.
"I looked up to him as one of the senior boys in the (NRL Schoolboy Cup) squad. If I could get him over next year it'd be pretty good.
"Here's been there and done it, and experienced that kind of stuff.
"If that's the case I'll be excited and happy for him."
With his father continuing to make good signings and known as one of the best talent scouts in Australia, O'Sullivan also said the Dolphins would eventually assemble a strong 30-man roster.
"I've got no doubt that they're going to be fine. Just watching from afar like everyone else – my dad is his own person," he said.
"Watching from afar, I've got no doubt that they'll be fine. Especially with a great coach like Wayne."
Assistant Maroons coach Johnathan Thurston is also excited about the way the Dolphins will continue the game's growth in rugby league heartland.
"It gives opportunities for players and the chance to forge a career out of this great game," he said.
"Having another team in the competition is only going to be a positive for the game.
"More jobs for more kids who are aspiring to play in the big league."
READ: Broncos star Cobbo ready for State of Origin, says Thurston
Katoa will bring a never-say-die spirit to the Dolphins after spearheading a remarkable comeback victory for Penrith in the SG Ball Cup grand final.
The Panthers went on to beat the Roosters 22-20 after trailing 20-0 in the clash at Bankwest Stadium on April 30.
"It was a pretty good feeling. To come back and win from 20-0 down it was one of the most special moments of my footy career," he said.
"There are some boys from Queensland and New Zealand. So it was awesome for us to come together and to take it out this year was pretty special.
"Going into halftime we were all still pretty up. But we knew if we were going to win we had to dig deep.
"We knew we had a good chance to come back. Our coaches said to us if we believe in ourselves we could go out there and do the job."