Bathurst 1000 2016 odds, betting tips and bookie bonuses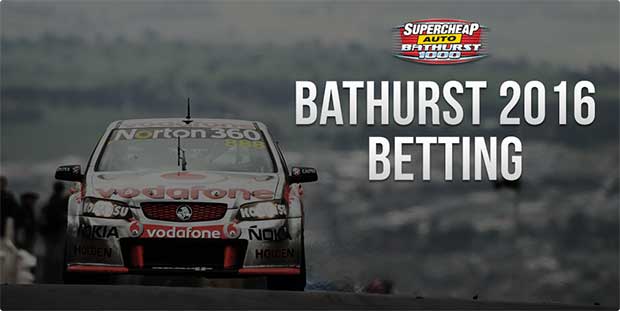 Sunday, October 9 2016 from 11.10am AEDST, Mount Panorama, Bathurst
It is that time of year where all roads lead to Mount Panorama for the event that all Aussie petrol heads say is the 'second race that stops a nation', the Bathurst 1000.
All bets are off when it comes to Bathurst and the V8 Supercar standings count for nought once the race gets underway – this is the one title all those drivers covet the most.
The drivers may want a Bathurst title more than any other, but for the drivers at the pointy end of the championship table it is becoming do-or-die.
There is only seven points between Shane van Gisbergen and Jamie Whincup at the top of the V8 Supercar standings which means a podium finish in motorsports' equivalent of the Melbourne Cup has never been more vital.
We took a look at the three main hopes going into Sunday's massive race.
The main chances
Jamie Whincup

Four time winner Jamie Whincup scorched around Mount Panorama to clock an amazing 2.05.29 practice time at on Thursday, a new track record.
The win put Whincup/Dumbrell at the head of betting at WilliamHill.com.au for the Bathurst 1000 race title at the $3.75 quote via WilliamHill.com.au.
The 33-year-old Melbournian said he was 'happy' to get his Bathurst campaign off to a great start.
"It was a good day," Whincup said.
"Any day that you get to do a lap around the best racetrack in the country is a good one. We rolled out of the truck well and we evolved as the session went on.
"We put on one of our sets of fresh race tyres at the end of practice three to get a gauge of where we are at and the car is obviously very good.
"All in all we are very happy at this early stage."
Whincup is in scintillating form as the new lap record suggests and if he can take pole position into Sunday he will be very hard to catch.
Craig Lowndes
On the second line of betting at WilliamHill.com.au is Craig Lowndes ($5), who is not only aiming to go back-to-back this year, but the 42-year-old is looking to move within two Bathurst wins of Peter Brock's all-time wins record of nine race wins at Mount Panorama.
Lowndes said that he and co-driver Steven Richards are hoping they can pay their respects to Brock this weekend by capturing the chequered flag.
"There is no doubt that we will go there this year with high hopes given it's the passing of 10 years and the passing of Peter," Lowndes said.
"His is a record that has stood for such a long time and regardless of whoever does get there, or if we get there, Brocky will still always be the King of the Mountain."
The mountain always brings the best out of Lowndes and we are expecting him to give it an almighty crack in search of his seventh Bathurst title.
Shane van Gisbergen
27-year-old Kiwi Shane van Gisbergen may be leading the V8 Supercars Championship towards the latter stages of the season, but atonement will be the only thing on his mind going into Sunday.
Van Gisbergen was destined to win the 2015 instalment of the Bathurst 1000 after comfortably leading with just 10 laps to go, but a routine pit stop turned into an engine ordeal when the 27-year-old stalled his car then failed to restart it in time to regain his lead.
He ended up finishing 16th on that day, but the Kiwi is not dwelling on the blown opportunity.
"Doesn't worry me, (I am) looking forward to this year," van Gisbergen said about last year's failure.
The Holden driver goes into Sunday as the $6 third favourite to win the race, at WilliamHill.com.au, but we would not be surprised if he turns last year's heartbreak into this year's success story.
Final verdict
When it comes to conquering the mountain it takes expertise and experience and all three of our men here those attributes in spades.
We are favouring Jamie Whincup in the 2016 edition of the race. His scorching speed in the qualifying and the fact he has been here and done it before hold him in great stead.
The four-time winner looked unstoppable in setting the track record and if he brings that kind of speed and skill into Sunday, he will be unbeatable.
We are backing Whincup to chalk up his fifth Bathurst win en route to securing top spot in the driver's championship.
Race Winner: Whincup/Dumbrell – $3.75 at WilliamHill.com.au