A-League punting & bookie bonuses: Wellington vs. Melbourne City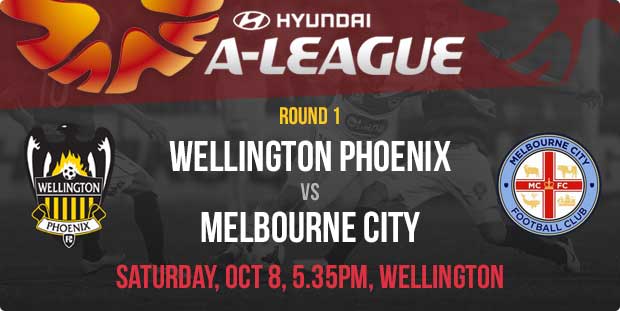 Head-to-head odds:
Wellington Phoenix: ($3 with Sportsbet.com.au)
Draw: ($3.50 with Sportsbet.com.au)
Melbourne City: ($2.20 with Sportsbet.com.au)
Handicap betting:
Wellington Phoenix: +1 ($1.62 with Sportsbet.com.au)
Melbourne City: -1 ($4.20 with Sportsbet.com.au)
Total Under/Over Match Goals:
Under 2.5 goals: ($2.25 with Sportsbet.com.au)
Over 2.5 goals: ($1.56 with Sportsbet.com.au)

TWO of the A-League's most success-starved clubs kick off their respective seasons across the Tasman as the Wellington Phoenix host Melbourne City in New Zealand.
Both sides have zero grand final appearances and just seven finals finishes between them, one fewer than the Victory, the Roar and the Reds have each.
Despite the poor post-season record, there is plenty of optimism around the Phoenix this campaign.
The Kiwis have acquired Melbourne Victory star duo Kosta Barbarouses and Gui Finkler to complement their already potent attack of Michael McGlinchey, Hamish Watson and Roly Bonevacia, who the fans are already calling 'The Fab Five'.
Phoenix coach Vince Lia said at the A-League's season launch during the week that his front third 'will be hard to stop'.
"How do you stop those five? You can't," Lia said.
"Last year once we lost Roy [Krishna to injury]. Teams knew they could probably double up on Roly and McGlinchey and you stop our threat.
"But this year it's going to be very difficult for teams to stop us, especially if we're playing well and to our potential. We're going to be hard to stop."
Melbourne City's pre-season has been about one single man: Tim Cahill.
The former Everton gun has already had an enormous impact off the field, but City will be hoping Cahill can elevate them to their first ever A-League title.
City fans will have to wait a little longer to see their man make his A-League debut.
Team news coming out of Melbourne on Thursday is that Cahill will not take his place in the City team for Saturday's match due to international commitments.
City coach John van't Schip believes his team is now ready to add its first piece of silverware to the cabinet.
"We've been making good progression but still in that progression we missed trophies. This club is now ready," he said.
"We have the team to achieve that. In saying that, it's about hard work."
City had one of the most powerful front thirds in the entire league last season, but van't Schip believes their defending is what needs to be tightened up heading into the new campaign.
"We've reached some goals in the way of how we're playing. Last year, we had very good games, very entertaining.
"We also knew we were vulnerable in the way we defended as a team.
"The players that we've brought in, I'm confident we will be there until the end."
City vs. Phoenix betting predictions
The rejuvenated Wellington Phoenix host Melbourne City in a Trans-Tasman clash to kick off their A-League campaigns, and the match looms as an offensive masterclass.
Both teams last season had no trouble scoring goals but had a hard time defending.
In their last three meetings the sides have scored at least three goals between them, and we think the $1.59 on offer for over 2.5 goals to be scored on Saturday from Sportsbet.com.au is an absolute steal.
We are very buoyant about the Phoenix's chances this year given their acquisition of Victory pair Kosta Barbarouses and Gui Finkler, and we are expecting the $13 that is currently on offer at Sportsbet.com.au for the 'nix to win the A-League title to tighten significantly as the season progresses.
Much has been made about the arrival of Tim Cahill, and rightly so, but a huge hole has been left in the City midfield by the departure of star Socceroo Aaron Mooy.
Mooy was unlucky not to win the Johnny Warren medal last campaign, and has been a revelation in England's second division this year.
Cahill will also play a key role in the Socceroos' match against Saudi Arabia on Friday morning Australian time, and has been left out the squad to play on Saturday.
Everything to us points to a successful start to the season for the Phoenix. Their front third looks sensational and they now have a multitude of attacking options to rely upon rather than just the two they had throughout last year's campaign.
We expect the Phoenix to win at odds to bring our readers some value heading into the new A-League campaign.
Match prediction: Wellington Phoenix to win ($3 at Sportsbet.com.au)