Australian Open Day 8 betting tips & value picks – 24/1/2022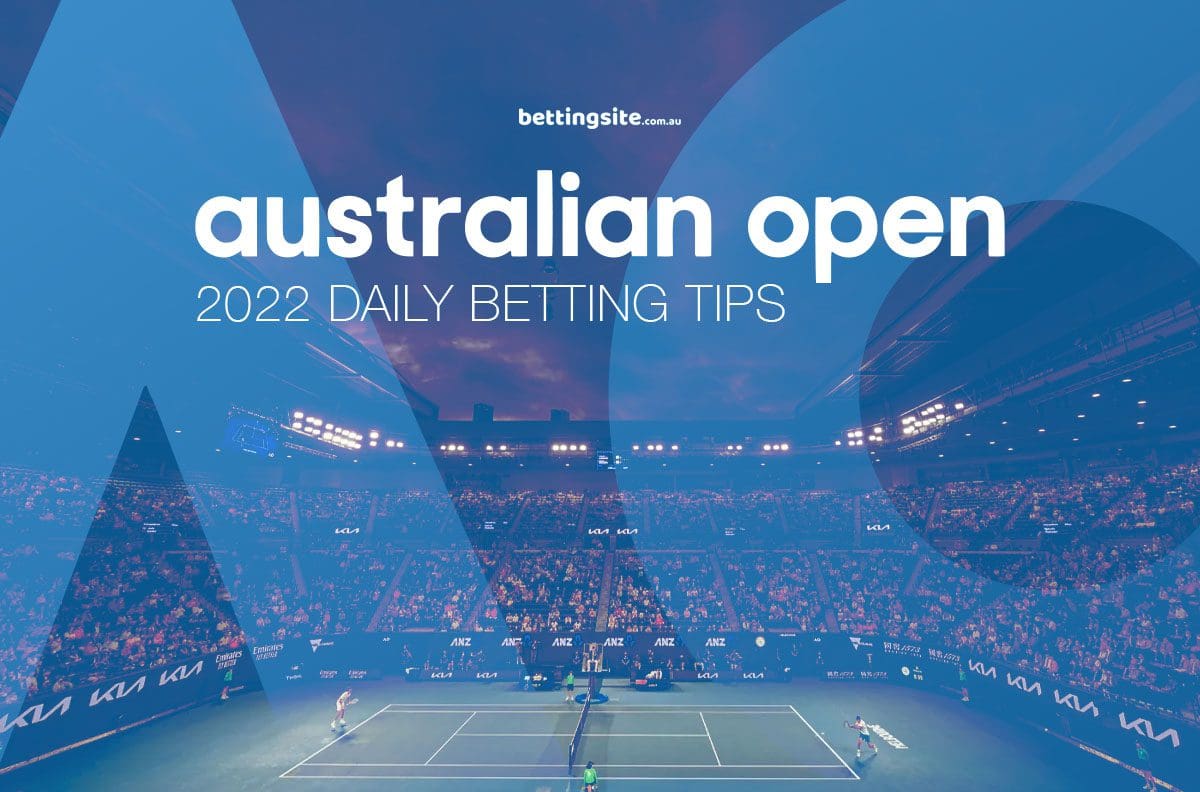 With the third round of the 2022 Australian Open done and dusted, the true contenders are starting to emerge in the hunt for an Aussie Grand Slam victory. Another eight singles matches are scheduled this Monday in the blistering Melbourne heat as the fourth-round action continues.
Alex de Minaur ($2.79) vs Jannik Sinner ($1.42)
Alex de Minaur is one of the brightest young Australian tennis talents, but he has a very big challenge ahead of him this Monday. Jannik Sinner is already ranked 11th in the world at just 20 years old, as the Italian prospect made the fourth round in both the French Open and US Open in 2021.
De Minaur has great tenacity and plays with the right amount of flare, timing the ball sweetly and hitting dangerous areas of the court. The Sydney product has only dropped one set thus far in his fifth Australian Open campaign, and we think his winning form warrants a tip.
---
Taylor Fritz ($2.63) vs Stefanos Tsitsipas ($1.47)
These two top-20 stars are primed for a cracking contest in Melbourne on Monday, as Taylor Fritz and Stefanos Tsitsipas both play exciting tennis that makes for a great spectacle.
Both players are taller and longer than their competitors more often than not, but that advantage is nullified when clashing with each other. Tsitsipas is very agile for this height, which could be the difference against his American counterpart.
There will be aces aplenty in this contest, as both players are well-equipped when it comes to serving – especially Tsitsipas, who hit 21 aces against Benoit Paire in the third round.
---
Kaia Kanepi ($3.35) vs Aryna Sabalenka ($1.31)
Estonia's Kaia Kanepi has been a regular at the Australian Open for many years now, but this has been her best performance amongst her 13 entries. This is the first time Kanepi has made it past the third round in Melbourne, and now she is looking to make her first ever Australian Open quarter final.
Standing in her way is Aryna Sabalenka, who currently sits no.2 in the women's singles rankings despite never winning a Grand Slam, although the Belorussian star has won multiple doubles Grand Slams and 10 singles titles throughout her six-year professional career.
Despite her high seeding and easy early matchups, Sabalenka has started poorly in all three of her matches, failing to win a first set so far in the tournament. Kanepi is a powerful striker of the ball, but at 36 years of age, she will struggle as the match drags on.
---
Iga Swiatek ($1.14) vs Sorana Cirstea ($5.50)
Youth will battle experience when Poland's Iga Swiatek takes on Romania's Sorana Cirstea. Swiatek is known for winning the 2020 French Open at 19 years old, which catapulted her into the tennis limelight.
Swiatek's 2021 Grand Slam campaign consisted of three fourth-round exits and one trip to the quarter finals, which highlights her consistency at the top level. Cirstea has already beaten two strong opponents on her way to the fourth round, including the no.11-ranked Anastasia Pavlyuchenkova in her most recent battle.
The odds with the top online bookmakers heavily favour the young Pole on this occasion. We think both competitors will win a set in this match, but Swiatek should come away with the important victory and advance to the quarter finals.
---