Aussie Millions Poker Championship 2018 official schedule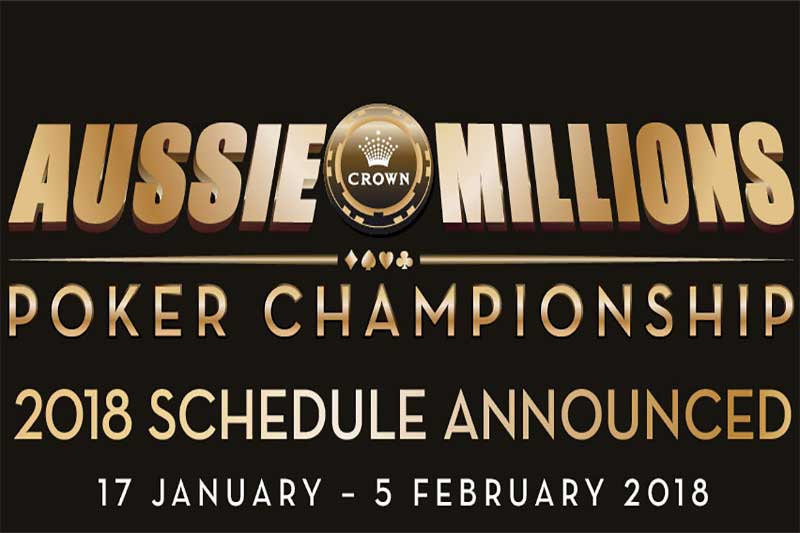 Crown Resorts has announced the official schedule for the Aussie Millions Poker Championship 2018.
Held at the popular Melbourne casino, Asia-Pacific's most prestigious poker series will run from Wednesday, January 17 until Monday, February 5.
The 2018 schedule consists of 26 single and multi-day poker events with buy-ins starting from $1150.
The huge total prize pool we have come to expect at the global event is back with an estimated $20 million in total on offer.
The $10,600 Main Event will take place on January 28 and the winner will walk away with an estimated $1.6 million in prize money, as well as the coveted Main Event Champion bracelet worth more than $25,000.
The 2017 Aussie Millions Main Event champion, Shurane Vijayaram, beat out 724 other players to take home the million dollar prize.
The winners of the remaining 25 events will also score an Aussie Millions Championship Ring.
These events include several high stakes tournaments which attract international poker professionals like the $25,000, $50,000 and $100,000 Challenges.
Other than the popular No-Limit Hold'em events, H.O.R.S.E, Pot Limit Omaha, 8 Game Mixed, and Pot Limit Omaha Hi-Lo events are all scheduled for the 2018 festival.
The $2500 H.O.R.S.E. event will take place on January 18, while the first $1150 Pot Limit Omaha tournament will be held on January 18. Then the 8-Game mixed event will take place on January 24, followed by the $1150 Pot-Limit Omaha Hi-Lo on January 31. Another Pot-Limit Omaha event, with a buy-in of $5000, will take place on the final day of the festival too.
"Crown's Aussie Millions Poker Championship continues to absolutely stamp itself on the global 'must-attend' list for both recreational players and seasoned pros alike," Crown Melbourne's Tournament Director, Joel Williams, said.
"Following on from record numbers across most events in 2017, 2018 looms as our biggest event to date."
Each year more than 7000 poker players from Australia and around the world flock to the Southbank casino for the three-week festival.
Running since 1998, Aussie Millions has transformed into one of the greatest poker events in the world and often attracts some of the biggest names in the industry.
Crown Melbourne recently held the Aussie Millions Poker Championship Warm-Up Week Satellite Program as a feeder for players.
The program ran from June 5 to June 11 and offered eight direct entry satellites to the 2018 Aussie Millions Main Event throughout the week. There were discounted entries to specific events on offer too.
The warm up week runs every year, so be sure to keep an eye out for next year's program. Can't wait? Check out the WSOP Sydney stop of the International Circuit.
You can find the full schedule for the 2018 tournament at AussieMillions.com.