Strong support for online poker at inquiry hearing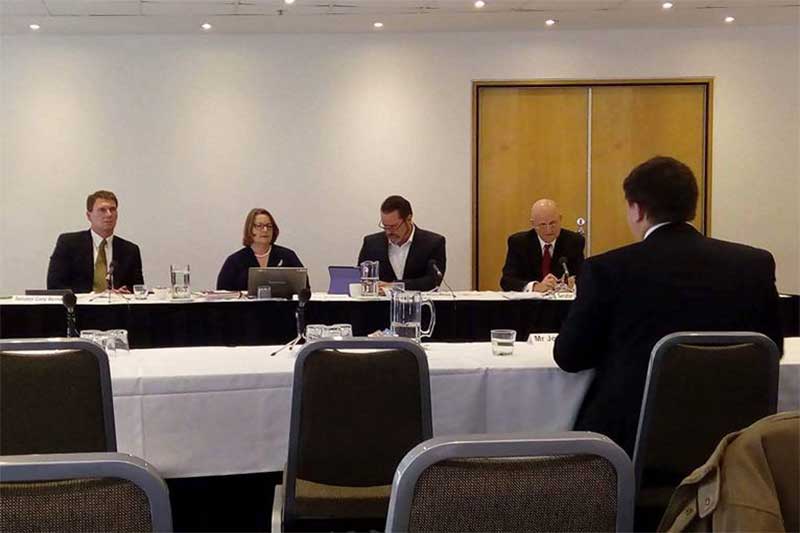 The fight to save online poker from the imminent new gambling regulations commenced this week, with The Australian Online Poker Alliance (AOPA) presenting its case to a special senate inquiry.
AOPA founder and prominent poker player, Joseph Del Duca, presented his case at The Participation of Australians in Online Poker hearing held by the Environment and Communications References Committee on Tuesday.
He was joined by professional poker player Luke Brabin, who recently became the first person to be prosecuted under the Interactive Gambling Act (IGA) 2001 due to his online gambling site, Poker Asia Pacific.
Brabin's submission addressed the case stating that it was the "one and only time that the IGA has been enforced, despite being on the legislative "books" since 2001."
Del Duca was second on the agenda and presented the AOPA's submission which pointed to the Review of Illegal Offshore wagering by former New South Wales Premier, Barry O'Farrell.
The review prompted the Interactive Gambling Amendment Bill 2016 which, if enforced as is, will make online poker illegal in Australia.
Australians have been able to play at offshore online casinos and poker rooms under the IGA 2001 due to the ambiguous language.
Local casino and poker operators, on the other hand, cannot serve Australians – which was the reasoning behind Brabin's $10,000 fine.
The AOPA's submission points out that poker has been listed as a casino game alongside blackjack and roulette in the review.
"There is a major difference between poker and all of the other games listed under that definition," the AOPA submission reads.
"Poker is a 'peer to peer' game. All of the other games listed are games where the player plays against the house. This is not the case in poker.
"A poker game comprises of individual players competing against each other.
"The house is not playing, it has no vested interest in who wins the hand … in our view this point is a key difference that needs to be understood when legislating in relation to poker."
Dr Sally Gainsbury and Professor Alex Blaszczynski were also present at the hearing on behalf of the Gambling Treatment and Research Clinic (GTRC).
"People are already gambling on poker online," Dr Gainsbury said.
"We're currently in a situation where there are more-reputable sites that are offshore and less reputable, so it is not appropriate to categorise all offshore gambling sites in the same manner."
"There are sites that have consumer protections in place and are well known among the poker community."
Her comments reflect her research for the GTRC submission which found that poker is less likely to cause problems in individuals than other forms of gambling.
Other witnesses supporting the online activity at the hearing included poker players Daniel Laidlaw, Oliver Gill, and James Devine, as well as maths professor Brian Alspach.
However, its submission predominantly applauded the IGA bill and reiterated the impacts of problem gambling.
"An increase in online gambling and in particular online poker naturally increases the rise of problem gamblers," the submission reads.
Mr Byrne added at the hearing that he considers all gambling to be the same.
The Senate inquiry has been made possible by Senator David Leyonhjlem, who fought to save online poker when the IGA bill was first presented to fellow legislators.
Despite fighting for Internet poker and blackjack to be exempt from the new regulations, he failed due to a lack of support by fellow Senators.
Senator Leyonhjelm then pushed for an online poker inquiry which accepted public submissions up until July 21.
Del Duca spoke to Inside Asian Gaming following the hearing this week, where he said Senators showed interest in learning more about the game.
"We appreciated that Senators present were interested in learning more about our game to ensure that they are well placed to make decisions in the interests of Australians who want to enjoy the hobby they love in a safe, legal environment," he said.
Del Duca visited Parliament earlier in the year to lobby senators to support Senator Leyonhjlem's secondary amendments. He found that most Senators were not even aware of the skill-based nature of online poker.
"It is even more clear after today that if we are serious about protecting freedom of choice for Australian citizens whilst ensuring help and protection is available for those that need it, then working towards a licensed and regulated online poker market is the right thing for our country," he told Inside Asian Gaming.
The Participation of Australians in Online Poker inquiry report is expected to be delivered by September 14.
The outcome of the hearing could ultimately delay the Interactive Gambling Amendment Bill 2016.